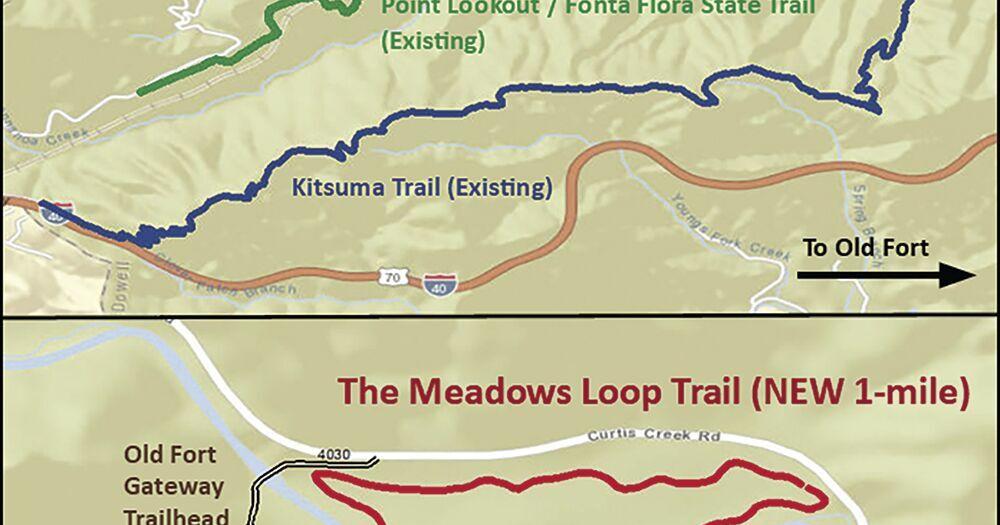 The Grandfather Ranger District has announced the construction of four miles of new outdoor trails at Old Fort as part of phase two of trail expansion in the area.
The expansion will be split between two trails that will be built over the next six to nine months: the Meadows Loop and the Bernard Mountain Trail.
The Meadows Loop will be a 1.6 km ADA-accessible trail adjacent to the Old Fort Gateway Trailhead, a 100-car parking lot that opened in June 2022.
The loop trail offers opportunities for fishing and wildlife viewing, but also includes invasive species management, wetland enhancement, and native planting to help restore the unique lowland hardwood forest along Curtis Creek.
"The Meadows Loop allows visitors to access Curtis Creek for fishing and swimming, traverse a wetland area on a boardwalk, and stroll along a wildflower-filled meadow for bird and wildlife viewing," said Lisa Jennings, US Forest Service Grandfather Ranger recreation manager District, in a press release. "We are excited to offer such a unique and accessible experience in the Pisgah National Forest."
The Bernard Mountain Trail will be a three-mile mountain bike and hiking trail located north of the Point Lookout Trail and south of Mill Creek Road.
The trail is being built this winter by professional trail builders to follow the rocky ridge that runs parallel to the Kitsuma Trail with the goal of providing a classic, moderately difficult outdoor experience that is both technical and sustainable.
"Kitsuma is famous for its great downhill experience and Bernard will provide an opportunity to expand on that experience," added Jason McDougald, Executive Director of Camp Grier and the G5 Trail Collective. "This trail in particular is also a great display of community input and was suggested by a local citizen during our community meetings for trail planning early in the project."
This next four miles of trails builds on the Old Fort Trails Project's vision to improve the health and well-being of residents, boost local economies through outdoor recreation, and build community through shared spaces on public lands.