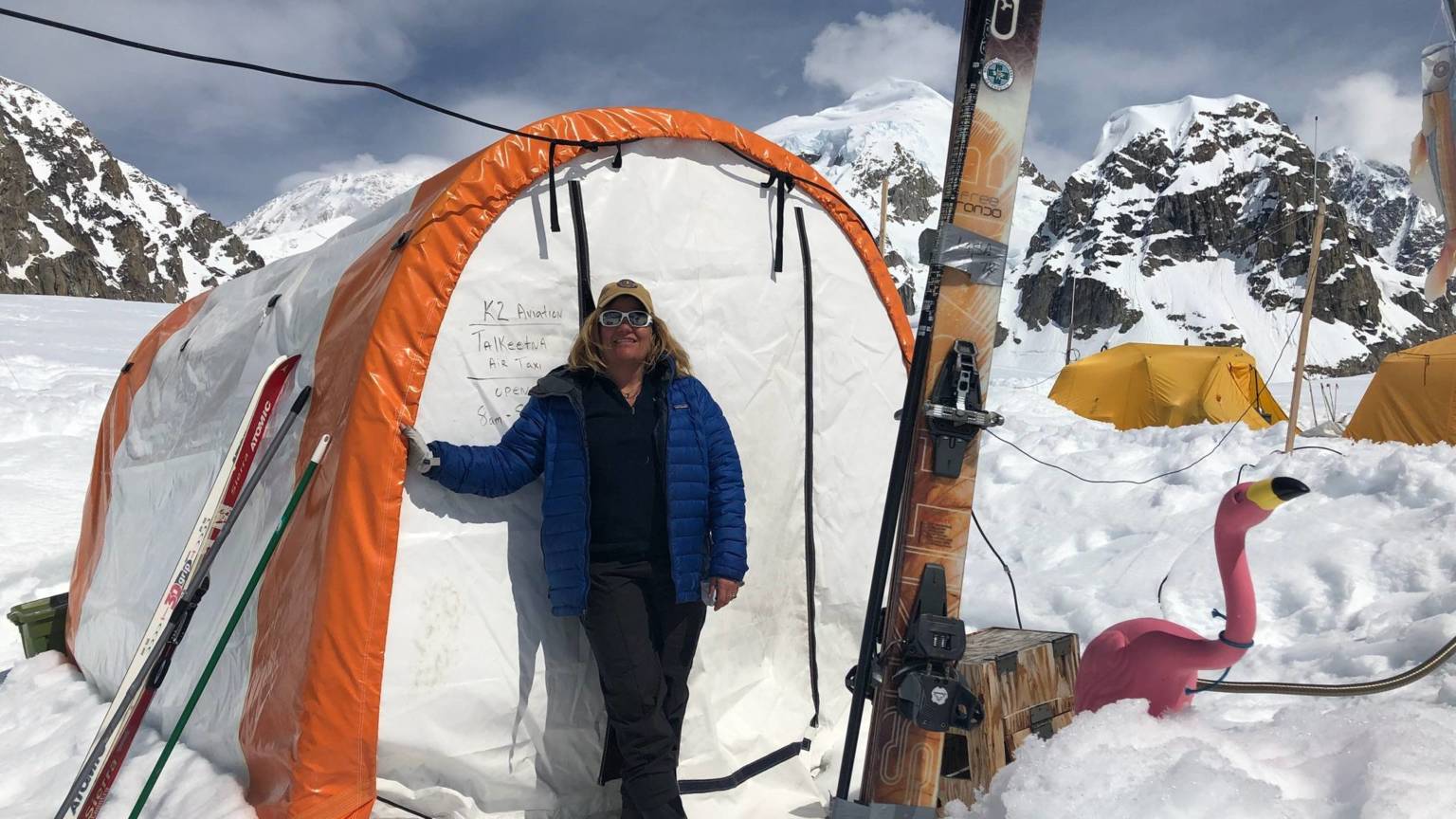 Lisa Roderick in front of her tent at Denali Base Camp in 2018. (Katie Writer / KTNA)
It's spring in Talkeetna and while most of the city prepares for summer, a local woman will be wearing her mittens and down clothes for a few more months.
April 2020 brought an unprecedented lockdown for most of the world. Even the Kahiltna Glacier was silent, a remote place in the wilderness where Denali Base Camp is located. It is a place where climbers begin their ascent to Denali.
Lisa Roderick is the manager of Denali Base Camp. In a normal year, she spends mid-April to mid-July on the glacier, welcoming climbers and broadcasting the weather to pilots who bring climbers in and out of camp in ski planes.
But last year all climbing permits in Denali National Park were suspended. That meant Roderick stayed home.
"Last year I was really shocked that the climbing season was canceled because I've been up there for 19, 20 years in a row," she said. "But I really enjoyed the summer. I actually created a garden. My husband built me ​​some raised beds and I grew lettuce and kale, and even tried growing artichokes. But a moose ended up eating mine one choke that I got. "
This year the climbing season has started and Roderick will fly into the Kahiltna Glacier on April 28th. She will pitch her tent and be her home until early July when the snow conditions worsen and the climbing season ends in Denali.
But things are not going as usual. Roderick said there are some changes climbers can expect when they land at Denali Base Camp.
"A couple of things that could be different this year are, you know, we have to wear masks when we are at base camp," she said. "When you gather you must be masked. Of course, when climbing and abseiling you are far apart so you don't have to wear a mask when climbing, but if you take a break and everyone is gathering then you need to put on your mask. "
Although remedial action is being taken at Denali, there are also plans to identify and treat potential COVID-19 infections.
"So there are always Park Service Rangers who are stationed with me in the base camp and take care of all medical matters. They are all medically trained; They're all rescue workers, "said Roderick. "When a climber shows symptoms of COVID, they have some test kits up to 14,000 and then we have some test kits in base camp. They will give tests when they see fit. Hopefully we don't have to deal with such things, but you never know. "
Roderick and all of Denali National Park's climbing guards are fully vaccinated against COVID-19. Regardless of the time of year, she feels prepared and ready.
"I'm definitely ready to come back up anyway. I'm starting to miss it a bit. Hopefully most of the people who show up will be vaccinated, "said Roderick.