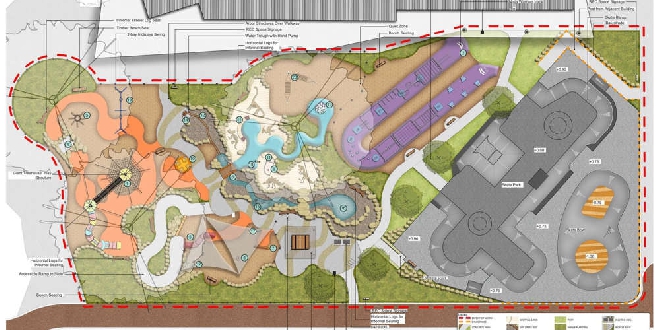 Final concept plan of the Baldivis Outdoor Recreation Space. PIC: City of Rockingham
The final concept plan for the Baldivis Outdoor Recreation Space has received the green light from the City of Rockingham.
After extensive community consultation, the design of this space will include a number of features such as a nature playground, skate park, adventure playgrounds and an activity challenge course.
The space is overlooked by the cafe proposed at Baldivis Indoor Recreation Centre.
With a total area of ​​around 2000 square meters, the outdoor area will be a magnet for families and young people of all ages.
Mayor Deb Hamblin said the Baldivis Outdoor Recreation Space is a key project identified in the city's municipal infrastructure plan.
"The Baldivis Outdoor Recreation Space will be an important project that fulfills the City's Strategic Community Plan aspirations to strengthen and promote community connectedness and well-being and plan for future generations," said Mayor Hamblin.
"Consultation with the community played a key role in shaping the final concept plan. In the early stages, we conducted an online survey with 266 responses and also hosted several design workshops with four local schools, the city's skate park reference group, and an evening design workshop at the Mary Davies Library and Community Centre.
"Preliminary and preliminary concept plans were open to public comment on Share Your Thoughts, and thanks to feedback from our stakeholders, we were able to incorporate the elements our community wanted into the final concept plan."
Now that the final concept plan has been approved, the city will now begin detailed planning of the project.