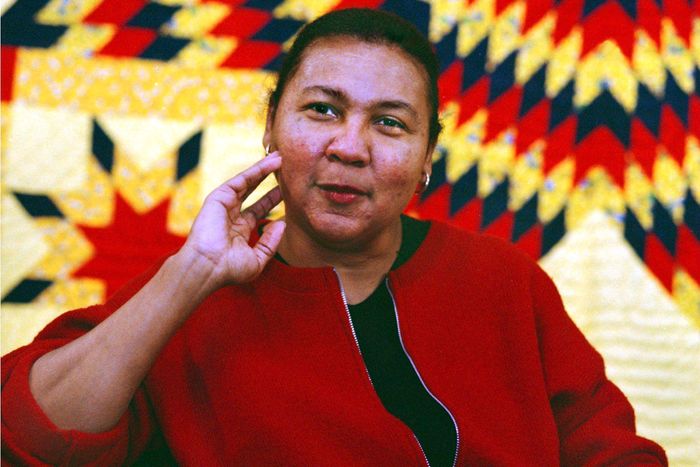 Photo: Sean Davidson, Margaret Thomas/The Washington Post via Getty Images, Mathijs Labadie, courtesy of Objective
Every few weeks I will summarize and share the objects, designers, news and events worth knowing.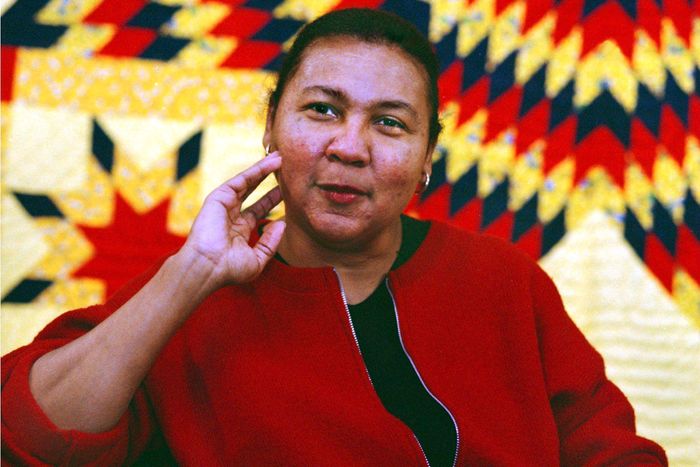 Photo: Margaret Thomas/The Washington Post via Getty Images
We lost bell hooks this week. Her writing has had a tremendous impact on how I understand the ideologies that underlie American culture and that are then inscribed into our objects, buildings, and cities. Where we standin particular, the discussion of "hedonic consumption" – the idea that buying certain things unleashes class mobility – was on my mind as I worked Season two of Curbed's podcast Nice Try!, which focused on objects that populate living spaces. Just this week, while expressing gratitude and appreciation for her work, I came across an essay by her on design and architecture. (H/T Michael Bierut's Instagram.) In the "Design: A Random Life', Hooks, who dreamed of becoming an architect as a child, reflects on design as an everyday process. She invites appreciation of simple objects and places individualistic aesthetic appreciation above material status and conspicuous consumption. "We need to see design as shaping our lives, as a spiritual value," she writes. "Every design we encounter reinforces our recognition of the value of being alive, of being able to experience joy and peace." It's an achingly beautiful philosophy that speaks to a deeper and more dynamic relationship with design.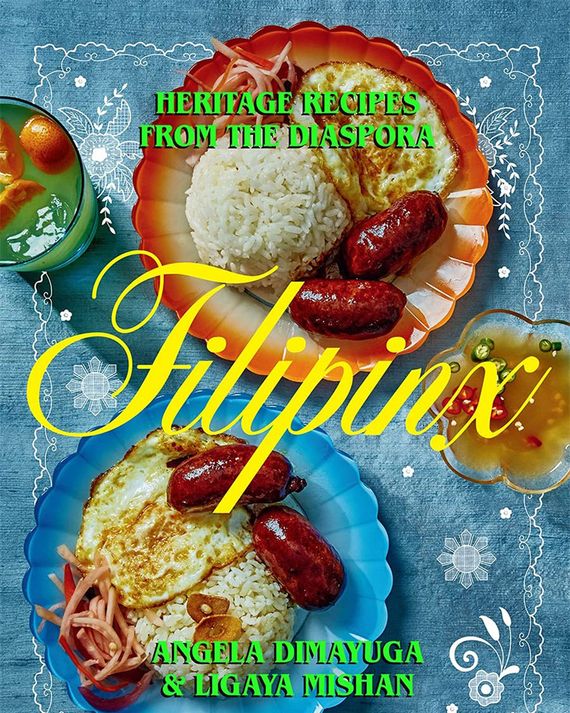 Photo: publisher
I didn't make any of the dishes from chef Angela Dimayuga and author Ligaya Mishan's new Filipino-American recipe cookbook, but I devoured the design and photography. Dimayuga and Mishan, who work with the Los Angeles-based studio Her and Diane Shaw, Art Director at Abrams Books, have written a little history of Filipino design. The fonts on the cover and throughout the text immediately spoke to me Hardworking handsomeis 2018 Filipino folk foundry Book based on hand painted signs and printed signs found in Manila. The endpapers contain illustrations based on the floral designs found on piña fabrics, the fabric used Barong Tagalogs. On a page on cooking rice, there is a marginal note on the abstract shapes depicting rice found in indigenous tattoos and textiles, which also appear as borders throughout the book. However, what I liked the most were the impeccably styled food shots, complete with lace tablecloths, bamboo placemats, crockery, utensils and candle holders that reminded me of the tables my mother, aunts and grandmother had set over the years . Nostalgia isn't new when it comes to cookbooks, but its use in Filipinx along with more modern design elements (ahem, gradient colors) shows how experimentation and reinterpretation are at the heart of Filipino American cuisine and culture.
Panoramammma's pitcher (lower left) and Joseph Algieri's vessel (lower right) in Supergroup 2. Photos: Courtesy of Sean Davidson.
Panoramammma's pitcher (lower left) and Joseph Algieri's vessel (lower right) in Supergroup 2. Photos: Courtesy of Sean Davidson.
The new Chinatown Design Gallery Superhouse has a group exhibition in his small 10 x 10 foot space. Gallery director Stephen Markos invited 50 international artists to create vessels that represent their creative vision. Like many of the recent one-object-different-paths-e.g. Martas Above/Below East Show of toilet paper holders – the pleasure of the show lies in seeing everything at once: the lumpy clay next to bubbling blown glass, dripping resin cheek-to-cheek with CNC-milled wood. There are so many interesting materials, textures, colors and manufacturing techniques to see. I particularly liked the stitched together and slightly surgical look Pink resin pitcher by the Mexico City-based studio overview and Joseph Algiers's compilation of toys. Until January 16, 2022.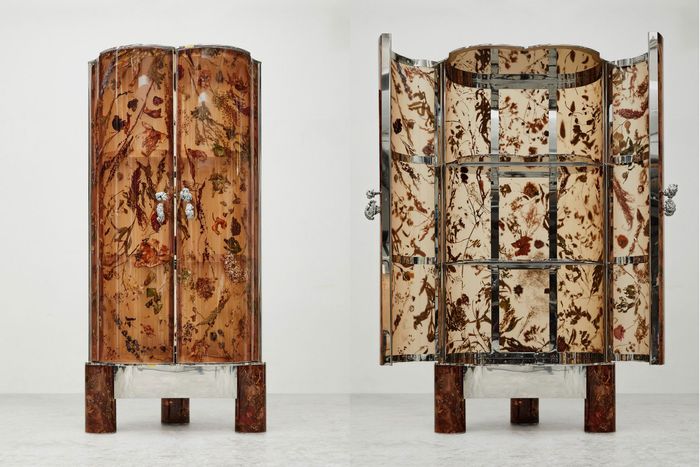 Photo: Mathijs Labadie
Two design trends I've been keeping an eye on lately are references to Surrealism and Viennese Modernism. Both come together in the Flora cabinet by Polish designer Marcin Rusak, which is also on display Twenty-First Gallery at Design Miami. Exploring impermanence, decay and preservation in his work, Rusak experiments with a material that mixes resin with plants and flowers, making the plants appear almost as if they were encased in amber. The botanical motif and the light transmission of the Flora cabinet are a bit Josef Frank (which Rusak referenced directly) and a bit Shiro Kuramata — an elegant and unexpected mix.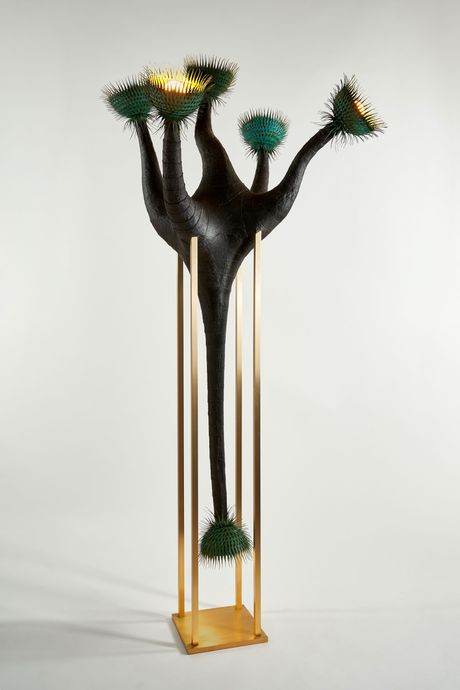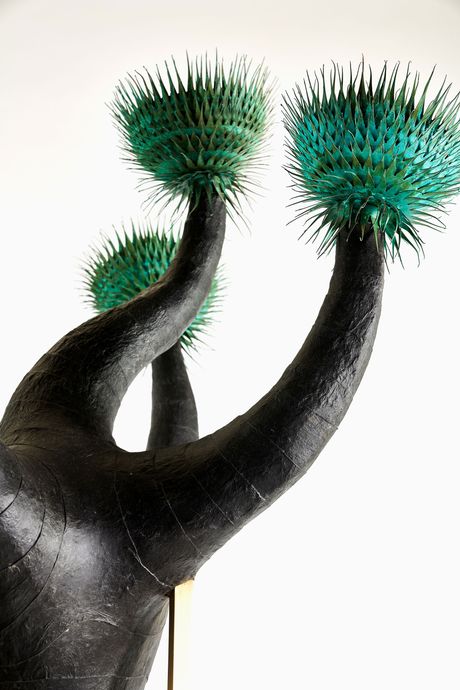 Photos: Courtesy of Objective.
Photos: Courtesy of Objective.
Speaking of surrealism, I loved it this lamp made by the Brooklyn based artist JMcDonald for its form and backstory. Presented at Design Miami with objective, it's made of paper and foam and looks like a creature with tentacles or a tree from Dr. Seuss cooped up in a steel frame with a narrative that supports such a crossroads. "Hexacorallia Luxus is a rare and recently discovered species of lamp that does not easily fit into standard taxonomies," writes McDonald in a statement from the artist. "Although debate continues as to whether Hexacorallia actually belongs to the object kingdom and not to the plant or animal kingdom, we must attempt to define and categorize it based on our current – albeit limited – understanding." He goes on to ask whether it does belongs to the "Supellex family (common name: furniture)" or "the Sculptura family". It's an entertaining story, but it also gets to the heart of the evolution of concept design today – somewhere between art and object, sculpture and function.