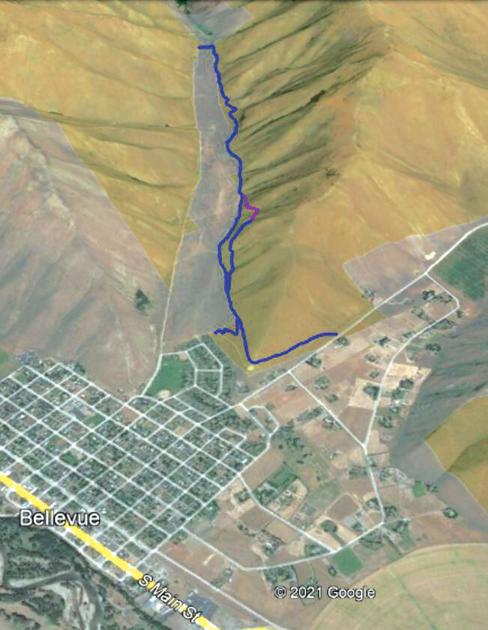 The Slaughterhouse Canyon near Bellevue will have the first designated class 1 e-bike trail built by the BLM in the valley.

Courtesy of the BLM via Google Earth


The crews are working on new trails in Bellevue and Ketchum this month to open up more terrain for bikers, hikers and adaptable cyclists.
The Bureau of Land Management is hoping to complete 3 miles of a new 5-mile single track in Slaughterhouse Canyon east of Bellevue this fall. The trail is the first in the BLM's Wood River Recreation and Access Environmental Assessment process, which has been in existence for years and approves approximately 81 miles of new hiking trails, seven new trailheads, and 21 new campsites in the Wood River Valley.
"We wanted to start construction near Bellevue because this is the community that has no hiking trails yet," said John Kurtz, outdoor recreation planner for the BLMs based in Shoshone.
Kurtz, who also serves as chair of the Bellevue Planning and Zoning Commission, said the loop trail will be the first BLM trail to be built as a Class 1 e-bike trail, though there are other pre-existing trails in Croy Canyon west of Hailey approved e-bikes.
"The Schlachthof Trail will be open to all fitness and skill levels, but also to traditional mountain bikes, hikers and riders," says Kurtz. Motorcycles would not be allowed.
The 3-mile section of the trail is slated to be completed by mid-November, and use will be made available next spring. Kurtz said he hoped the entire 81-Mile Trail System project could be completed in less than 10 years, but it was too early to say and would depend on funding partners and many other variables.
Construction of the BLM begins on the south side of Slaughterhouse Canyon at the mouth of the canyon and extends east to Slaughterhouse Road. Heavy equipment and hand crews will be assisted on Saturday October 16 by a volunteer team of migrant workers organized by the Wood River Trails Coalition.
For information on volunteering, please visit the Trails Coalition website at woodrivertrailscoalition.org. Otherwise, the public is advised to stay away from the construction and equipment of trails.
Additionally, the Forbidden Fruit Trail in Adams Gulch north of Ketchum is closed for the remainder of the season as crews complete the Adam's Gulch Adaptive Sports Trail Enhancement Project, a collaboration between the U.S. Forest Service – Ketchum Ranger District, Higher Ground, the National Forest Foundation and the Wood River Trails Coalition.
Quote
"We wanted to start construction near Bellevue because that is the municipality that is not yet bordered by hiking trails."
John Kurtz
The project will create a mile of new machine-built trails designed as entry-level flow trails for adaptive mountain bikers, with advanced "ride-around" features for more experienced riders.
"This will provide a new opportunity for adaptive cyclists and a new exit for Forbidden Fruit that will minimize user conflict and improve overall trail safety on the Adam's Gulch Trail System," the Trails Coalition said in a statement.
Other improvements to Adams Gulch include replacing or removing the current trail bridges with bridges wide enough for adaptive bikes to cross, redesigning and expanding the parking lot at the trailhead, and adding an additional pit toilet. Work on it will not be groundbreaking until 2022.