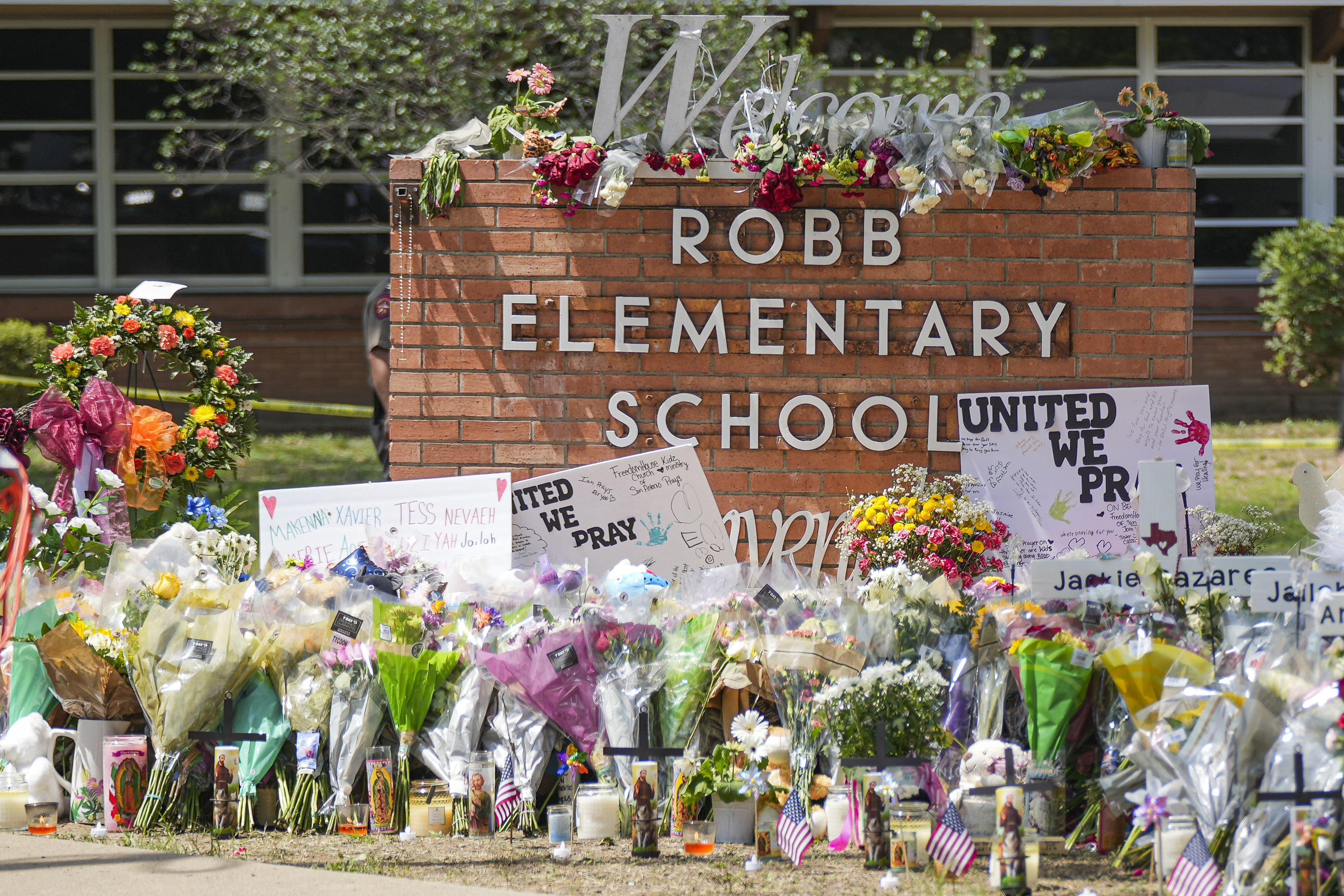 A 9-year-old pupil at Robb Primary School in Uvalde has described climbing through a broken window to escape last week's mass shooting that killed 21 people.
Daniel Ruiz, who was sitting next to his mother Briana Ruiz, said during an interview with CNN that the 18-year-old gunman fired "like four bullets" into his classroom, hitting his teacher and a classmate.
The shooter, Salvador Ramos, had also attempted to break into Ruiz's classroom, but the door had been locked by his teacher, who also broke off the key before shooting her in the leg and torso.
Daniel explained that he and some of his classmates "hid under a table by the wall" shortly after hearing the first two shots. He also recalled seeing Ramos through the door's window.
"I could still see his face," the boy said. "I could see him staring at the people in front of me."
Daniel told the news channel that he later injured his hand from broken glass after climbing out the classroom window, adding that his injured teacher and classmate survived.
The boy's cousin, Ellie Garcia, who was also a student at Robb Elementary, was one of 19 children and two teachers killed in one of the deadliest shootings in US history.
Ramos attended Uvalde High School. Posting his plans before the attack on Facebook, he wrote, "I'm going to shoot my grandmother" and "I'm going to shoot an elementary school," Texas Gov. Greg Abbott said at a May 25 news conference.
Texas Gov. Greg Abbott speaks during a news conference about the mass shooting while seated with Christina Mitchell Busbee, 38th District Attorney and Mayor Don McLaughlin at Uvalde High School on May 27, 2022 in Uvalde, Texas. (Michael M. Santiago /Getty Images)
There is no known motive for the attack and Ramos had no known criminal or mental health history, according to Abbott. He was shot dead by a border guard after reportedly barricading himself in a room.
So far there have been conflicting reports and growing public anger after information emerged that officers were waiting in the hallway and delaying their response.
On May 27, the chief of the Texas Department of Public Safety admitted they delayed entering the school for over 40 minutes because they didn't believe it was still an "active shooter" situation.
"At the scene it was decided – I wasn't there – that this was a barricaded situation, it was time to get the keys and wait for a tactical team to go ahead with the equipment, break down the door and deal with the issue said Steve McCraw. "At that point, that was the decision, that was the thought process."
The US Department of Justice (DOJ) confirmed it will conduct an investigation into the circumstances surrounding the shooting, which was conducted at the request of Uvalde Mayor Don McLaughlin.
"The goal of the review is to provide an independent report on law enforcement's actions and responses on the day, and to identify lessons learned and best practices to help first responders prepare for and respond to active shooter events," das said DOJ in a statement on May 29.