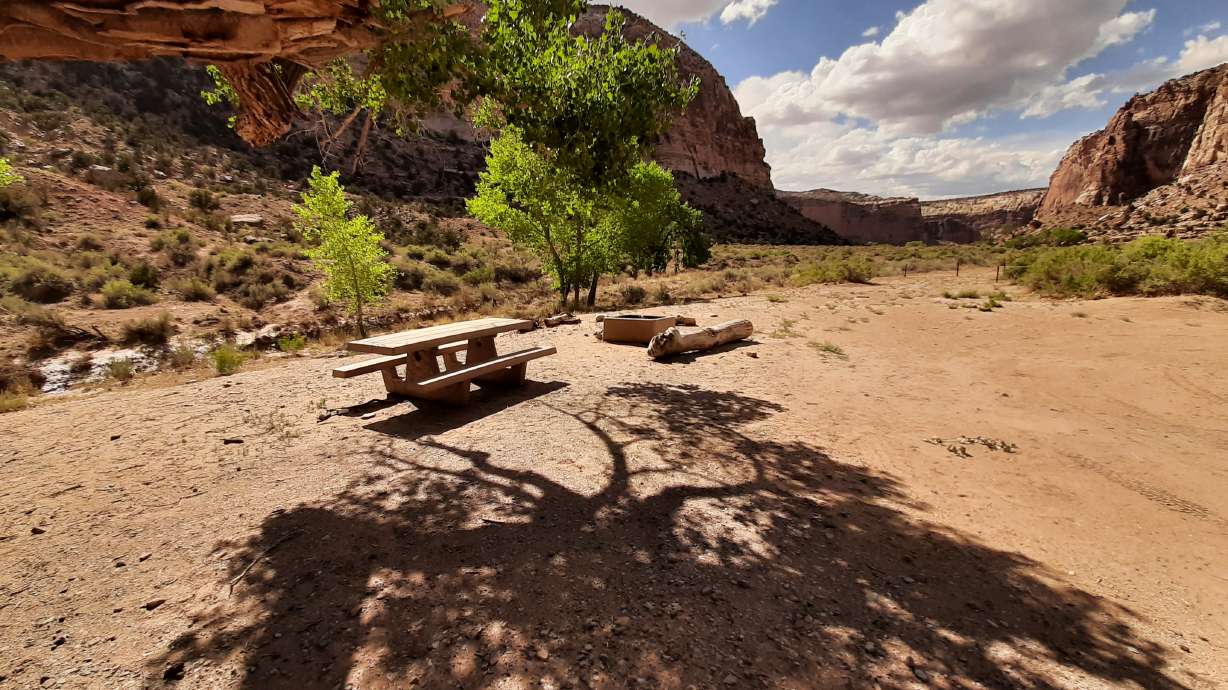 A picnic table at a campsite in the Price Field Office of the Bureau of Land Management. The agency announced Friday that new campground fees will be introduced at 15 locations at Price and Richfield's offices beginning next year. A new campground at the Salt Lake City office will also open for a fee. (Office of Land Administration)
Estimated reading time: 2-3 minutes
SALT LAKE CITY — State lands administrators said Friday they are proceeding with plans to introduce new usage fees at 16 current or upcoming campgrounds across the state that will be implemented early next year.
Twelve of the selected current campgrounds are in the Bureau of Land Management's Richfield Field Office, while an additional three are in the Price Office, based on various business plans originally released between 2019 and 2020.
Beas Lewis Apartment (Richfield)
Buckhorn Wash (price)
Cottonwood Canyon (price)
Law (price)
Little Wild Horse (prize)
Millsite (Price)
New Joes (price)
San Rafael Reef (prize)
sand washing (price)
Saul's Meadow (Richfield)
South Temple Wash (price)
Summerville (Richfield)
Temple Mountain Townsite (Price)
The Wedge (Price)
The Wickiup (price)
Currently there are no fees on these 15 sites. There is a $20 per night camping fee for all Price Field Office locations or a $75 per night fee for group locations. The Richfield Field Office plan calls for a $15 per night camping fee at Beas Lewis Flat and Summerville campgrounds, while the Saul's Meadow campground will be $10 per night once the plan goes into effect.
The final location is within the new Fivemile Pass recreation area in Utah and Tooele counties that was designated last year. The Salt Lake Field Office suggests a $10 per day fee, which would include overnight camping, or a $50 annual pass. The plan also calls for an $80 annual pass that also includes access to the Knolls Special Recreation Management Area in Tooele County.
The fees will help maintain selected facilities, according to the Bureau of Land Management. These are typically invested in things like fire rings, trails, picnic tables and restrooms, according to the agency
Agency officials claim they are helping to "improve the outdoor recreational experience" and improving services, especially as interest in outdoor recreation in Utah increases.
"Recreation on America's public lands is more popular than ever as people seek to enjoy the great outdoors. These recreation fees will generate funds to improve access, upgrade campground infrastructure and improve BLM's ability to support local economies," said Greg Sheehan, the director of the bureau's Utah State Office.
The Office's Resource Advisory Board recently reviewed public comments from the time the plans were published and approved them for implementation beginning January 6, 2023. Officials drew attention to the upcoming changes now that federal law requires all new recreational fees to be posted to the federal register at least six months before they are implemented.
×
similar posts
The latest travel and tourism stories from Utah
Carter Williams is an award-winning reporter covering general news, nature, history and sports for KSL.com. He previously worked for the Deseret News. He is a Utah transplant next to Rochester, New York.
Other stories that might interest you