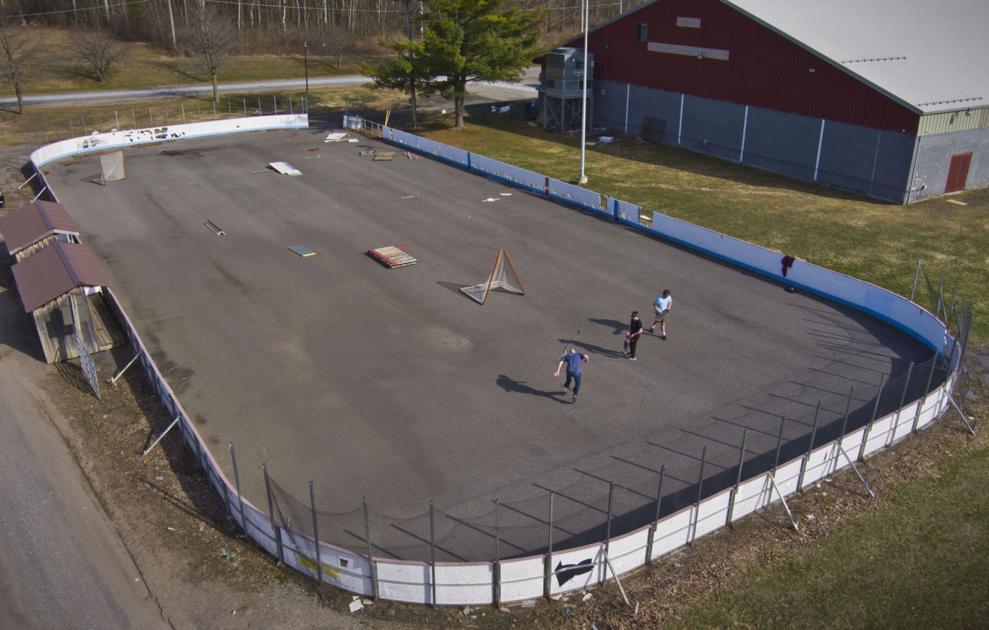 CANTON – The plastic boards of the village's open-air ice rink look like Swiss cheese.
Adjacent to the Canton Recreation Pavilion on Lincoln Street, the ice rink has deteriorated into a safety hazard and "eyesore," said resident Timothy I. Abplanalp.
But a community-led revival will transform the space – with holes poked through boards and steel posts sticking out of the joints – into a year-round ice rink for ice hockey, roller skating, skateboarding, box lacrosse, and basketball.
"All of this could use a facelift," said Abplanalp on Tuesday and went over the ice rink.
A proposed project, led by Mr. Abplanalp and several other community members, is currently in the works with an estimated $ 35,000, approximately half of which has already been raised by families and Canton Minor Hockey. A local donor who wants to remain anonymous, Abplanalp said, has pledged $ 20,000 in appropriate funding.
The rink is on village property near Bend in River Park, and village officials approved the community-funded restoration work during a special meeting last week.
"From our Reimagining Recreation sessions and talks, this seems like just such a good and appropriate offshoot of everything that came out of it – the direction people are interested in, the engagement people are interested in, the Enthusiasm that people have, "said village trustee Carol S. Pynchon said.
Mr. Abplanalp was one of about two dozen members of the advisory group and showed interest in the renovation of the outer runway, which required new signs, a complete replacement of the inner boards with outer boards and the renovation of the steel frame of the oval.
Although there are no formal contracts or draft plans, the supporters of the ice rink, according to Abplanalp, plan to complete the project with volunteer work and get help in raising donations from community groups and companies. Ideally, he said, new boards would be put in place by this winter. A standing group would then be set up to facilitate further fundraising and maintenance.
At the moment the rink sees occasional visitors. A couple of St. Lawrence University students and a canton resident spent Tuesday afternoons skateboarding on the tarmac.
"I was definitely curious about all of the holes," said Seth W. Gray.
A few weeks ago, Mr. Gray first found out about the existence of the ice rink with Daniel M. Edich, a fellow SLU student in his first year. With spring in bloom, they have decided to take advantage of this week's sunny weather but look forward to returning when the area is renewed.
"It's so nice to still see people here," said Abplanalp. "It looks like we have a project ahead of us."
To get involved in the project, ask questions or make suggestions, contact Mr. Abplanalp at [email protected]
As an Amazon Associate, I earn from qualified purchases.