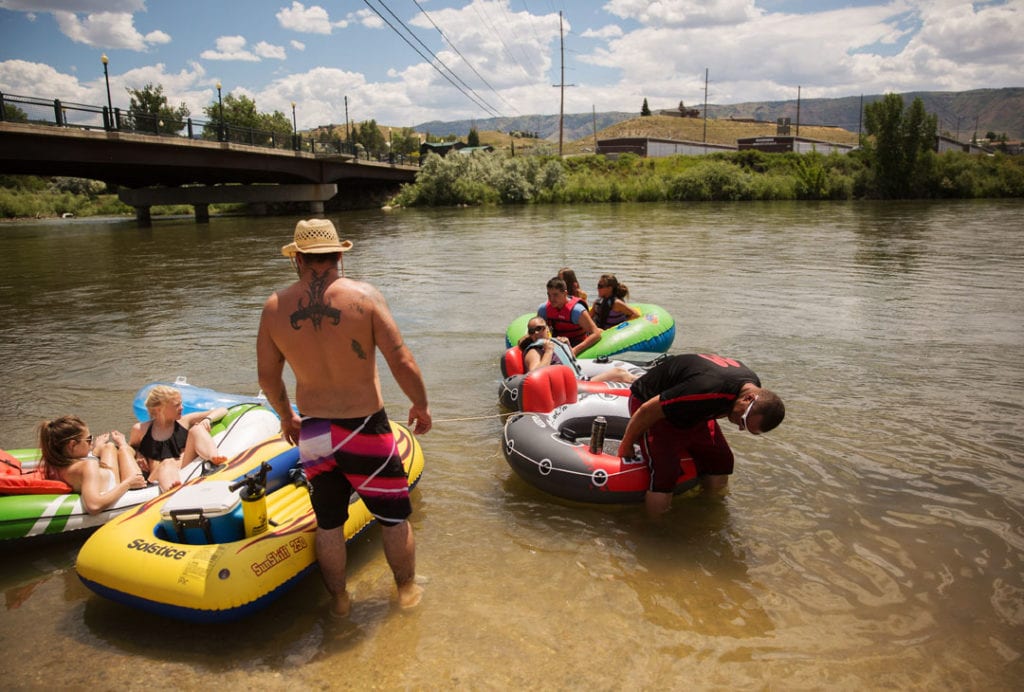 CASPER, Wyo – The City of Casper plans to apply for an outdoor recreation grant to add up to three new boat ramps along the North Platte River.
The boat ramps would be added near the Tate Pumphouse and in the Riverview Park area, Zulima Lopez, director of parks, recreation and public facilities, told the city council on Tuesday. A third ramp could potentially be added near the Best Western Downtown Casper Hotel.
The city plans to apply for grants, which are available through the Wyoming Office of Outdoor Recreation. This office administers a grant program for an outdoor recreation project using approximately $12 million in American Rescue Plan Act funds.
The city also plans to apply for some grants to add water hookups and electricity for sites at the Izaak Walton Campground near the Fort Caspar Museum, Lopez told the city council.
The city itself will submit grant applications for the boat ramp and campground projects. It has also coordinated with the new Natrona County Outdoor Collaborative, the Platte River Trails Trust, the Casper Shooters Club and the Hogadon Night Skiing Project, Lopez said, with those entities considering applying for grants for other projects.
The Casper Shooters Club plans to apply for grants to support an expansion of the Stuckenhoff Shooters Complex. The Hogadon Night Skiing Project plans to apply for night skiing to the Dreadnaught slope at the resort and snow park.
The Platte River Trails Trust plans to apply for money for:
The Paradise Valley to Robertson Road Bridge Trail and Pedestrian Bridge Project
Adding a soft trail portion of the Casper Rail Trail Extension Project to Edness Kimball Wilkins State Park
Grants are available from the Wyoming Office of Outdoor Recreation and can range from $20,000 to $749,000. Grants over $750,000 can also be made, but require special approval and a one-time review, Lopez added.
Projects that focus on adding recreational elements will do better than those that aim to add surrounding infrastructure like restrooms, signage, or parking lots. Projects on public land or land that is available to the public free of charge are also prioritized.
A 10% match is required to receive an award. Projects that can provide a higher match are ranked higher. Cash and in-kind donations are considered equal, Lopez said in a memo to the city council.
Applying for the grant is free. Regarding Match funding, Lopez said in the memo that the proposed projects identified the following options:
Boat ramps: River Fund dollars and contributions in kind from volunteers, city employees, and charitable donations
Izaak Walton Campground Improvements: Funding included in the city's budget for fiscal year 2023 for campground improvements
Stuckenhoff Shooters Complex Expansion: One dime #17 optional sales tax funds allocated to Stuckenhoff
Drainage improvements, as well as private donations and contributions in kind from the Shooters Club and city workers
Hogadon Lighting: Hogadon Night Skiing Project and other donations
Platte River Trails Trust Projects: One-cent #16 and #17 funds allocated to trails, grant funds received from PRTT, private donations, and fundraising dollars from PRTT
On Tuesday, Casper City Council signaled its support for the city in applying for grant funding for the boat ramp and campground project.
More details can be found in the following document: