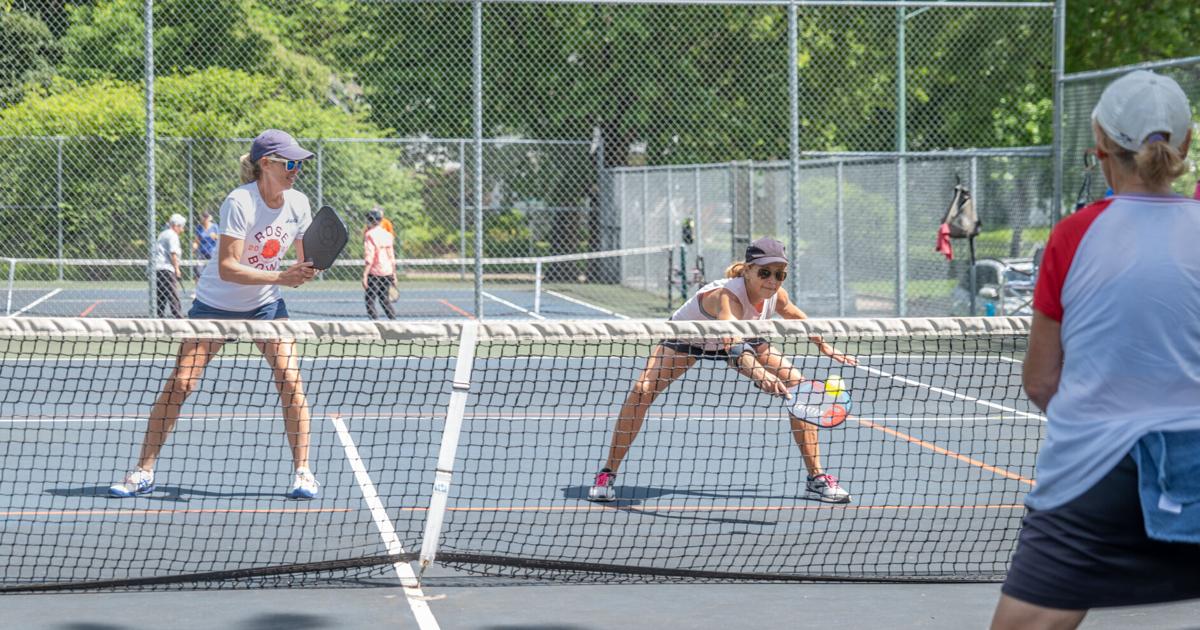 CHAMPAIGN — Champaign's Donald Block Jr. gave his interest in the sport of pickleball a 9 on a scale of 1 to 10.
"My wife would probably say it's 10," he said, adding that he plays there when he travels to Florida or Michigan.
Bloc, who estimates he plays "four or five times a week," said the sport appeals to older residents because "it's not too taxing on the body. It's not so much running as tennis.:
"I picked it up — I'm 72 — when I was probably 65," he said. "I was looking for something to keep me active outside of golf."
He's looking forward to this fall when a new eight-court pickleball complex is slated to open in west Champaign.
And he's far from the only one. A number of pickleball players share his excitement at finally having their own place to play.
The Champaign Park District Board of Directors this week awarded Petry-Kuhne Co. of Champaign a $750,000 maximum contract to build the pickleball facility north of Centennial High School on a years-old softball and baseball field.
Park District executive director Joe DeLuce said the hope was to include a restroom/concession building in the project, but bids were coming in over budget. The park district would later like to add a second phase that would include these amenities and possibly lights and parking.
"We hope to have construction completed by the fall," said Dan Olson, park district operations manager.
A hybrid of badminton, table tennis and tennis, pickleball is the fastest growing sport in the country, and Champaign-Urbana reflects that trend, Olson and DeLuce said. Such was the need for pickleball courts that lines were painted for the sport on some local tennis courts.
"The sport is growing in the Champaign-Urbana area, and we have numerous players every day at Hessel Park and other parks throughout the community," Olson said. "Our employees have offered two pickleball tournaments at the Leonhard Recreation Center, where we have three indoor pickleball courts, and they are planning more tournaments later this year."
Olson said it was common for attendees to bring lawn chairs to sit and wait on the available courts at Hessel Park, where there are two dedicated courts and others sharing court with tennis – a reminder of the heyday of tennis Tennis in the 1970s.
Block said it's not just seniors who enjoy the sport — he called it "intergenerational."
"We have young people in our group," he said. "The youngest in our tournament was 16, the oldest 81. You can have fun. It's sociable, but you can also be very competitive. There are many tournaments across the country."
Another attractive aspect: the cost.
"The gear is pretty basic," Block said. "You need to buy a paddle and balls."
The cost of the paddle depends on the commitment level. A standard costs about $50. More – serious players buy racquets that cost $200 to $300.
"Compare that to a driver in the Golf, it's cheap," Block said.
On a scale of 1 to 10, he rates his interest in Pickleball at a 9.
"My wife would probably say it's 10," he said, adding that he plays there when he travels to Michigan or Florida.
Olson said the courts will be built on the site of the former Bert Seaman Field, formerly known as Memorial Field. It will be built about 100 feet from John Street.
The area is a popular spot for recreational activities in the Park District. It also includes the Sholem Aquatic Center, Lindsay Tennis Courts, Leonhard Recreational Center and the Champaign-Urbana Special Recreation Center.
The park district is following the example of other area communities in building the self-contained plazas.
Some pickleball players are converted tennis players, but not all, Olson said.
"Many say it's a good alternative because they're slowing down with age or have knee and ankle problems," he said. "But a lot of them are relatively new to the sport of racquet."
He said like many outdoor activities, Pickleball has grown during the COVID-19 pandemic.
Pickleball players are excited about the park board's decision.
Block said players "have been striving for this for years."
"I started talking to (DeLuce) about this about three years ago. We have new people showing up all the time."
Olson said local tennis players shouldn't feel left out, saying the community is "very much a tennis town, too."
"We also get requests for more tennis courts. Even with the nice courts at the U of I and the ones that we have and Urbana has, people probably ask a few times a year if there are new tennis courts on the horizon," Olson said.
He has good news for them too. The four tennis courts at Spalding Park are to be resurfaced and two more created. The surfaces at Lindsay Court were also renewed last year.