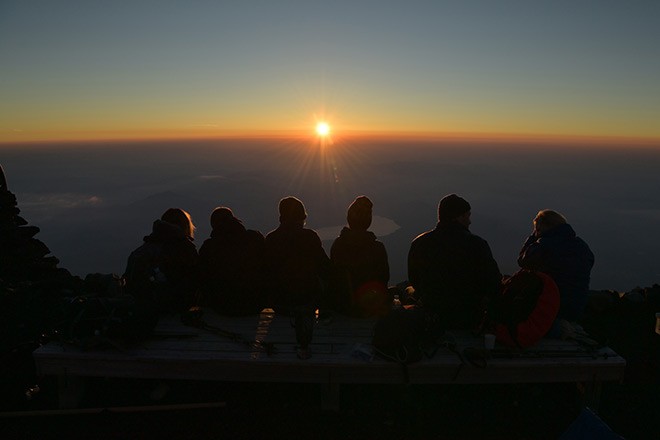 Climbers atop Mount Fuji's 3,776-meter peak expressed their excitement as the brilliant sun rose against a cloudless sky on July 1, as the climbing season for Japan's highest peak began.
"It's the most beautiful sunrise I've ever seen," said Masayuki Kaburaki, 64, from Yokohama. "It's the first time I've seen the sun rise in a perfect circle since the sky is so clear."
He has climbed Mount Fuji more than 20 times.
"Very nice. I will cherish this memory for the rest of my life," said Nicole Jekel, 48, who is in Japan on business from Germany. He said his dream finally came true.
Climbers watched the sunrise from the summit around 4:30 a.m. on July 1, when the Yoshida Trail, a trekking route from the Yamanashi Prefectural side, opened for the season.
Many climbers take four routes from the mountain's fifth station to the summit.
The other three routes — the Subashiri, Gotenba, and Fujinomiya trails on the Shizuoka Prefecture side — are expected to open on July 10.
All routes are scheduled to be open by September 10th.
The four routes closed in 2020 amid the novel coronavirus pandemic.
Last year, the routes reopened for the first time in two years, but the number of climbers fell to about a third of the 2019 number.
Lodges on the mountain will take thorough measures to prevent coronavirus infections.
Climbers are asked to reserve in advance, with the number of guests allowed being halved. Some lodges are already fully booked on weekends and in the midsummer bon holiday period.
The Yamanashi Prefectural government asks climbers to fill out health check forms beforehand. Climbers are then asked to show the sheet and take their temperature at the fifth and sixth stations on the mountain.
They will be given yellow bracelets if no problems are found, but if climbers experience temperatures of 37.5 degrees or higher, or a temperature one degree higher than usual, they will be asked to refrain from climbing.
Climbers are allowed to remove their masks, but are asked to cover their nose and mouth when passing others.
The Shizuoka Prefectural Government will also ask climbers to check their temperature and health at the fifth station of their three routes or at the parking lots where climbers board shuttle buses. If no problems are found, the climbers are given wristbands.
Climbers are also being asked to undergo medical screenings at shelters in communities around Mount Fuji.