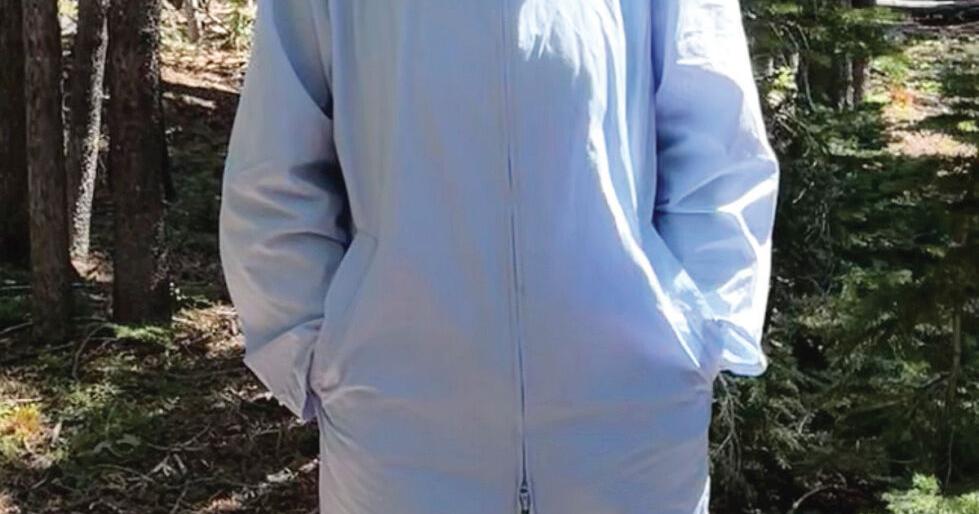 If you're reading this column on publication day December 31, it means only one thing: It's my sister's birthday. Happy birthday, Karie. Here's to another year of Forever 29!
I've been told that alongside my sister's birthday, it's also a holiday – a holiday of reflection and celebration (and maybe a little libation) as we look back on the year that has passed and dream of the year to come.
As I reflect on the past year, I can't help but think of a truly inspirational story I've had the privilege of experiencing on a journey deep into the Bighorns' backcountry.
"Life got in the way," mused Suzanne Beaudelaire, when asked why she hadn't backpacked in the 45 years that had passed since she was a teenager to go north with her girlfriends from Alta Sierra Girl Scouts from Los Angeles, California to explore the Angeles National Forest.
Being outdoors has always been important to Suzanne. "I've been an outdoor girl my whole life. There I can take a deep breath, relax and fill in all my scenes; it fills my soul and encourages gratitude and happiness," she said.
Fresh out of a 34-year CPA career, the self-proclaimed "outdoor girl" knew she wanted to get back in the country and backpack deep into the beautiful Bighorns backyard she's called home for the past decade.
That should happen in the summer of 2021 as part of a trip on Smith organized by The Hub. But: "Two days before this trip, I put on my full backpack for a short walk in the morning and then had a particularly physical day," Suzanne said, explaining, "That afternoon I had a muscle strain in my calf."
But Suzanne was undeterred.
"I was so disappointed," she recalls. "That experience inspired me to start training for this year's hike."
Training began for Suzanne about five weeks before this year's Hub backpacking trip to the Seven Brothers Lakes in the Cloud Peak Wilderness. She aimed for two to three hikes a week at varying elevations and distances.
"I started with just a day pack and loaded it with binoculars, a book about the local flora and fauna and plenty of water and snacks. After a few weeks, I switched to the backpack I would be wearing, starting at about 10 pounds and increasing the weight until I had all my gear, clothing and food," she said of her training schedule.
On almost all of her hikes, Suzanne relied on another Girl Scout rule: use the buddy system. She's tapped into friends and contacts she's made through hub hikes and a Facebook Hikeristas group. They accompanied her on hikes on the Hidden Hoot Trail and the Red Grade Trails. She said the new sections at the Poverty Flat Trailhead have been particularly enjoyable. Her only solo trip was the Soldier Ridge Trail, where she enjoyed her time on the end bank before hiking back at sunset.
Finally, the trip was looming in July, but a canceled flight returning from an LA wedding left her stuck in Billings with the bighorn blues again. Luckily, a quick call to the Hubby Taxi Service got her to Sheridan, where she met the Hub group and made the ride.
Beginning with little shade and extreme heat, she described the more than four-mile hike to camp, which covered more than 1,600 feet to reach an elevation of 9,585 feet, as "challenging" but the workout conditioned her muscles and lungs. This made for "a pleasant experience in which I could enjoy the scenery with relative ease and comfort."
About the scenery: "Can't be beat," claimed Suzanne. "There are incredible boulder fields, stunning lake views and wildflowers galore. The company was amazing too."
She was even able to enjoy an afternoon at the beach – an eye-catching surprise of soft sand that visitors find at the end of the trail at Seven Brothers Lake No. 7 expected.
For Suzanne, it was the little pleasures that made her time in the backcountry truly worthwhile.
"I liked jumping to the lake in the stillness of the morning to sit and fill up my water."
Suzanne thanked Lisa Wells and Steve Stresky for organizing so many great Hub hikes and recommended that anyone interested in hiking outdoors sign up for a hike.
She was also thankful for the trails built by the Sheridan Community Land Trust.
"I can't imagine a world without SCLT trails," she explained. "SCLT has done so much to improve access to outdoor recreation. I really appreciate their vision and effectiveness.
"If you use SCLT trails, I hope you will join me in supporting them," Suzanne said.
SCLT's Community Trails are the perfect place for healthy fun – both physical and mental. They are a place where you can connect with nature close to your home. They are places where you can learn local history. They are a place where you can experience our freedom. And thanks to many great friends, SCLTs are and always will be free to all who live in and attend our community.
Chris Vrba is Marketing and Development Manager for the Sheridan Community Land Trust.