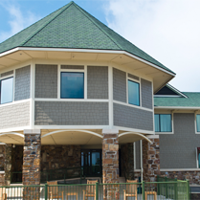 A letter of intent has been signed to commence exploration of a trail extension project in the Mena area.
Representatives from the Arkansas Department of Parks, Heritage and Tourism, Ouachita National Forest, Arkansas Parks and Recreation Foundation and the City of Mena recently met at the University of Arkansas Rich Mountain in Mena to formalize the agreement.
The memorandum outlines the group's intention to work together to explore trail opportunities within and adjacent to Queen Wilhelmina State Park, the Ouachita National Forest and the city of Mena.
"This collaboration creates exciting opportunities for future outdoor recreation in this beautiful corner of our state," said Stacy Hurst, Secretary of the Arkansas Department of Parks, Heritage and Tourism. "There is so much potential to expand the current leisure options and tourist attractions."
Signatories to the agreement with Hurst were Felipe Cano, acting assistant forest warden for the Ouachita National Forest; Mitchell Allen, Arkansas Parks and Recreation Foundation trail project manager; and Seth Smith, Mayor of Mena.
"We are committed to exploring this project with our partners," Cano said. "The Ouachita National Forest is a natural treasure in Arkansas. Finding new ways for people to enjoy their beauty and recreational opportunities while also promoting conservation is a top priority."
Located atop Rich Mountain, Arkansas' second highest peak, Queen Wilhelmina State Park offers breathtaking views. Visitors can drive the Talimena National Scenic Byway to get to the park, which includes 41 campgrounds, picnic areas, and hiking trails.
The Ouachita National Hiking Trail is an east-west corridor that stretches from Pinnacle Mountain State Park near Little Rock to Talimena State Park near Talihina, Oklahoma. A portion of the trail is open to mountain bikers and is an International Mountain Bicycling Association Epic Trail.
"The majestic nature of the site, along with the area's existing trail system, such as the Ouachita National Recreation Trail, has attracted countless visitors over the years," said Suzanne Grobmyer, executive director of the Arkansas Parks and Recreation Foundation. "When complete, this trail development would be the type of system that would be a beacon for mountain bikers, trail runners, hikers and other recreational enthusiasts around the world."
Mena was founded in 1896 as a railroad town at the eastern base of Rich Mountain and is the eastern terminus of the Talimena National Scenic Byway.
"We're proud of what we have in Mena, but we're also looking to the future," Smith said. "Our residents are excited to see the area grow and I think this project has the potential to fundamentally transform our city."