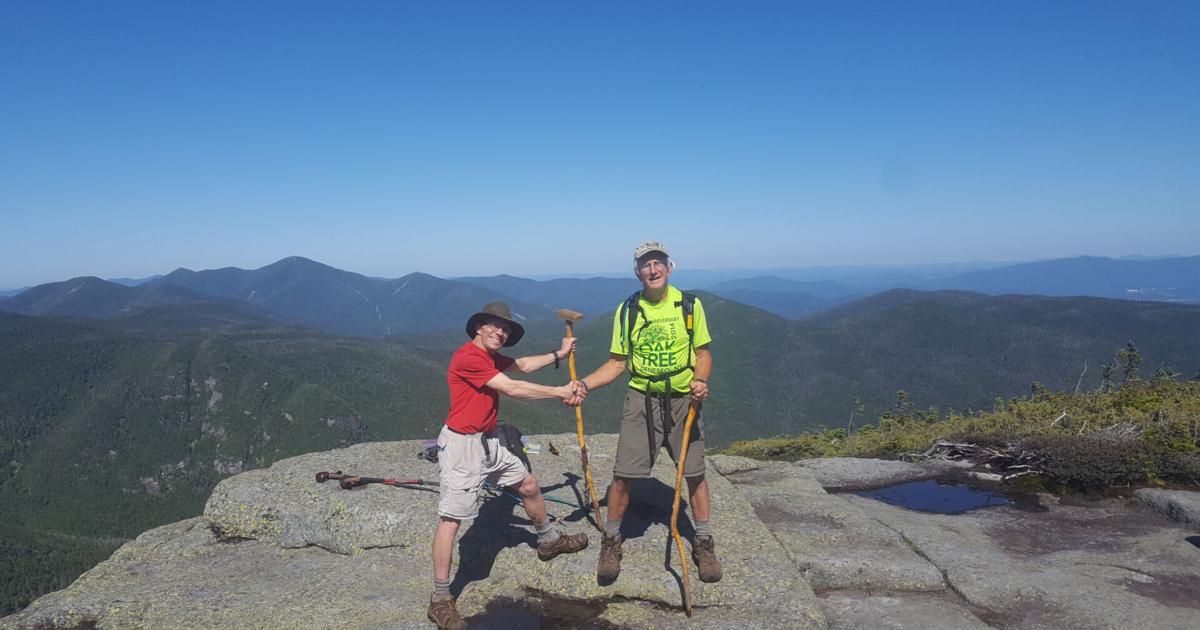 There is a time when you love God and great people like Dr. Sweeney and my wife Linda for keeping me active and healthy.
It all started with a few wake up calls in 2004 and we've never looked back.
Mountaineering came first, the first 46 success was the highlight of my life at the time. My son Joe, wife Linda, and daughters Jennifer and Michelle have been my biggest supporters, and they have been joined by many friends and cousins. This achievement strengthened the family bond and thanked God for our health, which He can control.
(A 46er is a hiker who has climbed all 46 High Peaks of the Adirondack Mountains.)
The 600 mile round trips into the mountains – and many overnight stays – also allowed each of us to learn more about our own state of New York and in particular all of our camping and hostel experiences in Lake Placid, Keene, Keene Valley and Newcomb . It was a damn learning curve.
Then came dr. Arluck came into play and suggested, now that the first summer of '46 was complete, why not try winter climbing. After extensive research and equipment purchases, this adventure began and became – and still is – the greatest achievement of my life. It took three years to conquer 46 Adirondack peaks between December 21 and March 20, through whiteouts, snowstorms, frozen rivers, deep snow, ice-capped cliffs, snowfalls and sub-zero temperatures. The great thing about this trip was that in addition to my own family, we had a winter climbing family made up of 30 similar devoted weirdos from across New York and Canada who kept in touch via an Adirondack 46er forum so we could schedule dates. Travel and Availability. It was a fantastic time in our lives.
After this adventure and the end of the second round, it was time to become a mentor. I was asked to become a climbing correspondent to help and mentor rising 46ers across the country. Linda and I became hosts at ADK Lake Placid Loj campsite and the fun continued. The next two rounds of 46 helped family, friends, cousins, a nephew and a niece to get 46s. We ended up having nine 46s in our family, including our daughter Jennifer's 46 completion and engagement to Shane at the top of Whiteface Mountain.
The last mountain climb, the end of my fourth loop, was the summit of Basin Mountain – which was also the last mountain climbed for loops two and three – on August 19, 2019 at the age of 72 with my hiking partner and friend, my son Joe.
As mountaineering activity began to decline, Joe wanted his father's physical activity to continue. On December 8th, 2012, Joe and my wife Linda talked me into running the Wonderful Run at Seneca Falls for my first 5k race. I wasn't impressed; so I wasn't obliged. From 2012 to 2015 I experimented with more 5Ks and even some half marathons. I met a lot of great people and had a lot of fun, but I wasn't too excited about this running exercise. We have run with family and friends and even got my grandson Thomas to run his first race at age 4 and my granddaughter to run her first race at age 4.
While Linda kept me healthy with daily doses of multivitamins, vitamin C, saw palmetto, fish oil, cinnamon, and my cholesterol capsules, Dr. Sweeney at my annual check-ups and he felt good about my progress year after year.
Finally, on December 12, 2015, I ran another Seneca Falls Wonderful Run 5K and haven't stopped since.
I have been so fortunate to have family to support me and the physical ability to continue this obsession. Maintaining an ongoing streak has allowed me to focus on this adventure with a serious commitment and understanding of how to keep knees, ankles, feet and hips in working order.
Finding 5Ks in the winter, or ones I needed to make sure I ran one in any given month, has had me traveling all over New York. I even did a K on a cruise, in Florida and in Myrtle Beach.
During the height of the COVID-19 pandemic, when in-person races were cancelled, I had to go online and register for 16 virtual races just to keep the monthly back-to-back streak intact. We ran many of them together as a family.
It was a great run and on February 13, 2022, race number 75 was completed. Additional races were completed in March, April, May and June as we approached the new goal my doctor and I had set for ourselves. That goal of 80 5K races is set to be reached on July 4th in Greece.
The distances seem to be getting longer and my times are definitely getting slower and when I run I don't smile anymore just grind my teeth.
I just turned 75 and my advice to everyone, no matter your age, is to stay physically active.
Enjoy life, stay active and keep moving.
As an Amazon Associate, I earn from qualifying purchases.