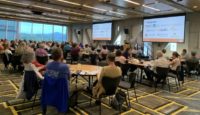 North Carolina rakes in $28 billion from outdoor recreation. The WNC: MADE X MTNS ((Made By Mountains) partnership created the Building Outdoor Communities program, which focuses on capacity building, technical assistance, training, connectivity and education for communities that are achieving their goals in the Mitchell County placed at the top of the list and is one of the first five counties to launch the program along with McDowell, Burke, Wilkes and Rutherford.Over the next seven months, Mitchell will organize his core committee members and stakeholders and figuring out what infrastructure they need, how it's affecting their economy, how to activate it in the workforce, then brand it and make it another part of Mitchell County's tourism." Matt Ward, director of the Mitchell County Economic Development Commission , said: "We have been told that the state of Maine and many other communities throughout n countries are jealous of the highly concentrated natural beauty and outdoor activities that already exist in WNC and the Potentia l so more are coming to our area. We hope to get the manufacturer of the various outdoor items and maybe the enthusiasts to move here."
Key partners in this work are Appalachian State University's Center for Economic Research and Policy Analysis, six regional government councils, and West Virginia University's Brad & Alys Smith Outdoor Economic Development Collaborative. The teams will embark on a seven-month data collection dive with community cohorts from September 2022 to August 2024 to strategically assess and prioritize outdoor infrastructure and economic development goals, forge pathways to implementation, and an economic impact toolkit in the open so community leaders can be armed with data to leverage future project investments.
Communities that successfully participate will receive the critical user data they need to drive their outdoor recreation planning goals and will be eligible for technical assistance funding through an appropriate grant program to drive their top priorities.
Building Outdoor Communities Program (BOC) September 19-20 and welcomed over 100 attendees for an introduction to its two-year outdoor community economic development initiative.
About the WNC: MADE X MTNS partnership
The WNC: MADE X MTNS (Made By Mountains) partnership works to grow the outdoor industry and economy throughout North Carolina's Appalachia region and promote rural development through building vibrant outdoor communities, growing outdoor industry and the strengthening of regional storytelling. The partnership includes WNC's Outdoor Gear Builders, Mountain BizWorks and the NC Outdoor Recreation Industry Office, as well as numerous stakeholders, including regional universities, rural communities, economic development and conservation organizations. With support from the Appalachian Regional Commission and the Dogwood Health Trust, the WNC: MADE X MTNS partnership celebrates, supports and builds a greater sense of pride in our region, our people and the exceptional outdoor recreation industry and culture these mountains have nurtured to have . For more information, visit madexmtns.com or @madexmtns on Facebook, Instagram and Linkedin.