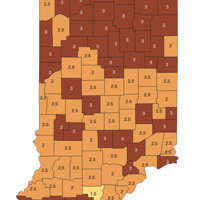 SOUTH INDIANA – Counties Clark and Floyd each reported three new deaths from COVID-19 in the Indiana State Department of Health's report on Friday.
Those numbers brought the total Clark deaths to 283 and Floyd's deaths to 232. The state reported 49 deaths between November 11 and December 9, bringing its total to 17,400 from March 2020 to date.
The number of new cases also rose, with Clark reporting 76 new cases and Floyd 51, while the state numbers from December 2-9 showed 5,315 new cases.
The December 8 hospital census found 2,753 COVID-19 patients were hospitalized across the state.
Clark's unique positivity rate after seven days was 24.6%, Floyd's 21.1%, and the state's 26.4%.
The Associated Press reported Thursday that Indiana hospitals are having their highest total patient numbers amid a month-long COVID-19 surge, and the state's largest hospital system announced Thursday that it had enlisted the assistance of the National Guard.
Indiana University Health said it has sought the support of six-member National Guard teams for most of its 16 hospitals across the state, as the burden on its "team members, nurses and caregivers has never been so great".
The IU healthcare system is not alone as the number of COVID-19 patients in Indiana hospitals more than doubled in the last month, with about 2,750 patients as of Wednesday, as about 30 people die from the disease every day, according to the state's follow-up Health department.
This has helped the total number of hospital patients in the state hit its highest ever level of about 12,000 and an increase this week, according to the Indiana Hospital Association.