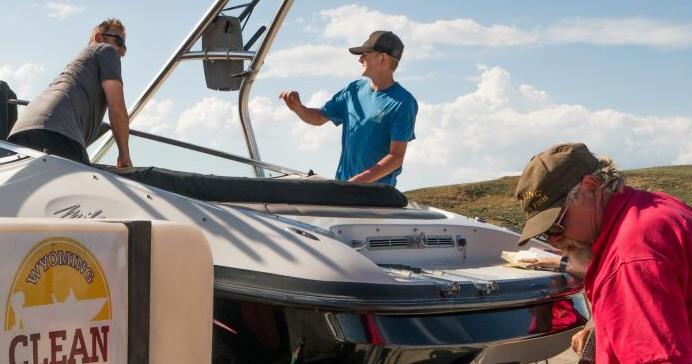 Last summer's confirmed find of zebra mussels in Pactola Reservoir — 15 miles west of Rapid City in the Black Hills National Forest — has prompted closer scrutiny of South Dakota's efforts to protect water bodies from aquatic invasive species that are spreading exponentially and causing negative impacts ecosystems, water intakes, fisheries and beaches.
Zebra mussels, snail-like mollusks that reproduce rapidly and move from lake to lake by attaching themselves to boats or microscopically in ballast tanks and living wells, were first discovered in South Dakota at Lewis and Clark Reservoir in 2015 and have now infested 12 bodies of water, including Lake Sharpe and Lake Francis Case on the Missouri River.
This rapid rate of spread has prompted advocacy groups and some state legislators to call for more aggressive containment by the South Dakota Game, Fish & Parks Department and Gov. Kristi Noem. The governor signed legislation expanding Game, Fish and Parks' enforcement powers over invasive species in 2020, but has been largely quiet on the issue over the past two terms.
Now neighboring western states like Wyoming and Montana are sounding the alarm about aquatic invasive species (AIS), calling out South Dakota's relative lack of resources and personnel to conduct boat inspections, decontamination, water testing and other preventive methods.
Some worry South Dakota has been too slow to stem the spread of adult zebra mussels and juveniles known as veligers, free-swimming larvae that can spread through water currents. According to the US Fish and Wildlife Service, female zebra mussels can release up to 1 million eggs per year.
"We have a new threat right on our doorstep," Josh Leonard, Wyoming's AIS coordinator, told News Watch. "Before Pactola was infested, the closest zebra mussel population was in the Missouri River area. The distance of 27 miles from our border compared to a few hundred miles has increased the threat to our state. If South Dakota could do more at Pactola, maybe we don't need to do as much here."
Alan Osterland, Wyoming fisheries chief, was even more direct when speaking before the Wyoming Game and Fish Commission last September.
"The response (South Dakota) was, in our opinion, hands off," he said.
The 2021 budget for South Dakota's AIS program was $538,000, including state grants from the US Fish and Wildlife Service and the Bureau of Reclamation, which oversees dams, power plants, and canals in the western states. Wyoming has an annual AIS budget of $1.3 million, paid in part by AIS sticker fees, which are $10 for Wyoming-registered motorized craft and $30 for other-state-registered motorized craft watercraft cost.
Dan Loveland of the South Dakota Lakes and Streams Association holds up zebra mussels found on his Lake Pickerel property in the summer of 2021. The snail-like molluscs reproduce rapidly and move from sea to sea, attaching themselves to boats or living microscopically in ballast tanks and wells.

And Loveland

Montana has invested about $5 million a year to fund water testing and boat inspection stations to protect the state's lakes and reservoirs from infestation. The state plans to adjust inspection station operations in 2022 "to address boat traffic off the Black Hills" after zebra mussels migrate west in South Dakota.
Minnesota, which first observed zebra mussels in Duluth/Superior Harbor in 1989, spends about $10 million each year on AIS prevention and mitigation, with the money paid out to counties to formulate their own strategies.
South Dakota does not have a dedicated state funding source for its AIS program, instead relying on federal grants and partnerships with community groups, in addition to coordinating with state agencies such as the Department of Transportation and the Department of Public Safety.
Kevin Robling, Secretary of Game, Fish and Parks, and Tanner Davis, AIS Coordinator, have enacted a public relations and education strategy using signage and marketing to convey the "Clean, Drained, Dry" message to recreational boaters. This slogan refers to cleaning boats and trailers, emptying live wells and bait buckets, and drying boats and trailers before re-entering a body of water to prevent the spread of zebra mussels.
The GFP Strategic Management Plan notes that there are nearly 10,000 bodies of water and about 500 boat ramps statewide, and that "the geographic size and complexity of South Dakota's aquatic resources makes containment efforts challenging."
Davis told the GFP Commission on Dec. 9 that the department had 96 percent plug compliance in 2022 and that the goal is to educate the other 4 percent and use enforcement action where needed.
GFP officials in South Dakota point to the difficulty of finding enough seasonal workers and college interns to fill AIS boat inspection positions statewide. South Dakota conducted 18,500 inspections in 2022, far fewer than Minnesota (540,000), Montana (90,000) and Wyoming (65,000) but more than Nebraska (6,600) and North Dakota (5,000).
When asked by lawmakers during an October 2022 Government Operations and Audit Committee meeting whether GFP would benefit from tougher legislation or more government funding for AIS programs, Robling replied that things were "working pretty well" and that his department " relentlessly trying to "slow the spread of aquatic invasive species" with public messages.
"We believe we have the necessary bylaws in place at this point, so the answer to your question would be no," said Robling, who became GFP secretary in December 2020. "We feel that once we have filled the positions that we hope to fill, we have the financial resources and the human resources. But right now the issue of human resources is a challenge, no question."
Robling's summary did not sit well with Sen. Reynold Nesiba, D-Sioux Falls, a member of GOAC and the Senate Appropriations Committee, who would like to see more done to prevent zebra mussels from entering South Dakota's waters and infrastructure such as intakes and irrigation damage systems.
Nesiba said containment is critical while scientific research is conducted to determine if affected lakes can be treated to mitigate the ecological impacts of zebra mussels and other invasive species such as the Eurasian alfalfa, ruffled pondweed and star alyssum to reduce. Early detection is a top priority in Montana, where techniques such as eDNA testing are used to capture the cellular traces of an organism in the water column.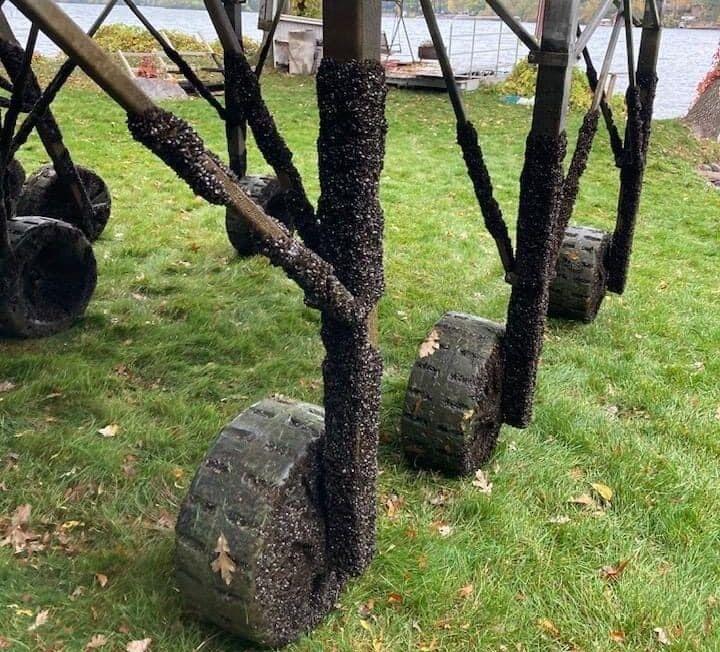 Zebra mussels cluster around the base and wheels of a dock pulled from the water on Lake Pickerel in 2021. The lake is one of 12 in South Dakota to have been infested by aquatic invasive species.

And Loveland

"I think Game, Fish and Parks feel resistance is futile and I think they're wrong about that," Nesiba told News Watch. "They don't communicate with community groups that are deeply involved in this issue, and they do far less than other states. What is missing is the political will and leadership to see this as an issue that can be mitigated and I remain hopeful that the governor will step up and do more about it."
South Dakota has so far resisted calls for an economic impact study to determine potential costs to the state if spread worsens as expected. The fact that Pactola Reservoir is important for irrigation and for providing water to Rapid City's municipal and industrial users is the latest cause for concern about potential future costs.
Zebra mussels can clog water pipes and foul irrigation channels, resulting in significant maintenance costs.
The Minnesota Invasive Species Council released a report in 2019 that estimated the annual economic cost of $230 million in abatement costs and lost revenue if zebra mussels infested the state's lakes, a figure considered conservative because they only stakeholders accounted for the cost to those affected, rather than general government resources.
Gov. Noem did not respond to questions from News Watch about her stance on the AIS issue, and she declined meetings of requests from the citizen-led South Dakota Lakes and Streams Association, which includes former Republican state senator Deb Soholt of Sioux Falls as a board member.
Soholt noted that the governor's recent inattention to the issue indicates a response from the state government that is not considering the potential impacts of invasive species on tourism, outdoor recreation, water quality, irrigation, and lake and river ecosystems.
"I would hate if her heir was the governor who lost control of South Dakota's waters under her watch," Soholt said.
This article was produced by South Dakota News Watch, a non-profit journalistic organization, which can be found online at SDNewsWatch.org.
Was the information in this article helpful?
Thanks for the feedback.
Register
Thank you, you are logged in.
Please enter your e-mail address.