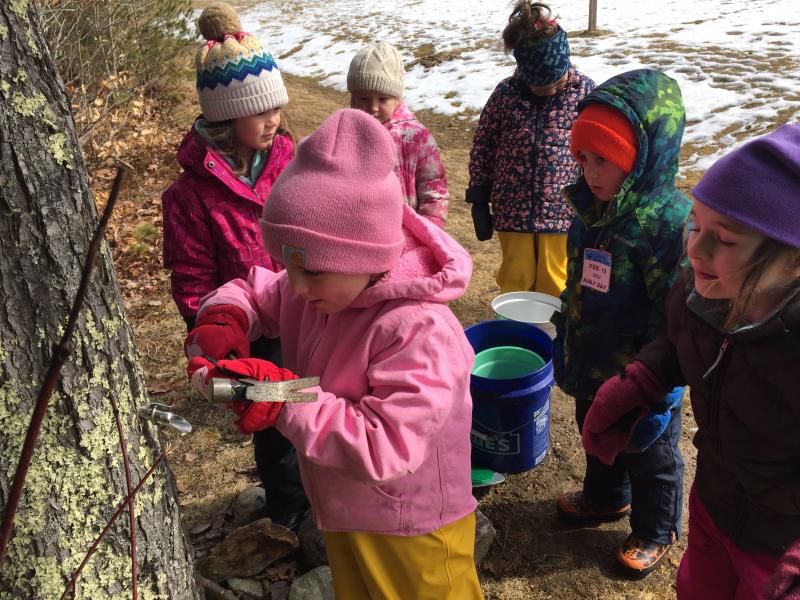 CUSHING and HOPE – Cushing and Hope elementary schools are among 160 Maine public schools to receive funding for their outdoor learning projects.
The shift to outdoor learning during the pandemic has presented schools with an opportunity to reinvent their classrooms and the lessons they teach. The Maine Environmental Education Association (MEEA) worked to support this opportunity by distributing nearly $200,000 this school year and funding 160 schools across the state in all 16 counties. Teachers use these tools to teach students about nature, provide them with skills that enable their independence, and ensure they spend more time outdoors.
For the 2021-2022 school year, educators received up to $1,500 to support projects in the categories of Outdoor Classroom Solutions, Inclement Weather Gear, Garden/Greenhouse, Outdoor Recreation, Scientific Exploration, Outdoor Art, Curriculum and Professional Development, Snowshoeing, and Bird Watching. Applicants demonstrated new and creative ways to engage students in the outdoors and shared the diverse positive impacts they have had on their students, from increased school attendance and academic learning to improved mental and physical health.
At Cushing Community School, grant money was used to build a story trail. Community volunteers designed, built and installed a series of "storyboards" to be placed along a path. The intention is for students, classes and/or families to walk the path and enjoy a book along the way.
"This wonderful new resource would not be possible without the support of community members who have donated their time, energy and expertise," principal Dawn Jones said in a press release from the Maine Environmental Education Association. "The Green Team's vision was to encourage all students to engage with nature to understand how all living things are connected and sustained with the help of caring communities. The Story Path is another step in this journey and we could not have created it without the help of our own caring community."
At Hope Elementary School, MEEA funds were used to purchase tools and materials that enhanced outdoor learning spaces and expanded the breadth and benefits of nature-based learning.
"Our ability to be outside and learn and grow with the seasons has been aided by the gear that keeps us warm and dry, the tools we've used to help create our outdoor learning spaces, and the materials that are required for continued engagement, meaningful, nature-based curriculum," said teacher Sarah Schafer.
In Fall 2020, MEEA launched the Mini-Grants for Outdoor Learning Program, a program aimed at reallocating funds to support teachers in their vision for outdoor classrooms. As enthusiasm for community-based environmental learning has increased over the past two years, MEEA has continued to support teachers with these grants.
This year, teachers have strived to bridge the gap between school funding and the needs of their students. Often with limited resources, teachers undertake incredible projects, engage a variety of students, and take outdoor learning to new heights across the state. The impact of these projects is empowering thousands of youth across the state! Supporting teachers and schools in their pursuit of outdoor learning is a critical part of MEEA's mission as the organization strives to enhance and amplify the efforts of individuals and organizations that build environmental awareness, appreciation and understanding of the environment promote and take action to create equitable and resilient communities.
"At MEEA, we are so grateful for the amazing educators who have worked so hard this year to bring their students outside of learning!" said Olivia Griset, Executive Director of MEEA. "Research shows that learning outdoors has tremendously positive mental and physical health benefits, as well as academic benefits for young people. We also know that not all young people have access to nature, which is an environmental justice issue. These teachers and projects, conducted in public schools across the state, are helping our youth have positive experiences by gaining a deeper connection to nature in their local community. Thank you to everyone who donated to make this project possible and to all of the AMAZING teachers for their incredible work!"
MEEA continues to seek impactful partnerships with local communities and organizations during this changing cultural and environmental climate, as the equitable environmental work created by MEEA plays a key role in building an environmentally conscious Maine; where all people can engage in civic engagement and understand the relationship between their well-being and that of their environment.
MEEA plans to continue this program by opening another application round for the 2022-2023 school year next fall. If you or your organization are interested in donating to this fund, please contact [email protected]!