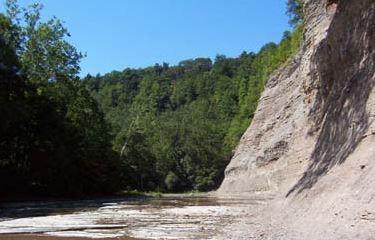 The New York State DEC is reminding visitors to the Zoar Valley Multiple Use and Unique Areas in southern Counties Erie and northern Cattaraugus to prepare for their outdoor adventures and practice safe recreation before visiting these destinations. Ahead of this summer's recreational season, the DEC continues to advance efforts to promote public safety and enhance the visitor experience in one of the most scenic and ecologically diverse natural areas in western New York.
DEC Commissioner Basil Seggos says: "The Zoar Valley is a special place where nature exists in its rough and wild form. As the weather warms and we begin the outdoor recreation season, DEC encourages visitors to enjoy Zoar while ensuring they are prepared to recover safely and anew. We strive to continuously improve the Zoar Valley visitor experience better by providing the information and resources needed to ensure safe enjoyment of one of the most natural and scenic locations in western New York."
The Zoar Valley is widely known for its spectacular scenery created by a deep canyon around Cattaraugus Creek, as well as its sheer cliffs, flowing waterfalls and dense forests. To ensure that visitors to the Zoar Valley MUA and Zoar Valley Unique Area are aware of the potential risks and must prepare, the DEC continues to advance comprehensive plans to improve the visitor experience and public safety.
This year the DEC in Zoar Valley will:
Continued progress on plans for new accessible trails compliant with the Americans with Disabilities Act (ADA), construction expected to begin in 2023;
improvement of emergency response, including improved emergency access to Cattaraugus Creek;
Assign two Assistant Forest Rangers to seasonal summer posts as well as one SUNY ESF summer intern; and
Continue to work closely with outside companies, including outdoor and travel websites, to monitor maps and information provided by third parties for accuracy in order to provide visitors with clear information and driving directions.
This effort reinforces DEC's work over the past two years to make Zoar Valley safer and more enjoyable for all visitors.
Photo by the New York State Department of Environmental Conservation