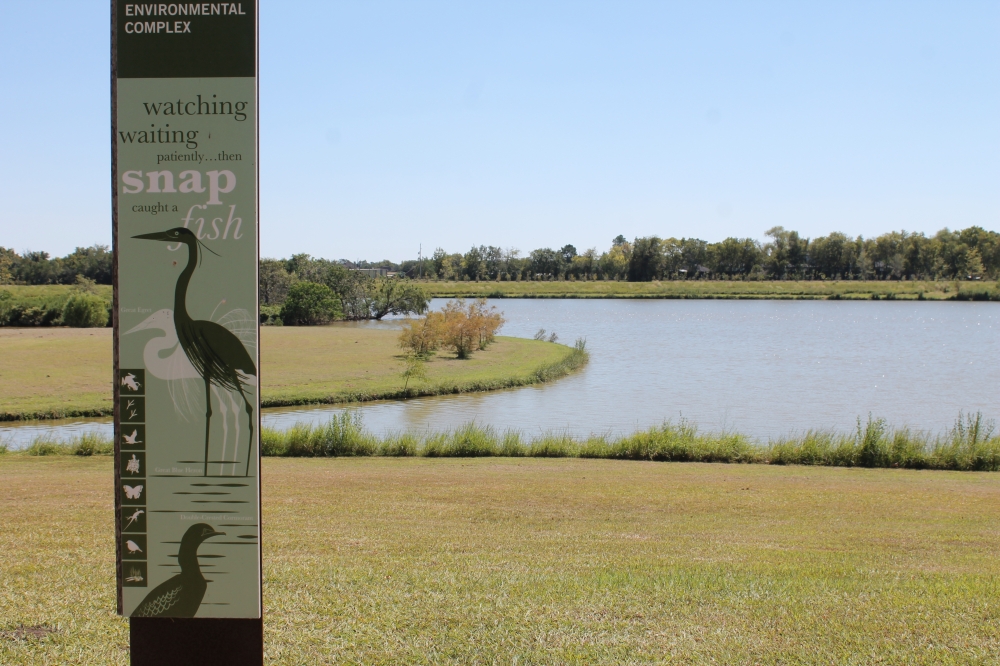 The center is in the process of updating the signage to better reflect what is visible in and around the facility, Boughal said. (Colleen Ferguson / Community Impact Newspaper)
About a mile from Centennial Park, Pearland families can get up close and personal with many of Texas' native reptiles and waterfowl in a safe, educational setting.
The Delores Fenwick Nature Center, funded by the City of Pearland's Natural Resources Division, opened in 2017. Borrowing money paid for the structure at 5750 Magnolia Parkway and fundraising efforts helped fund the indoor animal habitats and exhibits, Park Naturalist Katie Boughal said.
Boughal and two other full-time employees manage the center's program, exhibits, and animal care. Her goal is to connect residents with local wildlife and invest in the sustainability of the local population, Boughal said.
"We're trying to accommodate more and more animals, but we're in a good place," she said, adding that some of the center's reptiles have decades of lifespan. "We invest in these animals."
Interactive indoor exhibits inform visitors about bird and reptile species and 3.2 km of outdoor hiking trails are available. New this fall, paddleboarding and kayaking
Programs give visitors access to the two ponds, which are usually not open to the public. The water is about 2 feet deep, said Boughal.
Entry to the hiking and nature center is free; Programs and workshops are chargeable. Staff will host several kayak programs during the January through May session, some at the center and others in off-site locations, said outdoor recreational programmer August Vandiver. Session registration opened on December 1st.
"It's a great little gem," said Boughal of the center and its amenities.
The program targets diverse populations, including the underserved such as childless young adults, Boughal said. Vandiver started leading guided nature walks in June and said they are very popular with all ages.
Pearland is urbanized, Vandiver added, so the center aims to bring nature to people where they are. Activities like bird watching and cycling have grown in popularity significantly during COVID-19, he said.
The next Birding in the Field event will be on December 11th at 8am. Further bird watching programs will take place in the spring.
The center also sponsors kayak trips around the ponds' floating wetlands. Kayakers will be able to see bird nesting sites up close and personal than they could from the coast, Vandiver said.
"We have a new group of people interested in programs and activities that they weren't interested in before," he said. "This [activities] could be a really cool opportunity for the people in the area to try something new. "Meet the animals
All of the wildlife on display at the nature center is native to Texas, and most are native to Pearland and the surrounding waterways. The animals are looked after by the staff at the center.
Delores Fenwick Nature Center
5750 Magnolia Parkway, Pearland
281-652-1960
www.parks.pearlandtx.gov/facilities/delores-fenwick-nature-center
Opening times: Tues.-Sat. 9 a.m. to 5 p.m., closed Sun-Mon.