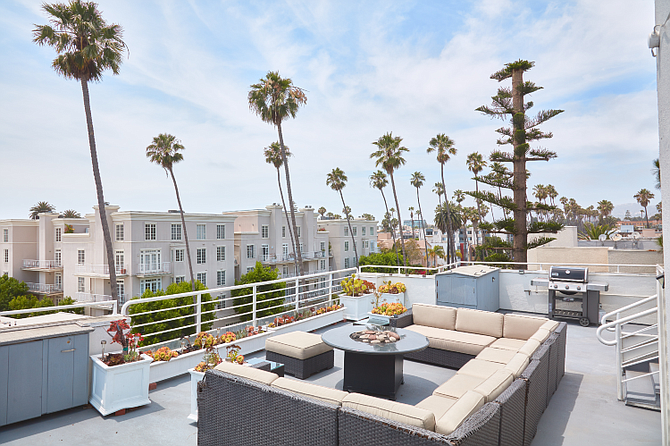 Kerry Ann Sullivan of Pardee manages a Santa Monica condo with a rooftop terrace.
The LA condominium market is heating up.
After a lull at the start of the pandemic, demand for condominiums – which are typically cheaper and require less maintenance than single-family homes – has risen, although bargains are hard to come by in Los Angeles' increasingly expensive and hectic real estate market.
"Last year, when the pandemic started, you probably wanted to get a condo deal," said Anna Marie Simpliciano, an agent at Hilton & Hyland. "At the moment that has changed. They compete just like in the single-family market. "
The number of condos sold in June rose, according to data from Redfin Corp. year-on-year by almost 88% to 1,941.
That has led to a jump in prices. The average condominium sales price rose 22.5% year over year to $ 625,000. The average single-family home sales price rose 29.6% year over year to $ 875,000 in June.
The comparatively lower condominium prices give locals the opportunity to include "homeowners" on their résumés, while more buyers out of town are stepping in to secure LA pieds-a-terre.
Condos furnished with the amenities that traditional Los Angeles buyers have drawn to detached single-family homes, such as outdoor space and inside laundry rooms, are selling particularly well as the top end of the condominium market is breaking records.
High-profile sales include two units in the newly opened Pendry West Hollywood, where Unit No. 706 raised $ 13 million or $ 4,800 per square foot and No. 804 raised $ 13.3 million or $ 4,500 per square foot .
Friends star Matthew Perry's Century City penthouse sold for $ 21.6 million in June – allegedly the most expensive condo sale in Southern California since 2015.
"They have an incredibly strong general economy and especially in the high-end market, the people looking to purchase this property, most of them have had massive success in the investment market, and a lot of wealth has been built during the pandemic." said Don Heller, an agent at Compass.

Location is important
When it comes to condominiums, the old real estate adage applies: location, location, location.
Tina Necrason, executive vice president of residential at Montage International, said Pendry's West Hollywood location was an important part of the attraction. Pendry is a brand of Montage.
"If we look at the location, it's very iconic on the Sunset Strip, and it demonstrates a lifestyle very similar to resort life, but you're in an urban oasis," she said.
Hilton & Hyland's Simpliciano said the Sunset Strip and Hollywood Hills areas are among the most sought-after housing markets right now.
Kerry Ann Sullivan, a partner at Pardee Properties, specializes in the Westside and says the submarkets there are different.
In Brentwood, she said condominium prices are easy to predict based on square footage, number of bathrooms and bedrooms. Buyers are not ready to exceed a certain price.
But in areas like Mar Vista with less inventory, the situation can be a little different.
"If it's a one-of-a-kind property with high ceilings or pretty outdoor spaces, buyers pay more than they were last sold. It's a competitive market and buyers don't want to fear losses, "said Sullivan.
She called Santa Monica a rather "high-end market".
Heller agreed. In Santa Monica, he said the market has low inventory and high absorption for anything under $ 3 million. He also sees big absorption in Brentwood and big activity for under $ 1.5 million condominiums everywhere.
"Demand exceeds supply," he said, adding that if you go above $ 1.5 million in price, some buyers will choose single-family homes instead of condominiums.
Meanwhile, the housing market in the city center is starting to rise.
While the neighborhood has led to the development of apartment buildings, condos for sale have become scarcer.
According to Nick Griffin, executive director of the Downtown Center Business Improvement District, downtown has 7,210 condos compared to 30,000 rental units.
"It's a function of two basic things," he said. "The first is only financial: development finance favors rents because the delta between what you can sell condos for individually and the delta of how much more you get for it versus developing residential real estate and renting it out and selling the entire property to one Institution investor, there is not much difference in selling price. The risk on a rental project is much lower and the reward is very close to what you would get if you sold it retail, so the risk is lower. "
Still, Griffin said, the condominium market is growing.
In the last quarter, he said there were 160 condominium sales in the area, up nearly 140% from the same point in 2020 and up 82% and 100%, respectively, over 2018 and 2019.
Instagram worthy
The top amenity on buyers' wish lists right now is the outdoors, real estate experts said.
Alan Scales, a principal at KTGY Architecture and Planning, is focused on condominium and small lot development in LA. He said that outdoor spaces, especially roofs, "have become very popular. They allow you to maximize the outside space. "
"The rooftop decks appear to be in a good majority of the communities in LA City," he added.
Prior to the pandemic, Heller said customers wanted outdoor space and "the pandemic has put a greater focus on it".
The record breaking Pendry sales are examples of outdoor space sales for a premium. The Terrace Estate 706, for example, had 2,681 square feet of indoor space and 3,461 square feet of outdoor space, more than doubling the living space of the unit.
Sullivan said that in addition to outdoor space, buyers are also looking for turnkey properties to move into immediately.
"They expect every property they walk into to look just like Instagram and if they don't they'll come over and wait for the next one, and it's really important to have a good staging," she said.
Hilton & Hyland's Simpliciano said a home office and space for a peloton are among other frequent requests from buyers.
And the laundry in the unit, she said, has become the key for buyers.
"If it's a good unit and all the boxes are checked … they sell as quickly as a single
Family house, "said Simpliciano.
New pool of buyers
Agents increasingly said they are working with New York and overseas condo buyers looking for a place to stay when they are in LA
"I see a lot of outside buyers," added Simpliciano. "I've shown properties to New York and San Francisco buyers who are all moving for a variety of reasons, be it for school or for a job. I see a lot of moves and only upgrades. You don't just see first-time buyers. "
Heller said in the early days of the Covid-19 pandemic, 90% of its buyers were from the area. Now he's seeing more interest from buyers outside of town.
"These buyers didn't come here and they didn't buy unseen unless it was an exceptional situation," he said. "Now you see at least more national movement and more buyers from New York, San Francisco, etc. looking here."
Some developers in Los Angeles are taking note of this and are planning more condominiums.
Kitty Wallace, executive vice president and multi-family specialist at Colliers International Group Inc., said that in the past it made more financial sense for developers to create rental units. Now, however, they are looking at "deals as condominiums".
"We went back to some of these projects and looked and it was drawn (to build condominiums) when in the past it was really only intended for rentals," Wallace said.
For reprint and license inquiries for this item, CLICK HERE.