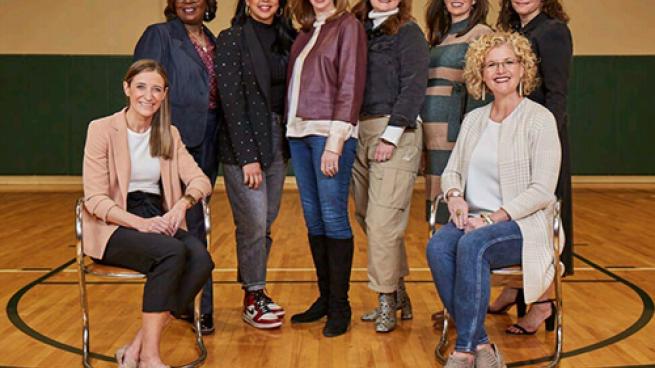 Dick's Sporting Goods is celebrating Women's History Month with a new ad campaign showcasing the women who lead the company's efforts to ensure girls and women get the opportunities they deserve – both on and off the field.
The retailer said the goal of its new campaign, Inside Moves, is to reach out to female consumers and create their connection with the female executives at Dick's to validate that Dick's is a company committed to advancing women and address their concerns and needs. The leaders of the dick highlighted in the campaign are, in order of their appearance:
• Julie Lodge-Jarrett, Chief People Officer;
• Carrie Guffey, Senior VP, Merchandising;
• Nina Barjesteh, Senior VP, Product Development;
• Melissa Christian, VP, Marketing;
• Toni Roeller, Senior VP, Store Environment;
• Kim Walker, Senior Director, Visual Merchandising;
• Aimee Watters, executive director, Dick's Sporting Goods Foundation; and
• Lauren Hobart, President and CEO.
The campaign was developed by the creative agency Badger & Winters.
So far in 2021, Dick's has made a variety of efforts to advocate for women while highlighting the importance of youth sports to the lives of girls, including:
• The foundation's commitment to donate 100,000 DSG brand sports bras to low-resource athletes across the country over the next 18 months.
• Established the company's first Girls' Power Panel for girls ages 13-17 with the aim of giving a younger generation of women a voice that provides general insights into sports issues and contributions to product offerings.
• #StrongerWithSports, a National Day Social Challenge for Girls and Women in Sports that aims to demonstrate the strength girls and women gain from participating in sports
• The launch of Brooks Running's second annual "Empower Her" collection. The line is currently available in Dick stores nationwide and online at dicks.com.
"While the campaign focuses on some of the women on our leadership team, I can tell you that our entire company supports girls and women in all walks of life," Hobart said. "Together with our partners, we will work tirelessly to ensure that we have the products and programs that appeal to current and future female athletes."
In the future, the company will continue to support these efforts through an expanded product line, in-store programs, a range of marketing initiatives and product donations.
This new campaign and initiatives of 2021 follow the company's actions in 2020 when the Dick's Sporting Goods Foundation awarded the United for Girls initiative a $ 5 million grant to the US Soccer Foundation, began a partnership with USA Softball, and expanded its in-store and online women's offerings and launched a marketing campaign to celebrate the power of the sports bra.