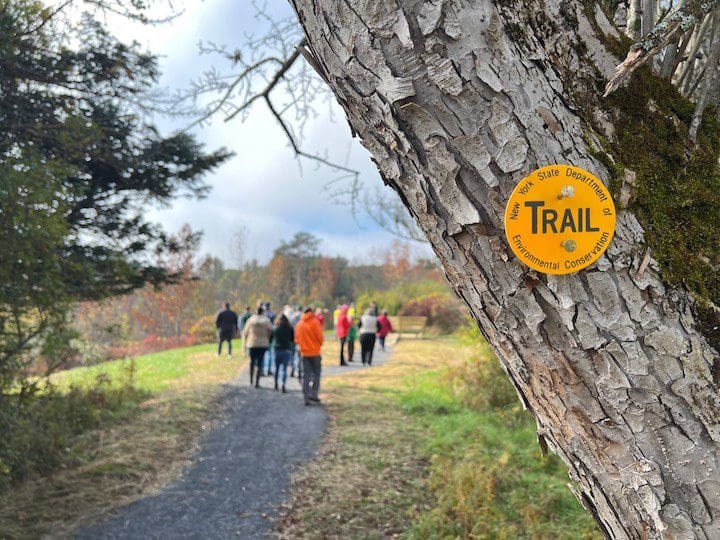 SLINGERLANDS – The New York State Department of Conservation held a ceremony to open the Fisher Trail at its Five Rivers Environmental Education Center on Tuesday, October 11.
The newest trail offers accessibility for people of all abilities. Most of the 0.66-mile trail is built in compliance with DEC accessibility guidelines for those with mobility disabilities, expanding access to outdoor recreational opportunities on DEC campuses.
"Nature belongs to everyone and the completion of this new trail at Five Rivers will lower the barriers between people with disabilities and the beauty of DEC's lands," said Commissioner Basil Seggos. "DEC appreciates the Mohawk Hudson Land Conservancy's partnership and the support of Friends of Five Rivers and the Accessibility Advisory Board, all of which were critical in completing this new outdoor footpath and continuing to enhance Five Rivers' offerings."
As part of the trail project, DEC Operations crews built an elevated viewing platform and installed several accessible benches along the trail. The trail mostly follows a route created by members of the Student Conservation Association's AmeriCorps program. Two new parking lots are available on Fisher Boulevard and at the end of Mason Lane, each with a map and information kiosk.
The project received $400,000 in funding from NY Works and the Adventure NY initiative. DEC, through Adventure NY, makes strategic investments to improve access to state land and water, rehabilitate and improve campgrounds, and upgrade DEC recreational facilities. To learn more about DEC's projects to improve Adventure NY's infrastructure, visit the DEC website.
A portion of the new trail is on a 35-acre property owned by the Mohawk Hudson Land Conservancy. The property is managed as part of Five Rivers under a 2018 easement agreement with DEC.
Fisher Trail is named after the fisherman, a member of the Five Rivers weasel family, and Fisher Boulevard. The 800m section of the Fisher Trail, accessible to those with limited mobility, runs from Fisher Boulevard past the Mason Lane car park to an observation deck overlooking the Phillipinkill. From there the trail descends a steep slope into the Phillipinkill Gorge and on to the Wild Turkey Trail. The Wild Turkey Trail connects to the other Five Rivers trails and ends at the Visitor Center on Game Farm Road.
"The Mohawk Hudson Land Conservancy is very pleased to have played a role in the partitioning of the Fisher Boulevard property," said Mark King, executive director of the Mohawk Hudson Land Conservancy. "Fortunately, a generous landowner and the hard work of many individuals saved this property from potential development. The new access and pathways across this new property will further enhance Five Rivers and create new opportunities for even more people to enjoy this wonderful resource."