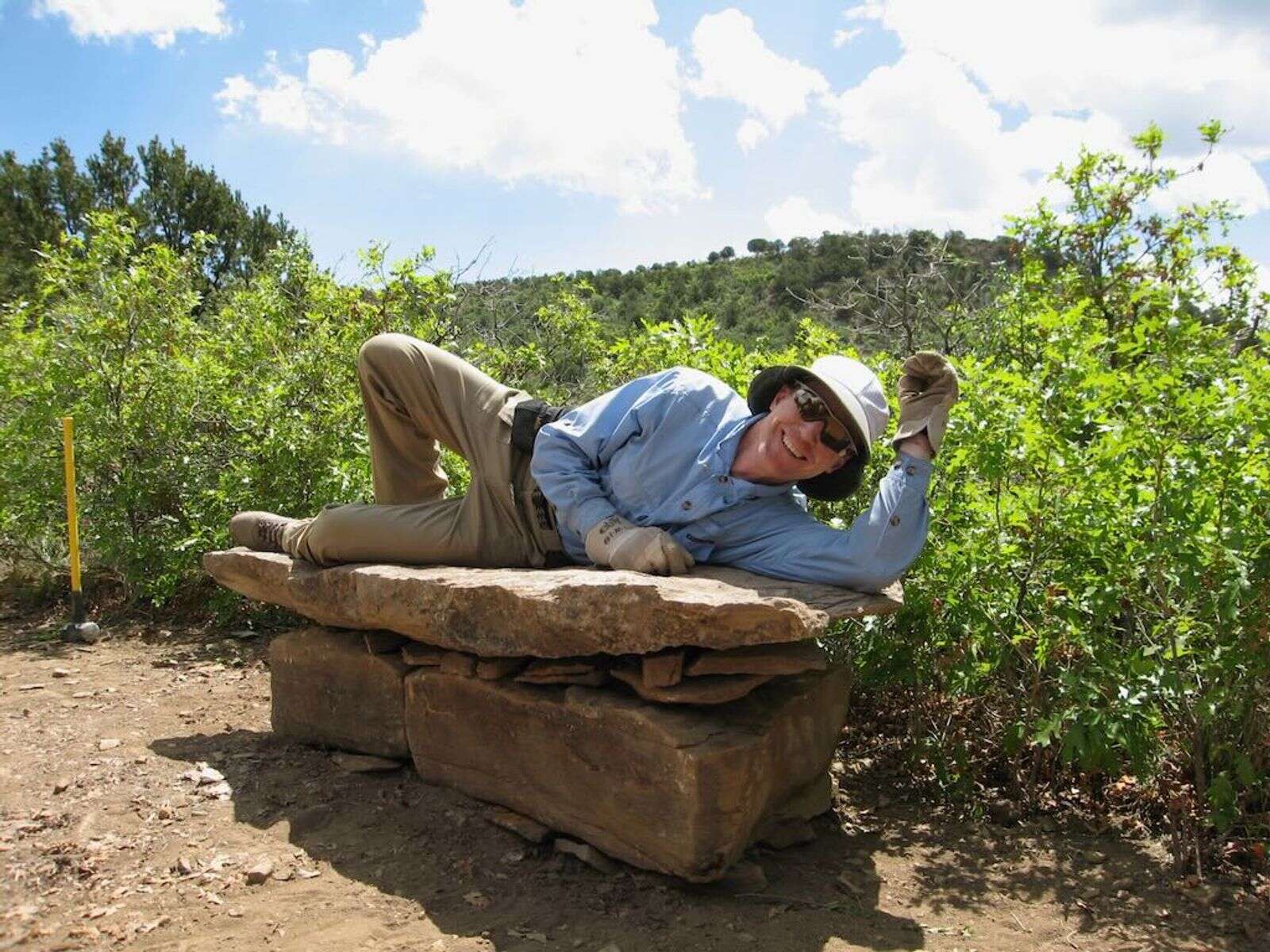 Bill Manning spent 13 years at the non-profit organization Durango before joining the Colorado Trail Foundation
Bill Manning celebrates 13 years of trail work in Durango in 2006. (Courtesy of Bill Manning)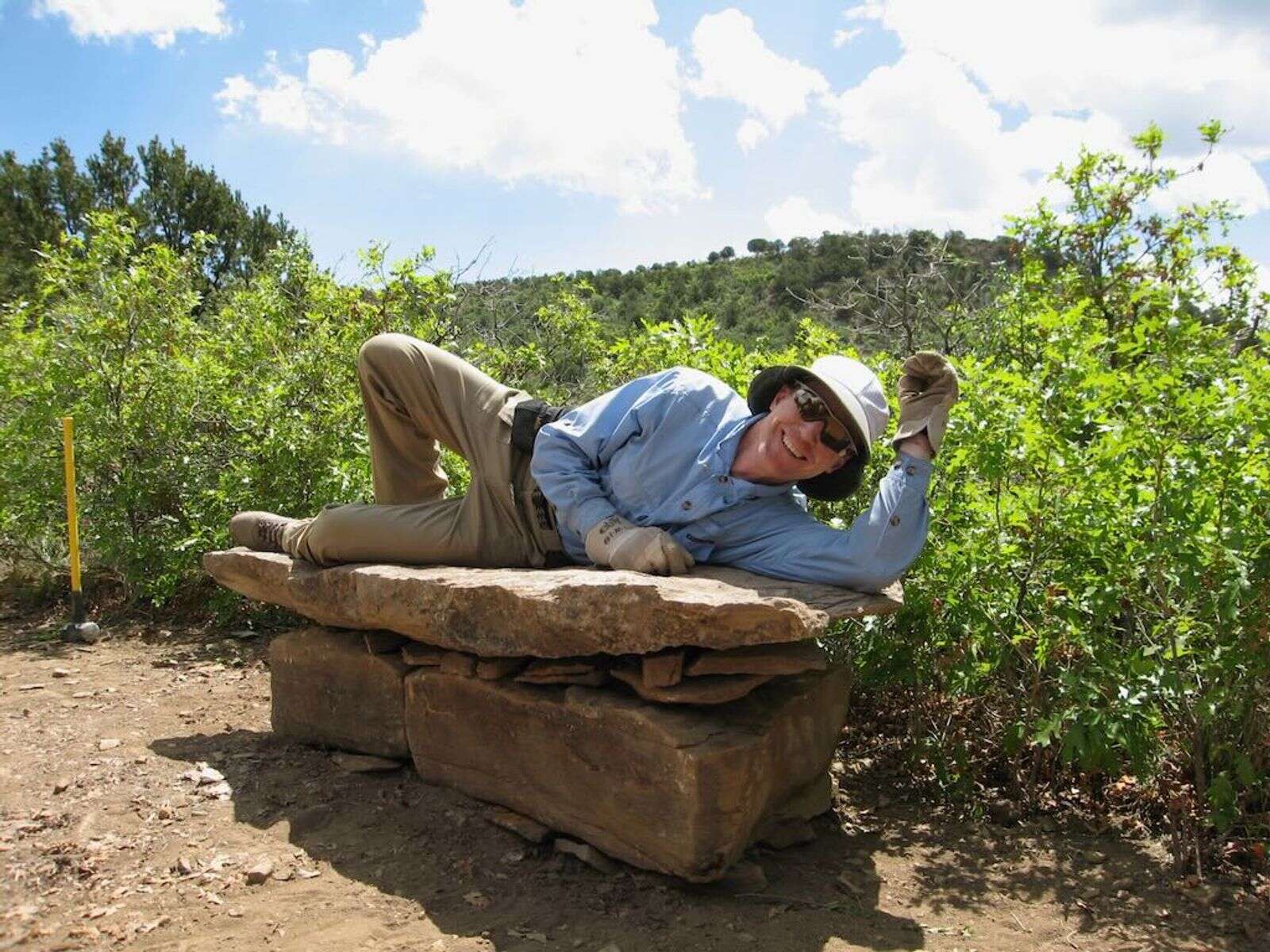 Durango is known as a mountain biking mecca — with some of the finest hiking and biking trails in Colorado — and that's thanks in no small part to one man: Bill Manning.
Just a few weeks after retiring at the age of 67, Manning looked back on the 13 years he spent refining trails for La Plata County between 1993 and 2006.
"In 1990 I was volunteering as a World Mountain Bike Championships organizer," Manning said. "And I ended up in this meeting where there were members of the BLM (Bureau of Land Management) and the Forest Service, and they were talking about important (bike) paths and possible trail efforts around Durango. For some reason that stuck with me."
Manning had recruited a multitude of volunteers to build trails for the World Mountain Bike Championship being held in Durango, the first of its kind. Manning and the volunteers' work inspired other Durangoans to envision the possibilities of other trails in Durango and to create or expand the surrounding counties.
They have set a goal of completing 200 miles of hiking trails by the year 2000. Eventually, a nonprofit organization called Trails 2000—now known as Durango Trails—was formed and Manning became its director.
The first of many goals for Manning and his associates was to make the trails more permanent. The first trail Manning focused on was the section of the Colorado Trail along Molas Pass near Silverton, where he and a team worked to install new water drains and create water diversions.
"Rain and runoff can really ruin a trail," he said. "It gets really rocky and difficult to walk on."
Trails 2000s 1993 effort to preserve part of the Colorado Trail near Molas Pass. (Courtesy of Bill Manning)
Manning and his team spent the next decade improving hundreds of trails, including connecting certain trails, creating looped trails to reduce difficulty for hikers and cyclists, and developing new trails in multiple jurisdictions.
"You could put all the jobs I've had on a Rolodex," Manning said. "I cleared tracks. I have cooked meals. I was responsible for the tools. I've worked on a lot of different things."
There is one notable path that presented some difficulties for Manning and his team.
"Telegraph Trail was definitely a tough trail," Manning said, referring to a trail in Horse Gulch. "We spent two years putting the property management together because a lot of it (the trail) was on private property owned by Noel Pautsky.
"When we finally got the green light, I asked a couple of volunteers to meet me at Horse Gulch (road). My truck barely made it there," he said. "I waited and waited, but no one showed up to help me, so that day I worked on it alone. After a while, however, more and more people came to help. We eventually had about 50 volunteers."
Manning shared another of his favorite volunteer memories.
"We edited my favorite section of the Colorado Trail, between Gudy's Rest to Champion Mine Road, and diverted water (runoff)," he said. "We had about 20 volunteers, give or take. Really great people. We all camped together along the trails. Shared meals. It was a really great experience."
Manning left Durango and Trails 2000 in 2006 to accept a position with the Colorado Trail Foundation. He retired earlier this month as the foundation's executive director.
Manning now spends time as a volunteer at CTF, which is now run by Managing Director Tisha McCombs.
"I've worked with volunteers for 30 years, and now I'm one," Manning said.
He also volunteers to sharpen kitchen knives for friends and neighbors who dull their blades. It's a ministry that keeps him busy, but he doesn't advertise.
"It's word of mouth," he said. "I have a lot of businesses just in the townhouse complex where I live."
Bill Manning is looking forward to volunteering with the Colorado Trail Foundation and sharpening kitchen knives for his neighbors in his retirement. (Courtesy of Bill Manning)
When he's not volunteering at the Colorado Trails Foundation or sharpening kitchen knives, he's spending time with his girlfriend Judy, who's helping him get through the first round of chemotherapy he's receiving for his recently diagnosed cancer. Like everything else in Manning's life, he views his recent setback with a "can-do" attitude.
"Chemo isn't making me as tired as I thought it would be," he said. "So far it has been successful and I can't ask for more."
Of all the trails Manning has worked on over the years, he remembers his favorite trail in Durango: the Nature Trail, which winds its way up to the chapel at Fort Lewis College.
"I've always enjoyed working my way up to the top," he said wistfully. "It's all about that view. You know?"