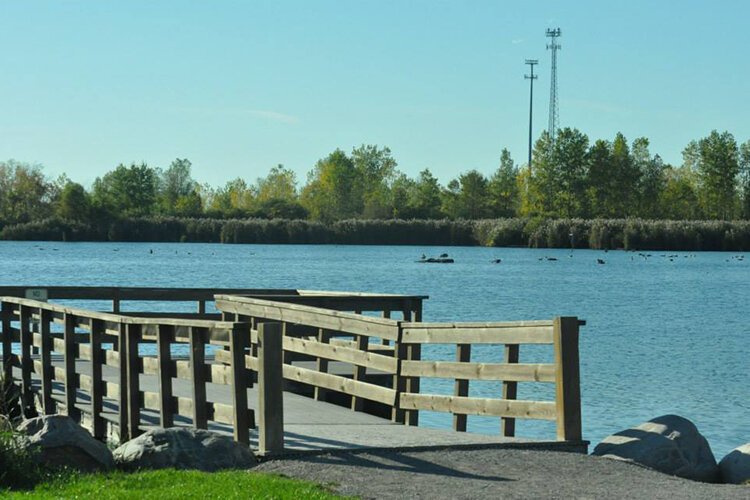 It is important that everyone is able to enjoy free recreation and ensuring these opportunities are accessible to all is a priority for Fort Gratiot Charter Township.
At the onset of the pandemic, many families turned away from faraway vacation destinations and turned to their own neighborhoods for safer outdoor entertainment. According to Robert Buechler, Fort Gratiot parish clerk, this trend has remained constant.
"From my experience on the trails alone, the increase in people using the parks and nature seems to have continued," he says. "People can go on vacation now, but when they come back they still take advantage of recreation close to home."
Buechler says most of the community's trails are paved and wheelchair accessible. Future plans include installing the ADA accessible playscape in the park at Parker Road.
"It's community gear and parks for everyone," he says. "We want to make sure that as many people as possible can access it."
North River Road Park in the township of Fort Gratiot, Michigan.
North River Road Park features an ADA-accessible kayak launch, an ADA-accessible slide in the playground, and tennis courts that are great for the popular sport of pickleball.
Fort Gratiot Charter Township Treasurer Jaime Oprita says popular local activities include fishing at Fort Gratiot Pond/Conservation Area.
"We have a dock that connects to our trail system, so there are always families out there with their kids using that for fishing," she says.
The reserve has many natural areas with a wide, paved trail circling Kettlewell Pond providing access for biking, hiking, running, fishing and waterfowl viewing. The ADA accessible fishing platform allows access to the water's edge.
"Bird and wildlife watching are popular," says Buechler. "We have about 250 acres pretty close together and the Drain Commission has another about 80 acres bordering it with a couple of retention ponds that definitely attract a lot of wildlife, especially during migration. We have a resident pair of ospreys that nest on the cell phone tower at our park and it's always fun, especially when the babies are big enough to see."
For your four-legged friends and family, there is a dog park at PetSafe Canine Commons at Fort Gratiot Park. This 2-acre dog park opened in 2016 and is free to visitors from dawn to dusk.
"The dog park that connects to our ponds and trail system is used quite a bit," says Oprita. "There are different things that the dogs can climb on and through. We have a small dog side and a big dog side."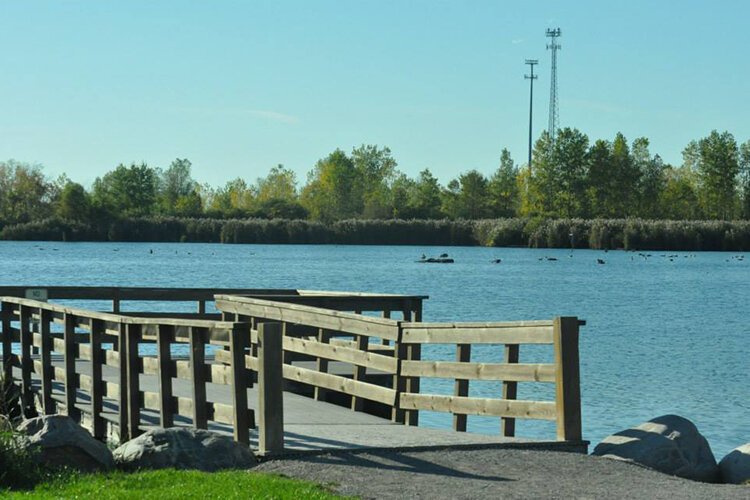 Fort Gratiot Pond in Fort Gratiot Township, Michigan.
Kayaking is also an option due to the proximity to many waterways.
"The kayak launch is definitely popular for paddling up and down the Black River, an access point," says Buechler. "There is basically a four mile loop between the Black River Canal, the Black River, Lake Huron and the St. Clair River that kayakers and all boaters can do."
Kayakers can even paddle under the Blue Water Bridge via Fort Gratiot Sojourn, six miles at a time. Works at Keewahdin Beach are currently being remodeled, removing the steps to the beach and replacing them with an ADA accessible walkway.
Keewahdin Beach is included in our list of seven public beaches on Michigan's Thumb Coast that you may not have heard of.
Disability Network creates equitable experiences for all
Disability Network Eastern Michigan (DNEM) serves Oakland, Macomb, Huron, Lapeer, St. Clair, Sanilac and Tuscola counties. DNEM Community Relations Director Chip Werner says he hopes the conversation about accessibility can shift to include more universal designs to create equitable experiences for all.
"Accessibility is very broad and inclusive, and it's also very personal," says Werner. According to Werner, disability can include physical barriers, developmental barriers and emotional barriers. "It's a big issue," he says. "We tend to approach things with a concept of universal design."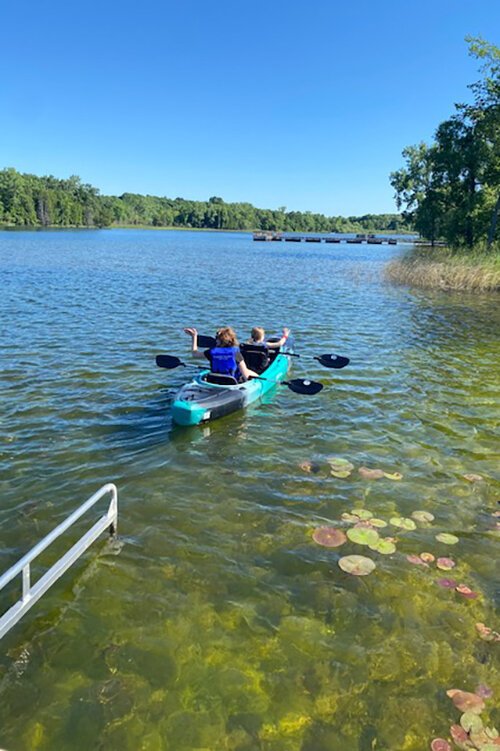 Carrie Gerdeman, DNEM's Director of Recreation and Health Services, is in the process of building relationships with the Parks and Recreation Departments of Fort Gratiot and Port Huron, and plans to collaborate on adaptive exercise clinics utilizing local parks in 2023.
"Part of our mission is to address the health and wellness needs of people with disabilities," says Gerdeman. "One way to do this is to work with local parks and recreation facilities to improve adaptive recreation. DNEM plans to leverage local park facilities and staff to offer a variety of inclusive recreation programs in the coming year."
The inclusive leisure workshops are proving beneficial for both the participants and the volunteers, says Werner.
"There is no question that for many people this is their first time experiencing some of these opportunities and it is such a great joy to share it with them," he says. "We find that our volunteers often enjoy it too, because they get to share a part of their lives that is important to them."
In the future, DNEM hopes to add adaptive fishing, adaptive cycling and adaptive archery to its program for the regions it serves. Werner says the barriers they try to redirect can be developmental or physical. Physical needs may include adequate wheelchair locks on the dock or boat, additional ways to secure fishing rods when casting or retrieving, and additional hands-on instruction to ensure people are comfortable and able to fully enjoy these experiences.
looking ahead
Buechler says the Fort Gratiot community is always forward-thinking and striving to provide more generations with recreation and opportunities to enjoy the area outdoors.
"We hired an engineering firm to create a master plan for 100 acres that we own, possibly expanding to include athletic fields, a field home or something, possibly a campground," he says. "We are still in the early design phase for this."
"Right now there is significant money available to make real investments that will benefit future generations," he says. "We're trying to find the best way to do that and it seems like investing in our parking system is a good way and is giving us a good return."