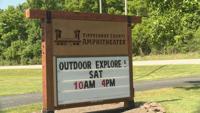 WEST LAFAYETTE, Indiana (WLFI) – If you want to get outside this Saturday, check out Outdoor Explore, a free event hosted by Tippecanoe Parks and Recreation.
The event is taking place for the first time since 2019 and is free to the public. It is from 10 a.m. to 4 p.m
Outdoor Explore has two locations and over 30 activities. Activities at the Bicentennial Nature Area in Lafayette include fishing, windsurfing and bird watching.
The main location is Amphitheater Park in West Lafayette. Activities at Amphitheater Park include archery, mountain biking, outdoor art and outdoor yoga.
According to Tippecanoe Parks and Recreation Naturalist Mary Cutler, there is something for everyone.
"It's a wonderful community event hosted by Tippecanoe Parks and Recreation Department and the Tippecanoe County Soil and Water District," Cutler said. "And the whole goal of this outdoor event is to introduce people to a wide range of different outdoor activities that they've either done before or that they might want to try for the first time."
There will also be food vendors at Outdoor Explore. A complimentary dining option at the event is a hot dog roast for guests to enjoy.
Cutler would like to remind guests that access to the amphitheater is currently somewhat difficult due to road closures on State Road 43. The only access to the amphitheater grounds is from Soldiers Home Road.