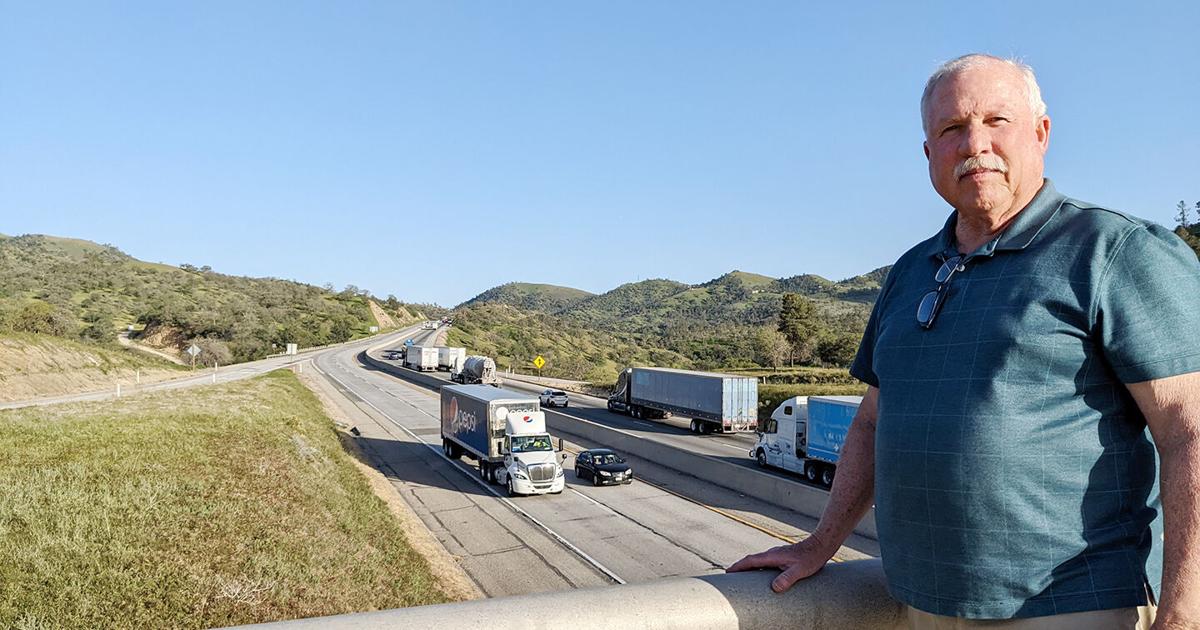 Jon Hammond, chronicler of all things Tehachapi, tells us that the first road built to take travelers up Tehachapi Canyon was the Woodford-Tehachapi Road. More than 160 years later, most of this original road is still in use – although the dirt road through the hills from Keene (site of Woodford Depot) has been improved over the years.
William Hood of the Southern Pacific built the railroad through the Tehachapi Pass more than a decade after horse and ox carts made their way up that dusty trail. He laid the railroad north of the road. His efforts, including the design of the world-famous Tehachapi Loop, aided the state's economic development by running trains between central and southern California.
The loop was completed in 1876 and railroad development continued to Tehachapi and beyond. But Hammond said motor vehicles didn't appear in the Tehachapi Valley until the turn of the century.
The 1950s saw much more traffic and eventually the development of Highway 58. State transit engineers moved the new freeway north of the railroad and the old mountain road.
When the Tehachapi Valley highway was completed in 1970 – which then ran north of the developed community – travel time between Tehachapi and Bakersfield was significantly reduced. Through traffic, including trucks, no longer traveled along what was then G Street (now Tehachapi Boulevard).
Another 50 years have passed and the highway west of Tehachapi has fallen into disrepair. The solution, according to Caltrans, is the $165 million Keene Paving Project. The environmental review is ongoing. The preliminary construction schedule shows a start date of March 2025 and an end date of November 2026, all subject to funding. The paving project will cut mountains to straighten the road and may reduce accidents that necessitate increasingly frequent highway closures.
And while the project won't solve the bottlenecks developing on the eastern side when giant big oil rigs pull into the high lane to overtake slower trucks, Caltrans plans to build in wildlife access features that will eventually address environmental concerns related to the long-planned trucks could mitigate climbing tracks.
The Mayor's Action
Tehachapi Mayor Phil Smith knows the Highway 58 corridor west of town better than most. His father was a signalman. He spent the first 10 years of his life in railroad accommodation next to Woodford Depot before his family moved to Tehachapi in 1960.
He was away serving with the Coast Guard when the freeway finally passed through the Tehachapi Valley, but returned to town after his military service.
Smith has served on the Tehachapi City Council continuously since 1986. In December 2020, he was elected by his fellow councilors for his fifth term as mayor.
And through his many years as a representative of the city in the government council of Kern, the mayor has learned a lot about traffic. Kern COG is the agency responsible for regional transport planning. In 2018, the agency recognized Smith's contributions by presenting him with the Ronald E. Brummet Regional Award of Merit for Lifetime Achievement.
Kern County Supervisor Zack Scrivner commented on Smith's accomplishments at the time.
"I served with Councilman Smith at Kern COG for many years and appreciate his strong advocacy for important transportation projects throughout Kern County," he said.
Smith joined Kern COG's board of directors in 1995 and has been involved in the prioritization process of regional transportation projects, including Highway 58 through Mojave and the widening of Highway 14 and US 395.
The mayor has also advocated truck climb lanes to alleviate problems on the east side of Highway 58 coming up the hill from Bakersfield. And he's frustrated that the project hasn't come off the drawing board, despite years of debate.
"It's of regional importance," he said of the need to relieve truck congestion on Highway 58. "It's not just important for Tehachapi."
The plan
In January 2020, Tehachapi News reported that Caltrans was about to release details of three sections of truck-climb lanes that would allow motorists to pass slow-moving articulated lorries traveling on Highway 58 from Bakersfield to Tehachapi.
At a Kern COG meeting this month, Caltrans District 9 director Brent Green said the project initiation document was awaiting final approval.
More than two years later, Austin West, associate environmental planner at Caltrans, said the project is currently in the environmental assessment phase.
"Staff are conducting environmental analysis and preparing a draft environmental document," he said in an email on April 4. "The timeline for public distribution of this document is Winter/Spring 2023."
According to information provided to Kern COG in January 2020, as reported by Tehachapi News at the time, lanes from Beale Road to the Tehachapi Creek Bridge west of town are being considered.
At the meeting, District 9 representatives shared a preview of three specific locations for the proposed truck climb trails:
• Begins midway between Beale and Bena streets and ends just before Highway 223;
• Begins just before Bealville Road and extends to Hart Flat; and
• Starts before Broome Road and ends before Tehachapi Creek Bridge.
A 2012 study conducted by Kern COG estimated that the project would cost about $8 million per mile per lane — about $99.2 million. The lanes were recommended for implementation by 2020. The estimate is now around $150 million with a start date of October 2026 and an unspecified end date.
Kern COG's 2022 regional transportation capital improvement project summary shows approximately $14.2 million for the project, including $5.251 million from COVID-19 related funds. Transport projects are usually financed in phases over many years.
More complications?
Considering the evolution of transportation up Tehachapi Canyon and through Tehachapi Pass, it is worth remembering that construction of SP's Tehachapi Line – including the loop – began in 1874 and was completed in 1876. Of course, there was no environmental assessment for the project and no labor laws to protect the interests of the thousands of Chinese workers deployed to accomplish the task.
But a different kind of railroad could further complicate efforts to improve freeway safety and reduce truck congestion — the California High-Speed ​​Rail. The difficult project was approved by voters in 2008. Since then, costs have skyrocketed and there is no end in sight.
Plans for the Palmdale to Bakersfield section of the railroad indicate that it will traverse Tehachapi Canyon, and its route will likely need consideration as Caltrans prepares engineering studies for proposed projects.
In a letter to the High-Speed ​​Rail Authority in April 2021, Gayle J. Rosander, outside project liaison for Caltrans, stated that continued inter-agency collaboration will be required "to ensure efficiency as the project progresses." and specifically mentioned the Keene paving and truck climb projects and wildlife connectivity.
Claudia Elliott is a freelance journalist and former editor of Tehachapi News. She lives in Tehachapi and can be reached via email: [email protected]