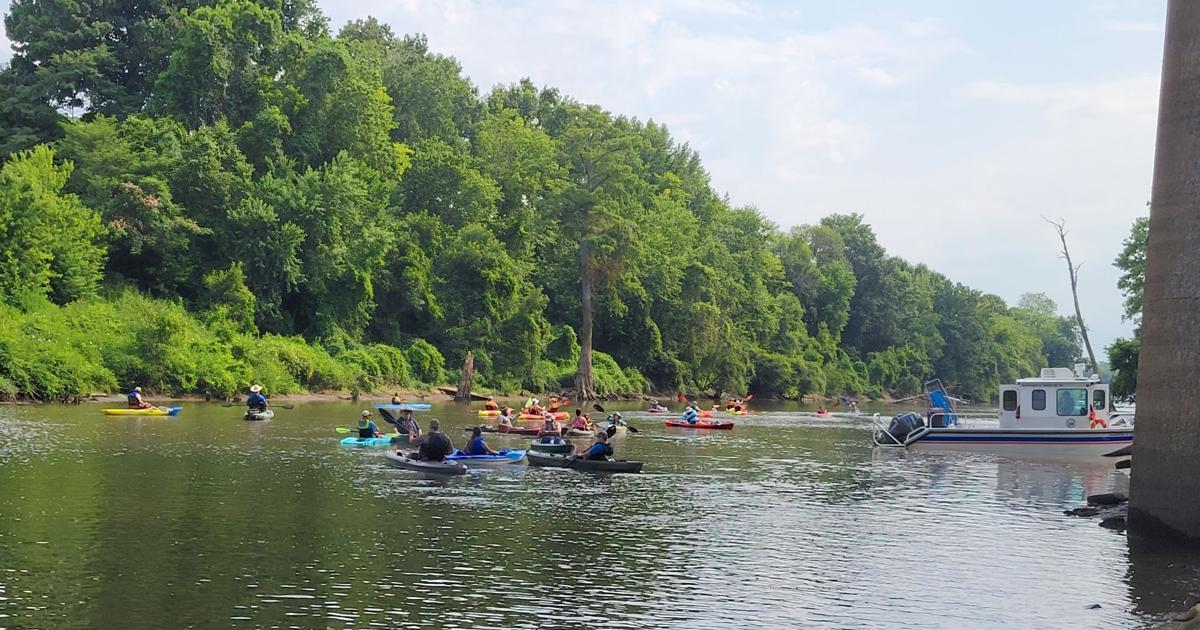 Community members gathered Tuesday to form a focus group aimed at discussing local and regional opportunities for outdoor recreation and outdoor tourism.
About 20 people interested in various sectors, including tourism, recreation and conservation, shared some of the initiatives they are working on to promote outdoor activities in Paducah, McCracken County and the surrounding western Kentucky region. They also shared ideas on how people can help each other on current initiatives and what future projects they could collaborate on.
Paducah Convention & Visitors Bureau (CVB) executive director Mary Hammond said the meeting was a good opportunity to work together and to explore how these different organizations could help support and encourage one another.
While many focus group members are interested in getting tourists to take advantage of outdoor activities in the region, there has also been a focus on how new and existing opportunities can be marketed to those who live in the region and beyond try something new.
As the area's identity is built on its proximity to rivers, focus group members raised existing kayaking and canoeing opportunities that could be more marketed to local residents to educate them about these activities.
Rhonda Lamb, Four Rivers Basin coordinator and part of the Jackson Purchase Foundation, said there are three paddling launch sites in McCracken County along the Clarks River and two more paddling sites will be added soon in the region. According to Lamb, Sept. 10 marks the Jackson Purchase Foundation's annual raft day with a guided tour on the Clarks River.
Jeff Canter, part of Tennessee RiverLine's local leadership team in Paducah-McCracken County, said the group has received a fleet of Tennessee RiverLine kayaks to help those who don't have access to a kayak and has increased attendance at two of their free paddling events in June and July. Another paddling session is scheduled for August 20th, registration is required by August 10th.
Susan Edwards, owner of Wildhair Studios Rock Shop in downtown Paducah, said she's noticed an increase in foot traffic from riverboat tourists compared to recent years. Paducah CVB sales director Fowler Black said riverboats will call at Paducah more than 60 times in 2022, including 15 planned stops in August. Black said riverboat travelers and staff consistently rate Paducah as one of their best, if not their best, travel destinations.
Black was optimistic that focus group members could work together to promote outdoor recreation opportunities and collaborate.
"One thing I will say is that Paducah is an approachable community that has the potential and ability to work together as a team," Black said.
Paducah CVB Marketing and Communications Director Liz Hammonds also highlighted the existence of various self-guided tours in Paducah, from historical tours to trying out local breweries on the West Kentucky Brewery Hop Trail. There have also been talks of launching other outdoor tours around the city and county, including tours of downtown public art. Lamb added that her organization is also working to create guided paddle tours to explain the natural history and wildlife of the Clarks River and the river's historical contributions.
One of the areas of focus for the tour's expansion was Paducah's connection with the Trail of Tears, where Native American tribes were forcibly displaced from their ancestral homelands in the southeastern United States and relocated to what is now Oklahoma. Paducah planning director Nic Hutchinson said the city is working with the National Park Service and local Native American tribes to expand the existing observation site near the flood wall entrance on Kentucky Avenue.
Edwards, who said she is looking for specialty travel options for birding and nature-related trips, said Paducah could begin planning for an April 2024 influx of visitors who will attempt to catch a glimpse of a total solar eclipse that will fall over the area will draw , possibly more visitors than those who traveled to see the last total solar eclipse that swept over Paducah in 2017.
Jeff Herod, a fish and wildlife biologist at Bacon Farmer Workman, said the region is also rich in natural resource history, and he suggested various agencies could work together to develop an education program on the subject. Herod also proposed various wildlife programs and partnerships throughout the year such as: B. Working with wildlife groups to set up bat boxes for local bat populations and providing educational programs about animals native to the area.