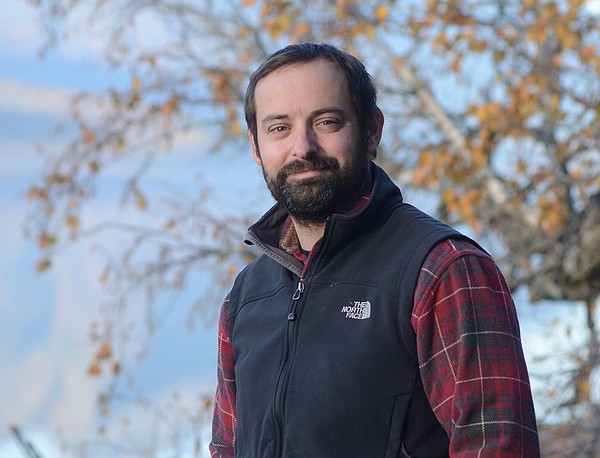 Hamilton County/Hamilton County Commissioners on Wednesday unanimously confirmed Mayor Weston Wamp's appointment of Matt Folz as director of parks and recreation.

Hamilton County's new Director of Parks and Recreation, Matt Folz, is a self-proclaimed "Parkie."
"Once you get an outdoor job, it's difficult to go back indoors," he said in a phone interview Thursday.
After serving about two years in the county as Tennessee Riverpark superintendent, Folz was unanimously confirmed Wednesday as the county's new park director, replacing former director Tom Lamb. Mayor Weston Wamp appointed Folz for the role, which required Hamilton County Commission approval.
"I think in the coming months we all have unique and very challenging opportunities to invest in our parks in this county," Wamp said during the commission's meeting on Wednesday. "In a somewhat unusual move, I'm told, we decided to post this position even though it's an appointed position and we had about 35 applicants from across the country."
Folz was the most passionate and qualified person to apply for the position, the mayor said.
"He and I have in common that we fight with four kids under the age of 10," Wamp said. "He spends a lot of time in our county parks. He came to the interview with a wealth of ideas, concepts, maps of our properties and potential uses and I think we will all find him to be an incredible officer."
Before joining Hamilton County, Folz worked for approximately 14 years at Xanterra Parks & Resorts, which operates facilities in several national parks and is one of the largest concessionaires in the country. Folz spent six years as director of sustainability and risk management at Glacier National Park in Montana and another five years as manager at Crater Lake National Park in Oregon.
Originally raised in Indiana, Folz, his wife and their four children moved to the area to be closer to family, he said. His park director salary is $92,700.
"Once you land in Chattanooga, it's difficult to move on," Folz said. "You kind of have to stop and enjoy the view and make it a place to live."
Hamilton County has about 90 full-time employees in its park system, Folz said, who help run three regional parks — Chester Frost, Enterprise South and the Tennessee Riverpark — and more than a dozen community parks. Wamp's spokeswoman, Mary Francis Hoots, said 77 of those 90 positions have been filled.
"As with any department in county government, there are always fluctuations in staffing," Hoots said in an email. "We are excited about the new leadership in the Parks & Recreation department and look forward to their impact on our recruiting and hiring efforts."
There are also some big projects on the horizon. In August, Hamilton County accepted the transfer of 213 acres of open space and woodland at Walden's Ridge from the North Chickamauga Creek Conservancy.
Through a partnership between the Land Trust for Tennessee, the Southern Off-Road Bicycle Association and others, the land is being developed into a park with access for mountain biking, hiking and rock climbing. The county is now building a parking lot to improve access to the site's gravity bike lanes. According to the project's website, the partners hope to open the park in 2023.
"It's going to be something that's 10 minutes from downtown and just adds another place for the public to relax in our own outdoor backyard," Folz said.
In December 2021, the county purchased McDonald Farm in Sale Creek for $16 million. The property, which totals over 2,100 acres, could be developed for multiple uses, including additional parkland.
Commissioner Warren Mackey, D-Lake Vista, welcomed Folz's appointment on Wednesday.
"I totally agree with the mayor that he picked an outstanding person," Mackey said. "If we can find some more workers for him we will be in great shape."
Commissioner Steve Highlander, R-Ooltewah, thanked Wamp for "going beyond the call of duty" in selecting a candidate for the position and said he appreciated the depth of the search.
Looking ahead, Folz said he wants to ensure the county has safe and equitable parks that are easily accessible for residents.
"That's what I like about the Tennessee Riverpark," he remarked. "Across the board it's a kind of artery that connects the heart of the city and offers everyone a place to relax."
Contact David Floyd at [email protected] or 423-757-6249.