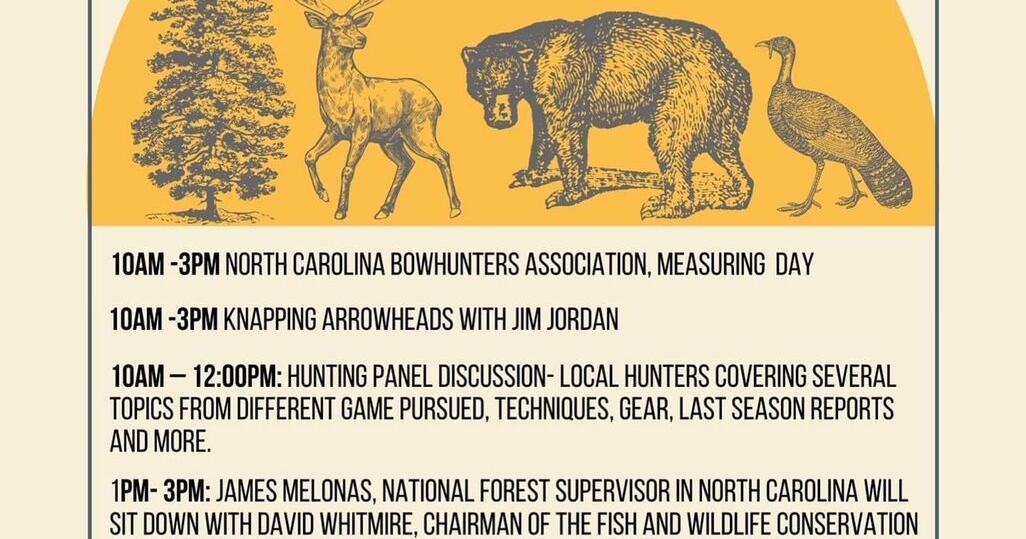 With the start of the new year, the big game hunting season ends in western North Carolina.
Headwaters Outfitters, the North Carolina Bowhunters Association and the Fish and Wildlife Conservation Council host Rosman's WNC Wildlife Day each year.
On Saturday 14th January, this annual event offers the opportunity to receive official measurements on all trophy animals shot and to participate in informational programs to discuss what is happening in the local hunting community.
This year's event includes:
10:00 a.m. – 3:00 p.m.: The North Carolina Bowhunters Association (NCBA) measures the trophies harvested. David Stepp and Gary Rhodes are Official Measurers for the Boone and Crockett Club, Pope and Young Club and the NCBA. While it's nice for hunters to be recognized for an exceptional harvest, data from hunting records is a valuable tool for conservation.
10am – 3pm: Jim Jordan of the NCBA will demonstrate the ancient art of forging arrowheads. A lifelong traditional archer, Jim has mastered the art of making stone arrowheads. His feather, shaft and arrowhead renderings of Cherokee arrows are works of art. He is a great storyteller who loves creating arrowheads and showing others how.
10:00 – 12:00 Hunt panel discussion will be held in the Headwaters Outfitters media room.
This year's panel consists of several local hunters covering different interests.
Devin Gentry is an outdoorsman who is skilled in mountain biking, paddling, hiking and camping, and also enjoys bow hunting and back country hunts on public land.
Wayne Hooper had no choice but to become an outdoorsman as his father Bascom Hooper was a noted WNC bear hunter and growing up in the woods hunting and fishing with the family was the norm.
Nathan Whitmire is an avid hunter from Transylvania County who will share his passion for turkey hunting and harvesting.
Jason Serres is an accomplished whitewater paddler who can often be seen navigating the North Fork of the French Broad River, and is also an accomplished bow hunter.
Jason Bowman owns OGRE Outdoors in Pisgah Forest which specializes in bespoke outdoor and leisure gear. His passion is hunting grouse, but he is also a keen fly fisherman and an avid outdoor enthusiast.
Topics for their discussion range from last season's reports on gear, hunting techniques, hunted species, habitats and management.
1:00 PM – 3:00 PM: Forest Warden for North Carolina National Forests James Melonas will discuss the new Nantahala and Pisgah National Forest Land Management Plan. The plan has been developed over the last 10 years and Melonas will discuss what it could bring for the region's wildlife over the next 20 years and beyond.
Headwaters Outfitters is located at 25 Parkway Road in Rosman.
Those unable to attend WNC Wildlife Day in person can follow the Headwaters Outfitters Facebook page to see the live panel discussion and updates from the measuring and knapping programs.
We hope to see you there and Happy New Year!