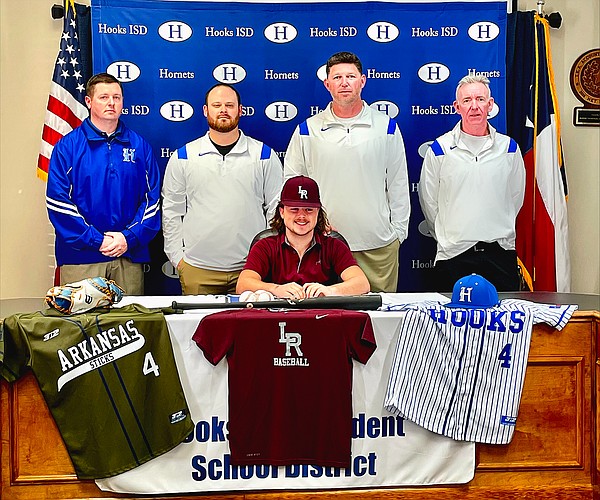 HOOKS, Texas — Logan Davis, the standout player at Hooks High School and Sticks Baseball, has signed a letter of intent to attend the University of Arkansas-Little Rock (UALR), a Division I program, on a baseball scholarship.
Davis, a returning first-team All District, is signed as a catcher for the Trojans, who were 24-27 overall and 11-18 in the conference last season. Davis, a 5-9, 180-pounder, also saw outfield action last summer.
"He's definitely a hard worker, and he earned his scholarship to Division I UALR," said Hooks baseball coach Tony Hight, who guided the Hornets to a 19-10 record (9-3 district) and into the prelims of the state playoffs last year. "He can play catcher or outfielder and he was a first-team utility player on the all-district team."
Hight said Davis has been a member of the Hooks varsity team since he was a student.
"We have five players who have played at varsity since their freshman season," Hight said. "They will all be key players for us this season."
Davis was a standout for Sticks Baseball that summer, hitting three doubles at 374 before an injury ended his season.
"He had a stellar season for us before breaking an ankle on his hand that required surgery and a needle put in," said Chase Brewster, Sticks owner and manager. "He really developed as an outfielder for us but the injury basically ended his season.
"I am very pleased that he is on a college scholarship with a DI team. He worked hard for it and he made it."