For many, camping is just a summer activity. When the needles turn golden orange and the trails are littered with leaves, camping gear is carefully stowed away until next summer. But the true outdoorsman knows that if you prepare yourself and your gear properly, fall is the best time of year to hit the trail and get into the great outdoors.
Camping in the fall requires a little more preparation than a summer trip. You can't just throw a sleeping bag on your back and head out into nature knowing it's going to be seventy degrees or more. But in exchange for that preparation, you get quieter campsites, scenic sunsets, late nights around campfires, and best of all, no bugs. These camping tips will get you off the couch and back into the outdoors this fall.
Where to camp in autumn
If you would just open your phone and search "best fall campgrounds near me" you would get hundreds of opinions on what makes a great campground for fall camping. But really, you have to decide what you want from camping in the fall and then decide on the best campsite. Would you like an open campsite where you can watch the stars? Perhaps you want a fenced wooded area where you can protect yourself and make it a survivalist's retreat, or an elevated area with views of forests and mountains.
Whatever your getaway, there are many ways to find the best fall campgrounds, from internet searches, local outfitters, or guidebooks. But when it comes to your fall campground, there are a few tips for choosing your microsite that you'll be hanging out and pitching your tent on. Finding higher and drier ground is even more important in the fall, as rivers swell quickly and ponds fill with excessive rainfall. Try to find natural shelter if possible, and remember that chilly nights at depth can be met by freezing at high altitude. Camping at altitude in the fall is serious business and it's often best to go high during the day and retreat to lower levels overnight.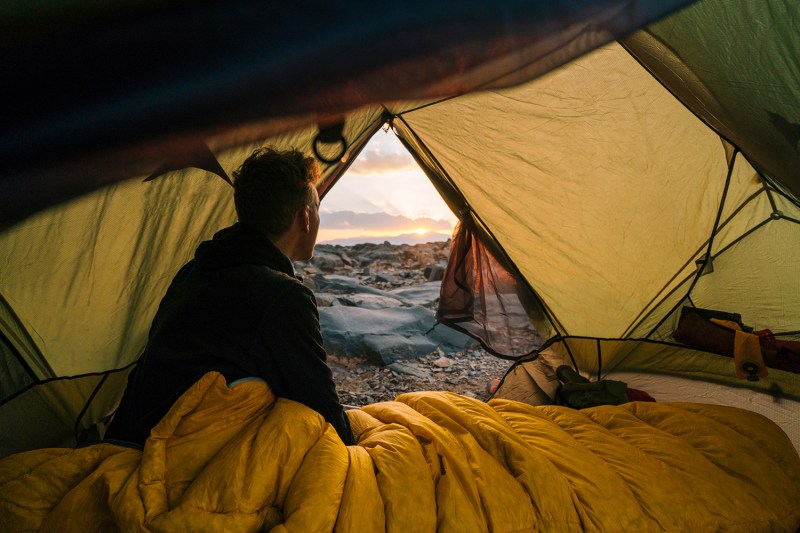 Get your sleep system right
Almost every fall camping tip revolves around staying warm, and at no time is that more important than when you're trying to sleep. Your camping sleep system includes everything from your tent to your sleeping pad and sleeping pad. On cooler autumn nights, it's not uncommon to fall asleep feeling warm, only to wake up in the wee hours of the morning as temperatures drop to find your nose and back uncomfortably cold.
Your summer sleeping bag with a temperature class of 30°+ will probably not keep you warm in autumn. Even a three-season sleeping bag may not be enough if you're a particularly cold sleeper, but the addition of an insulated sleeping bag liner can make all the difference. Contrary to popular belief, you are also allowed to wear clothes inside the sleeping bag. A set of dry merino wool thermal underwear is the best option if you want a really cozy night at camp. Don't forget to put on a hat too.
]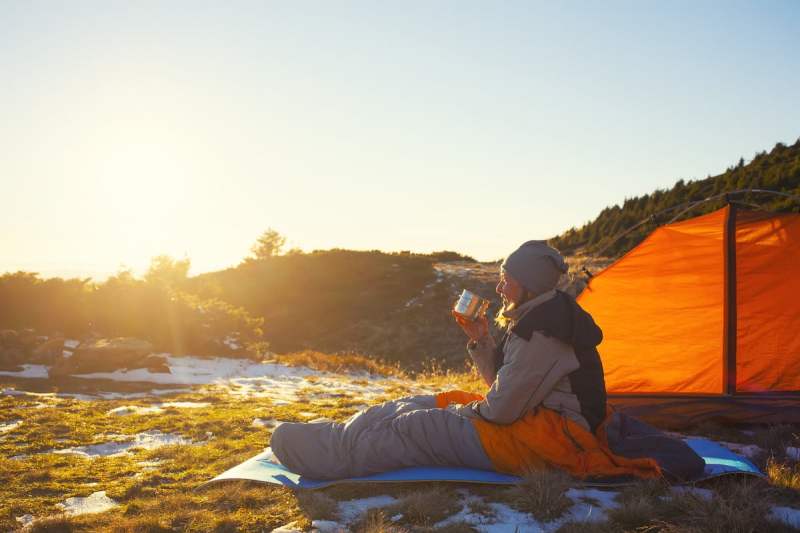 layer up
This merino wool underwear has more uses than just sleeping. Layers are an essential part of feeling comfortable at camp in the fall. Temperatures can still be warm during the day, but often drop quickly at night. The right layers will help keep you warm and avoid having to do a complete costume change in the cold just to warm up.
Moisture-wicking layers keep your body dry, preventing your sweat from sitting on your skin and cooling you down when the temperature drops. It's important to focus on isolating your core as this will help blood flow throughout your body. But don't forget to also add warm gloves and a hat, as well as a few pairs of merino socks for those extremities.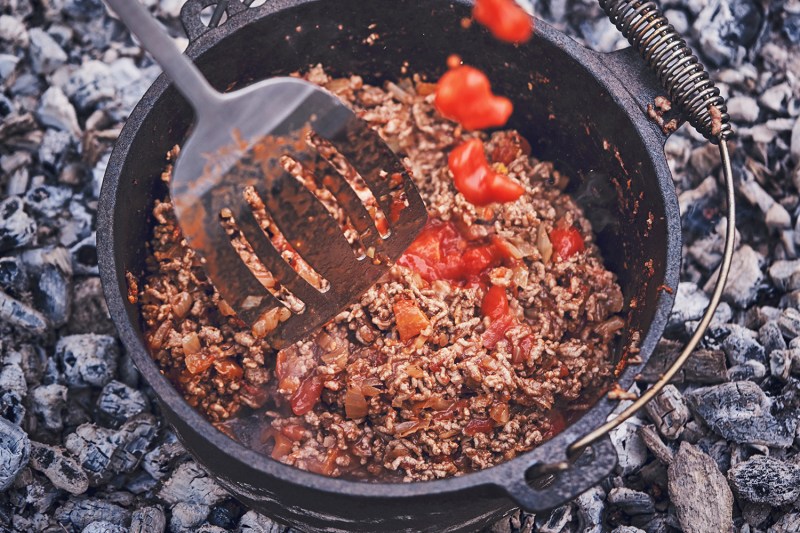 GMVozd/Getty Images
eat well
Fall is not the time to skimp on food. Keeping warm is a full-time job for your body and requires a lot of extra calories. The best thing you can do for yourself is eat proper camping meals as this will give your body the energy to stay warm and hot foods will start to warm you from the inside. Even a cup of coffee in the morning is enough to keep you warm.
With so much extra time at camp in the fall, you'll have plenty of opportunity to get creative with camp cooking. Try new techniques or cook on an open fire rather than a gas stove. If you're not sure, try making a chili con carne at home – to reheat at camp – and wrap some potatoes in aluminum foil to bake on the fire. Voila. A simple and effective chili and baked potato meal that's warm, hearty and just what you need at camp.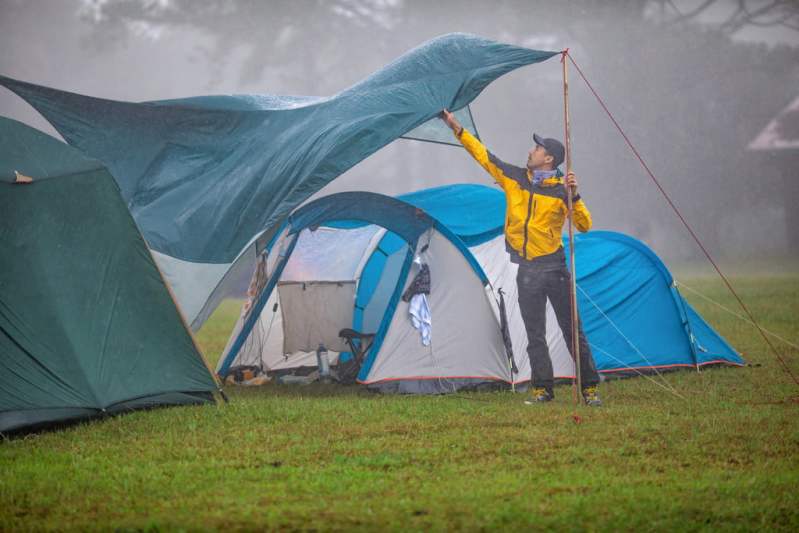 Prepare for rain
Even if you check the weather forecast and pick the driest day, there's a chance it will rain at some point, so be prepared to camp in the rain. Fall is a great time to re-waterproof your tent – ​​better to re-waterproof early than finding out you missed prime time. It's also a good idea to get a tarp and become familiar with how to set up different tarp shelters. You can add extra strength to your tent, create a vestibule, or simply set up a tarp for a kitchen and cooking shelter.
If it starts to rain, you might retreat under your tarp or into your tent. Have a few other activities ready, like board games, books, or a few episodes of your favorite series to download to your phone. And don't forget to bring extra charging blocks or an off-grid power block to power your electronics.

Enlighten your life
From campfires to fairy lights, you need a light source when camping in the fall. Sunset often catches people as it gets earlier every day, so it's a good idea to have a small flashlight or headlamp with you from early evening. Installing fairy lights around your camp can give it a homey feel and can also be used to show the way to your tent or kitchen facility or to create a perimeter of sorts. Having a lantern in your cooking area gives you more ambient light than the spotlight from a headlamp or flashlight.
Ultimately, however, the campfire is the essential camping element. It keeps you warm, gives off light and most nature lovers can tell tales of many hours sitting and watching the embers rise into the dark night sky. There really is nothing better. If you are lighting a campfire, consider using a fire pit to prevent charring of the ground and make sure you follow local guidelines for the area you are going camping in. Then sit back, relax and enjoy the warmth.
Editor's Recommendations