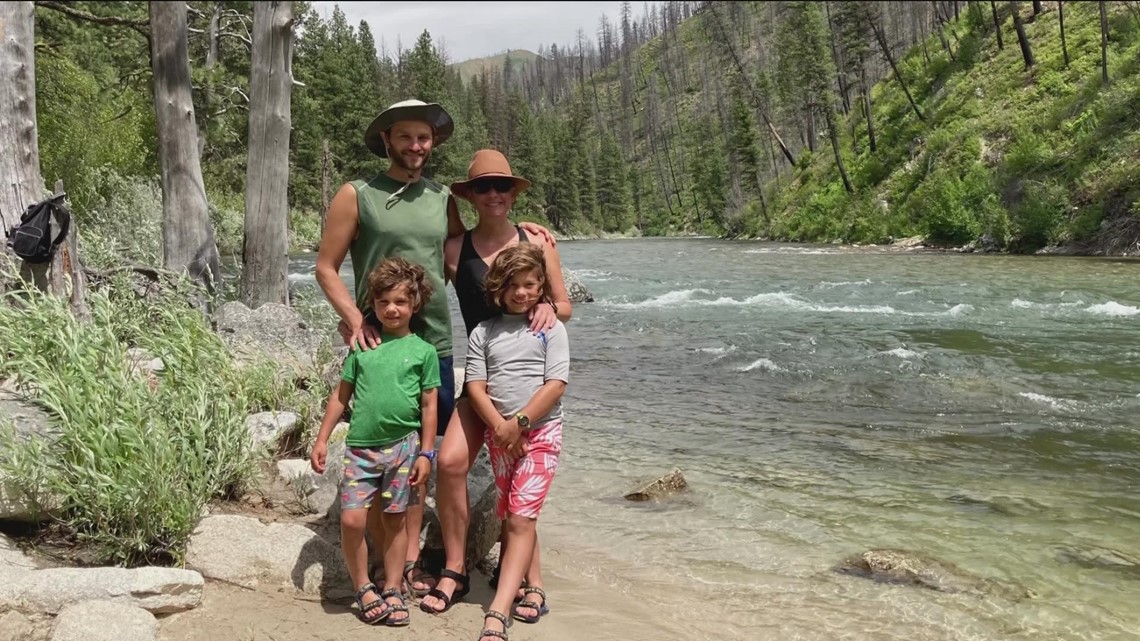 Brian McDermott punctured a lung, fractured eight ribs and crushed his L3 and L4 vertebrae.
BOISE, Idaho — The McDermott family didn't expect their ninth camping trip of the season to end in tragedy.
"I just heard what sounded like a thunderclap," said Nicole McDermott. "And I opened the RV door … then I saw the tree on the ground and just heard people screaming saying Brian's down there."
Brian is Nicole's husband – the couple and their two children were camping in Ponderosa State Park on August 19 when a storm suddenly erupted.
Nicole said Brian was outside clearing everything away when an uprooted tree hit him across the back – pinning him. He was flown to the Saint Alphonsus Trauma Center, where they found he had a punctured lung, eight fractured ribs, and his L3 and L4 vertebrae were crushed.
Brian was taken to a rehabilitation center in Utah on Friday, where he will stay for at least a month, to relearn how to walk. Nicole said he already had some feeling in his legs.
Balancing Brian's injury with everything else in life is a concern, she said. Nicole is currently taking time off from work to support her family.
They hope to visit Brian in Utah as often as possible, she said.
"It's like a huge array of emotions, just a lot going on in every facet," said Nicole. "It was just really hard for everyone."
Brian is an avid outdoorsman – cycling, triathlons and marathons are all part of his life. Suffering such serious injuries, Nicole said, was scary.
Despite everything, she said Brian's humor was in full force.
"He's so silly, I said, 'You know, a lot of people love you.' And he replied, 'I'm surprised,'" she said. "He's still Brian, which is great. Thats all I need."
The family is doing their best to stay positive – the couple's two boys are back in school and playing flag football. Nicole said it helps take your mind off the traumatic accident.
"My youngest son said, 'Mom, I don't think I want to go camping again,'" she said. "But I know things will change… They can't take us out of the woods."
There is a GoFundMe that helps cover Brian's medical expenses. Finally, Nicole said she anticipates Brian working with other people recovering from spinal injuries in Treasure Valley.
She said there are no adequate inpatient and outpatient facilities in Boise, which is one of the reasons Brian is recovering in Utah.
"I don't want anyone to think their life was taken," she said. "Because we don't feel that way. I think he's going to make something really incredible out of it and the sky's the limit."
Check out the latest news from Treasure Valley and Gem State in our YouTube playlist:
https://www.youtube.com/watch?v=videoseries
KTVB is now on Roku and Amazon Fire TVs. Download the apps today for live news broadcasts and video-on-demand.
Download the KTVB mobile app for breaking news, weather and essential stories at your fingertips.
Sign up for the Daily 7 newsletter: Your Prediction. your commute. your news.