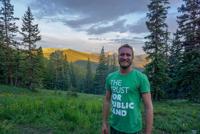 Colorado has a new face for its powerful outdoor industry. It's a young one.
It's 32-year-old Conor Hall who, since growing up in the mountain town of Crestone, has made an impressive feat in his early career.
It was a career in politics, most recently with The Trust for Public Land. Hall has served as a director for the nonprofit, leading local voting efforts aimed at funding open space, climate and equitable access in the West.
Prior to that, Hall was a senior associate of then-Governor John Hickenlooper, advising him on policy decisions. This included the founding of the Outdoor Recreation Industry Office in 2015.
Hall is now the office's third director, tasked with stimulating the industry through policy, publicity and human resources development while advocating for public lands and the environment.
A few weeks into his tenure, Hall was also busy raising funds that he said were unprecedented for his office — what he called "two pretty big grants from federal stimulus money."
The idea, Hall said, "is to distribute the money to corporations, nonprofits, colleges, local governments, local economic development groups, and tribes across the state over the next few years."
Conor Hall, who grew up in Crestone, is the new director of the Outdoor Recreation Industry Office in Colorado.

courtesy photo

It could total $7 million, Hall said. "And that's exciting, because this office was never really a scholarship office. So we need to update ourselves and learn how best to do this to ensure we are really spending funds efficiently and effectively."
Hall survived Hodgkin's lymphoma while studying political science at Earlham College in Indiana. He is cancer free today.
We talked about that and more. Here is an abbreviated version of our conversation:
So about Crestone.
It was quite a wild and interesting place to grow up. I come from a family of six and we didn't have cable TV or anything.
We really spent every waking moment playing outside. We took primitive survival skills classes at age 9 or 10 and did solos in the wild.
I wanted to ask what inspired your passion for the outdoors. A lot of this happened in Crestone?
Yes, a lot of that happened in Crestone. But I'll add one more. I was diagnosed with cancer about 10 years ago. Had big, big tumors all over my chest and neck, had to go through very intensive treatment, chemotherapy, radiation, all these horrible things to get through it. I found that I found a lot of comfort in being in nature. It has helped me get through it in many ways.
Impressive. So you would have been diagnosed in your early 20s?
21. I thought I was invincible at that point. I've had life and death experiences, rolling cars, falling off cliffs and so on. When I received this news and it wasn't some adventurous split-second near-death experience, it was hard. I told everyone that I thought I would be fine, but I really had to face my own mortality.
I remember speaking to your predecessor, Nathan Fey, and asking him where he saw untapped potential across the state, places that may be on the cusp of more open up of the outdoor economy. He mentioned your San Luis Valley.
Nathan was correct. I absolutely see this as one of those areas with great potential. I'm also looking at Moffat County (in the Northwest).
you have so much Shut down your market forces, the extractive economy that's been up there. So let's see if there's a way to prop up some of those jobs from that economy with the O-Rec economy. There are places like this all over the state. If we're able to do this well and really strengthen these local economies, then I think we'll be able to take some of the pressure off of some of our more prominent communities, like along the I-70 corridor. That's a huge focus for us.
What do you see as some of the biggest challenges in this area?
There are constant challenges around the supply chain, which is of course enormous for this industry.
There are so many different areas of the industry that have been severely impacted by this labor shortage and there are many issues associated with it. Affordable housing in our mountain towns is of course a big issue.
What role does your office play in these discussions?
We're hearing it from people across the state in the industry. I think we certainly have a role to play and I want us to sit around the same table and advocate for more affordable housing. Again, we have an unprecedented amount of funding flowing through the state. … We want to be advocates and helpful partners.
In response to the sheer numbers we've seen in some places, we're seeing new management strategies like fees to offset costs like reservations. I wanted to ask if you've given this any thought.
We have to have a clear view. As usage increases, it will take its toll, so it's our responsibility as leaders to help people enjoy these spaces in a responsible and sustainable way. … It's also funding for park rangers and infrastructure. That should also be an important part of the conversation. Increased funds to manage some of these places.
There are also fairness concerns with the fees, right?
That is in the foreground. We want to retain those first or second users who have come through the pandemic, many of whom may not have had traditional or easy access, or come from disadvantaged communities. We want them to come back and make it as easy as possible.
What are some of your most memorable experiences in nature?
My first multi-day backpacking trip when I was maybe 7 or 8 years old. We went up North Crestone Peak, saw all this wildlife, we were so deep in nature, and then the stars were unlike anything else that night. These are the moments that you will remember for the rest of your life. Just that feeling of total awe.
Contact the author: [email protected]