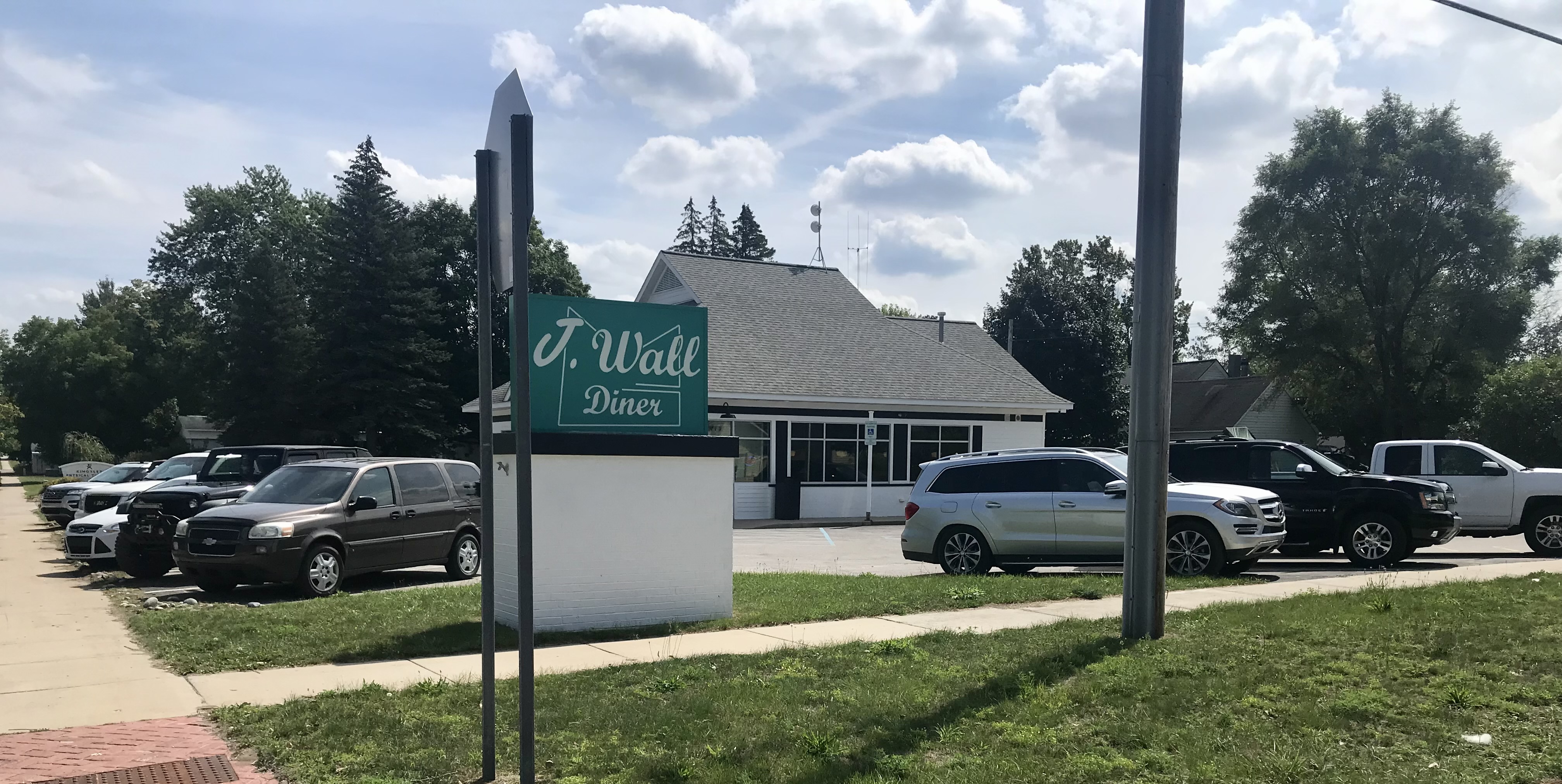 A long-awaited restaurant has opened its doors in Kingsley, the area's only indoor climbing gym, which opened in Traverse City this week, and numerous other businesses are out on The Ticker's latest look at local openings, closings and expansions.
J. Wall Diner
A new restaurant that has been in the works for at least a year has opened its doors in downtown Kingsley. Chris and Rebecca Roehler – owners of Rolling Farms Café in Traverse City and Judson Market & Restaurant in Kingsley – have opened J. Wall Diner in the former Whirly's Space at 413 Main Street. General Manager Brandon Stevens, who previously worked for the Roehlers, moved back to the area with his family from Saginaw to help open the new restaurant.
Stevens says the J. Wall Diner offers breakfast all day – with current opening times from Monday to Friday from 8 a.m. to 5 p.m. – with all "scratch-made" foods, from hand-made biscuits to hand-grated hash browns. "We have sandwiches, salads, burgers, chicken, chilli … and we plan to offer daily specials from tamales to perogies to stroganoff," he says. "We'll have a different homemade soup every day throughout winter." The restaurant also grinds its own coffee beans and has a variety of hot and cold coffee beverages, including espresso, lattes, and cappuccino. The establishment of a coffee and breakfast facility in Kingsley – along with a brewery that the Workshop Brewing Company recently announced plans to open a location in Kingsley – fulfills two long-standing items on the village's downtown wish list.
Like most restaurants in the area, the J. Wall Diner is working to attract more staff: Stevens says he works long hours to get the diner up and running and has a handful of "great high school staff" set to give local students a chance to earn extra extra cash. With more employees, the diner could expand its opening hours – Stevens hopes to work at least Monday through Saturday from 8 a.m. to 8 p.m. – and expand operations in the future. "We have 80-100 seats and plan to put some tables outside next spring," he says, adding that the menu could also be optimized based on feedback from guests. "We're just getting started and getting the word out."
Height8
The only special indoor climbing hall in the region opened its doors on Wednesday near downtown Traverse City. Kevin Vlach and Nick Olson, both from Traverse City, have been working since last fall to build the new 10,000 square foot Elev8 facility from scratch on 510 Barlow Street between Brick Wheels and McLain Cycle & Fitness near Eighth Street . The fitness studio has a 12-meter-high climbing wall, bouldering areas, aerobics and strength equipment, yoga and fitness classes and child care on site. Elev8 is designed to support a range of skills and ages, from newbies to seasoned climbers. Instructional courses and rental equipment are available for beginners who want to try climbing.
Olson says the facility will start up with about a dozen employees and 13 yoga / fitness instructors. Elev8 offered a pre-opening package for "founding members" that sold out quickly with 150 members. A number of access options are now available, from monthly all-inclusive memberships and day tickets to entry-level cards and youth tariffs. Two dollars a month from every membership sold goes to an Elev8 scholarship fund to provide access to a gym for those who cannot afford it. Elev8 is open Monday to Friday from 10 a.m. to 9 p.m., Saturday from 11 a.m. to 8 p.m. and Sunday from 12 a.m. to 6 p.m. Monday / Wednesday / Friday 7 a.m. to 10 a.m. and Sunday 10 a.m. to 12 p.m. special opening times apply only to members.
Further openings, closings and relocations in the region …
A new chocolate shop has opened its doors in Traverse City. Dave and Shana Sicotte have opened a bean-to-bar craft chocolate shop Great Lakes Chocolate & Dessert Company at 819 South Garfield Avenue next to HoneyBaked Ham and Pedego. The company sources organic cocoa beans from companies with direct trading practices to make chocolate bars, hand-rolled truffles, and other dessert specialties. Shop opening times are Thursday-Monday 11 am-7pm (closed Tuesday-Wednesday).
Jacob Stokes and Brent Kruscke are a few doors down from the chocolate shop on the same Garfield Avenue Plaza and have opened a hobby shop Lantern games. The store provides a "welcome place for people to shop, play, learn and create," tabletop games, trading card games, board games, role-playing games and more. The shop opening hours are Sunday-Friday 12 noon-8 p.m. and Saturday 10 a.m.-8 p.m.
Brooklyn's Pepperoni Rolls, which started as a delivery-only business in Traverse City this spring before moving to an incubator kitchen in Oleson's Plaza East, is expanding again. The mother-daughter duo Megan Hall and Brooklyn Hall are opening a new stationary location in Logan's Landing on South Airport Road next to Panda North. The two plan to leave their kitchen space on Hammond Road in late August and open in their new location in mid-September with some on-site dining tables and an expanded menu that features filled deep-dish Chicago-style pizza, salads, and breads and drinks to take away together with the pepperoni rolls of the same name.
New yoga and wellness studio Dharamsala TC opened its doors at 869 Robinwood Court in Traverse City. Founded and operated by Kay Epple and Cathy Fitzgerald, the female-owned and operated studio is designed as a "sacred space where everyone is welcome", enabling clients to "practice yoga, mindfulness and healthy living share "through a variety of daily courses and training sessions for all ages and abilities. Individual drop-in classes, 5 and 10 class packages, and unlimited monthly and yearly memberships are available along with private group sessions.
The previous one Southside hideout Property on Wexford Avenue in Buckley has been called into a new event center. converted Stoneridge Barn. The 6,598 square meter, newly renovated building with a "modern farmhouse character" – including a galvanized steel bar and illuminated terrace with outside bar – offers space for up to 200 people inside and a further 150 people on the terrace. The company began booking events this summer available for weddings, graduation parties, holiday parties, baby and bridal showers, and more.
Business partners Broc Crandall and Zach Hite run a local grocery store in northern Michigan called. brought to life In stockthat enables people to create shopping lists online and have goods delivered to their homes, holiday apartments, boat docks or campsites. Stocked is running a fundraising special this week (August 23-27) in partnership with Food Rescue Northwest Michigan where Food Rescue will collect donations from local households and businesses – no orders required, but donations can also be made from customers are picked up at the time of delivery – and also donates the delivery fee from orders to Food Rescue if customers use the code "Donate" at the checkout. Stocked also donates one personal care item to Food Rescue for every order it places. "We do this every three months," says Crandall, noting that the company donated £ 678 in products on its last round. "We're trying to get over £ 1,000 for the upcoming donation."
Elk Rapids Marina offers food and drink with additional this summer The Dam Food Truck to his property, which is overseen by former Rowe Inn chef Ethan Habasco. The truck has a full-service coffee bar (including espresso drinks); a morning menu of breakfast burritos and sandwiches, hash browns, and French toast sticks; and a lunch / dinner menu of wraps, pulled pork sandwiches, french fries and fried chicken strips. Pastries, coffee and cold take-away items are also available at The Dam Shop nearby. The opening times of the food truck are from Thursday to Monday from 8 a.m. to 8 p.m. (closed Tuesday to Wednesday).
Lavender on the Old Mission Peninsula opened a store at 2150 Carroll Road. The shop offers a variety of products made with lavender grown by owner Amy Parker on Old Mission, including mists, essential oils, soaps, bath salts and fizzy drinks, drying balls, canned fruit, cocktail mixes, bouquets and more. The shop is open Wednesday-Saturday 11 am-6pm and Sunday 11 am-4pm.
Mr C's Pub and Grill has permanently closed its doors on the M-72 in Williamsburg. The restaurant posted on Facebook on Tuesday that it was closing operations "due to the current labor shortage". The company added, "We are so grateful for all of the amazing relationships we have built with so many of you and we will miss seeing you all."
Finally, several stores previously covered by The Ticker have now officially opened or reopened their doors. handyman, Delamar Traverse City's new waterfront restaurant at 615 East Front Street, is now open Wednesday through Monday for lunch and dinner. The "restaurant managed by the chef, from the farm to the table" offers both an indoor tavern-dining room and an outdoor bar area and a dining terrace on the water. Spanish-Latin fusion and tapas restaurant Bahia opened its doors on Union Street earlier this month while the Vegan Cafe Plant-based cuisine from Zest now operates on East Front Street. On West Front Street, Cocktail Lounge 123 whisper bar – which has been closed since the beginning of the pandemic – will reopen on September 10 for Friday and Saturday night shifts. Limited reservations are now back in service for the bar's first two weekends.
Photo credit: Dan Hawkins