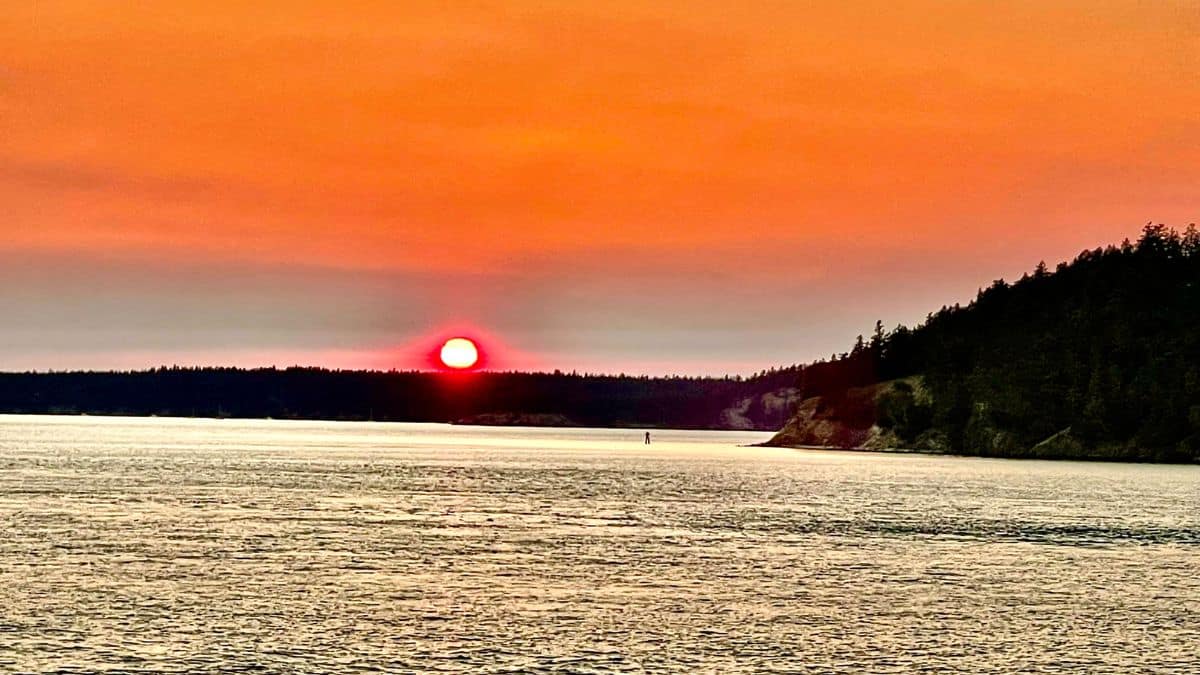 First some background on the destination, conditions and other details for those who might be curious about the details of my recent test of the Kia Sorento PHEV's capabilities. We make our way from the Seattle suburbs to San Juan Island in the Puget Sound for a camping and whale watching weekend off the coast of Vancouver Island, British Columbia (BC). The late summer weather is a skosh on the warm side by Pacific Northwest standards, but it's really near perfect with high temperatures in the mid-upper 70's and overnight lows in the mid- to upper 50's. The driving distance to our campsite is just over 100 miles (and includes a 1 hour ferry ride). My wife and I will sleep in the back of our Sorento. I purchased an amazing 3 inch thick inflatable mattress with embedded memory foam exclusively for this purpose (it fits perfectly between the wheel arches when the middle and rearmost seats are folded down). We stuff some blankets between the captain's chairs to close the gap between them, and there's plenty of room for me, at 6ft 1in (185.4cm), to lay flat on my back without mine pulling my legs up or laying on my side. My wife is only 5ft 4in so it's practically palatial for her. Our daughter and sister in law are with us and will be sleeping outside next to the Sorento in a tent (it's a spacious rig to sleep in but it's not that big!).
If you're unfamiliar with the San Juan Islands, they're a stunningly beautiful cluster of small islands nestled between Canada's massive Vancouver Island off the coast of British Columbia and mainland Washington state. They embody the natural beauty and ruggedness of the Puget Sound region, where the region's mountains and forests meet the sea. It's a quiet, slower getaway roughly in the center of the three largest metropolitan areas in this part of the Pacific Northwest: Vancouver and Victoria, BC, along with Seattle, WA.
We left early afternoon in 74 degree weather with sunny skies and slightly heavy traffic (for the Seattle area). Driving north on Interstate 405, I can only occasionally go at or just above the speed limit (60 mph) and can't exceed 50 mph about ⅔ of the way to Interstate 5 north of Seattle Ride used about 6% of the battery (to make room for charge capture by coasting or braking) and switched to hybrid (HEV) mode after a few kilometers and later switched manually between electric (EV) and HEV modes in sections where traffic slows below 45 mph. 51 miles into our drive the speed limit increases to 70 mph and I can set the cruise control to stay at that speed (except for a few miles where the limit drops back to 60 mph) until we exit the freeway and move on West on a 55 mph State Highway to Anacortes, WA where we take the ferry to San Juan Island.
A few miles before entering the long line at the ferry terminal, having drained 36% of the battery for about 12 miles of the 92.5-mile journey to that point, the display said 38.4mpg. I forgot to record it after switching back to EV mode for the last 5 miles of driving through the city of Anacortes, meaning my actual combined mpg number was slightly higher. Also to note: In addition to the heavy load and degraded aerodynamics from the charging box, I run a "car fridge" from the 180W 12V outlet in the rear of the vehicle, charge multiple devices, and also run the air conditioning. This is absolutely the worst EV range I've had all summer, with an estimated range of 30 miles based on this one-way trip so far. Assuming I don't use a large portion of the hybrid battery to run the car fridge at the campsite or charge devices, I can better confirm the EV range in my follow-up article. I note that there are some free 240v charging facilities on the island that I might be able to use to top up the battery while we enjoy a meal and drink at a local brewery. Otherwise, the last 10.5 miles of our drive from the ferry docks to our campsite is done entirely in HEV mode (including about 5 minutes idling in line to get off the ferry), and we only get 29.7mpg at 25- 45 mph dual carriageways take us there. Time spent idling certainly didn't help our mpg.
Breaking up the segments of the trip with multiple stops breaks the overall picture of our fuel efficiency, but at the end of an unexpectedly long day (our ferry was delayed a few hours due to lack of crew), our total combined stats were around 38mpg. In my opinion, that's pretty good for 97 miles of freeway driving with the weight we were carrying and the aerodynamic drag of the cargo box. I would certainly have achieved better efficiency otherwise, but I still surpass the efficiency of the most economical HEV alternatives to our Sorento PHEV, namely the Toyota Highlander Hybrid or the Sorento (non-plug-in) Hybrid.
Have you ever camped in the Sorento PHEV? Do you have any questions or comments about this part of my test? Please leave your questions or comments below and come back soon to read part 2 of my camping review.
Images courtesy of Justin Hart.
Justin Hart has owned and driven electric vehicles for over 14 years including a first generation Nissan LEAF, second generation Chevy Volt, Tesla Model 3, electric bicycle and most recently a Kia Sorento PHEV. He is also an avid SUP rider, poet, photographer and wine lover. He enjoys taking long EV and PHEV road trips to beautiful and quiet places with the people he loves. Follow Justin on Twitter for daily KIA EV coverage.