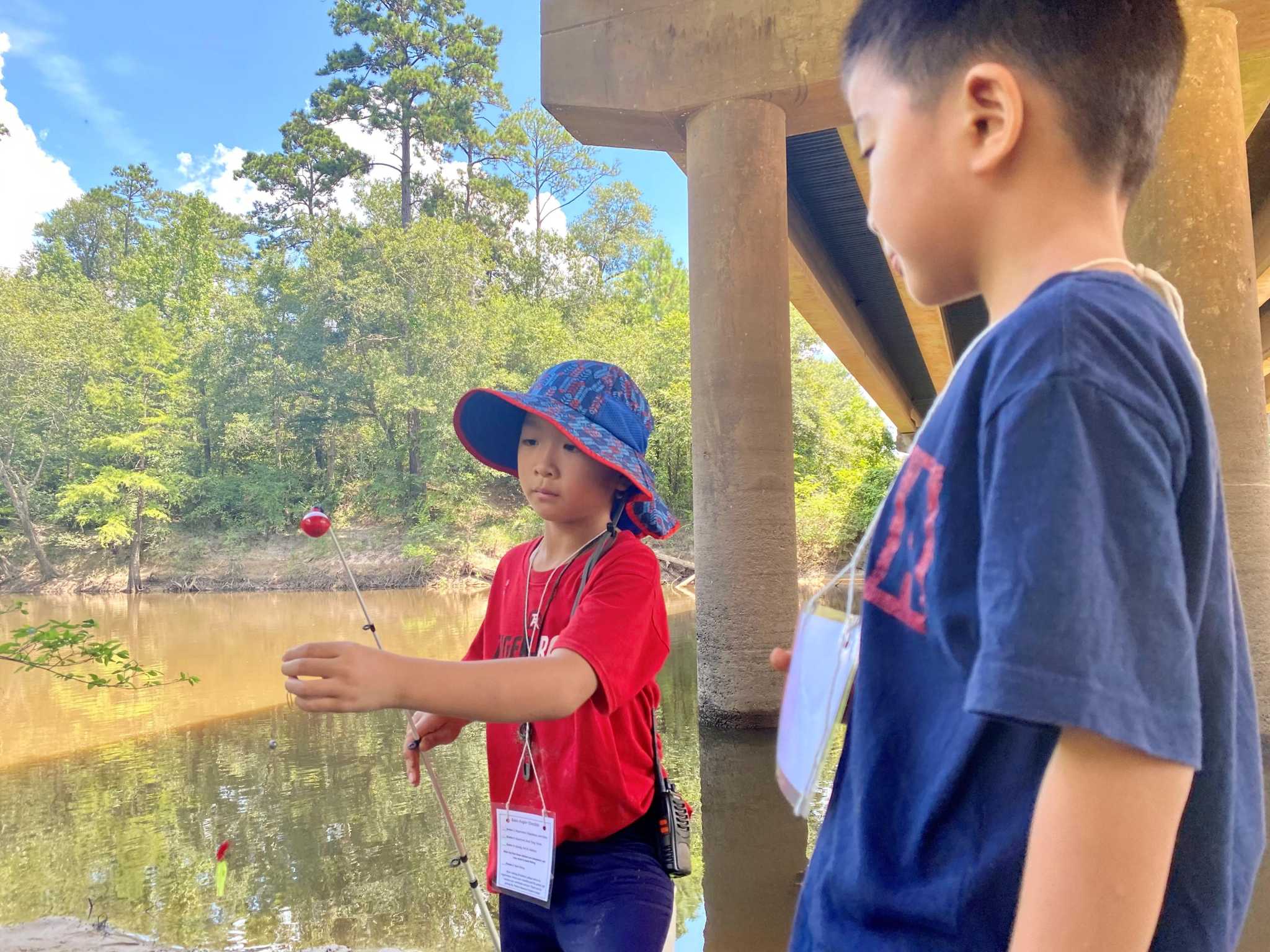 Families had a chance to cast a line during the Big Thicket National Preserve's free fishing day on Saturday at Village Creek.
Big Thicket National Preserve Chief of Interpretation, Meagan Urban, said the event provided a place for children of all ages to fish with Certified Angler Education Instructors. The instructors taught participants basic fishing skills.
Whitley West, 8 of Lumberton, learned about baiting and identifying fish during her family's first trip to Village Creek on Saturday.
The event was held where Texas 327 crosses the creek — on the west side of the river and the south side of the highway.
"I think it's cool because it's fun and I haven't fished in a long time," Whitley said.
Elizabeth He, 11 of Beaumont, and her family also participated.
"The discovery of getting a new fish is exciting," He said.
The preserve had nine rangers, a superintendent and a couple of volunteers onsite throughout the day.
"We have been pleasantly surprised with the number of people who have showed up," Urban said about an hour into the event.
"So far, we have had over 20 people and a lot of other people coming to launch boats and learn more about Big Thicket."
She said Thicket staff is looking forward to continuing these kinds of events through the year.
The preserve teamed up with the Texas Parks and Wildlife Department for the event.
With the TPWD's approval for an exemption, none of the participants had to have a Texas fishing license, which normally would be required.
The only statewide free fishing day is held on the first Saturday in June, Urban said.
"Fishing is one of the many great past times and ways to recreate here in Big Thicket," Urban said.
"For some people who might not have grown up fishing, this is a great way for them to get comfortable fishing and maybe bring their family out."
The annual event began in 2018. However, last year's gathering was canceled by the coronavirus pandemic.
"We are happy that we are able to start out doing events again," Urban said.
"The fact that we are able to do our events outside makes it a family-friendly and family safe event.
"You don't have to worry too much about masks. It definitely made rangers happy to get back out and do what they love doing — connecting with people."
The Big Thicket already has scheduled other events, such as ranger-led canoe trips and hikes, through the end of the calendar year.
Reservations are required to keep numbers small and manageable during the pandemic.
The preserve will be celebrating its birthday event in October, which will be held in Beaumont.
twitter.com/megzmagpie