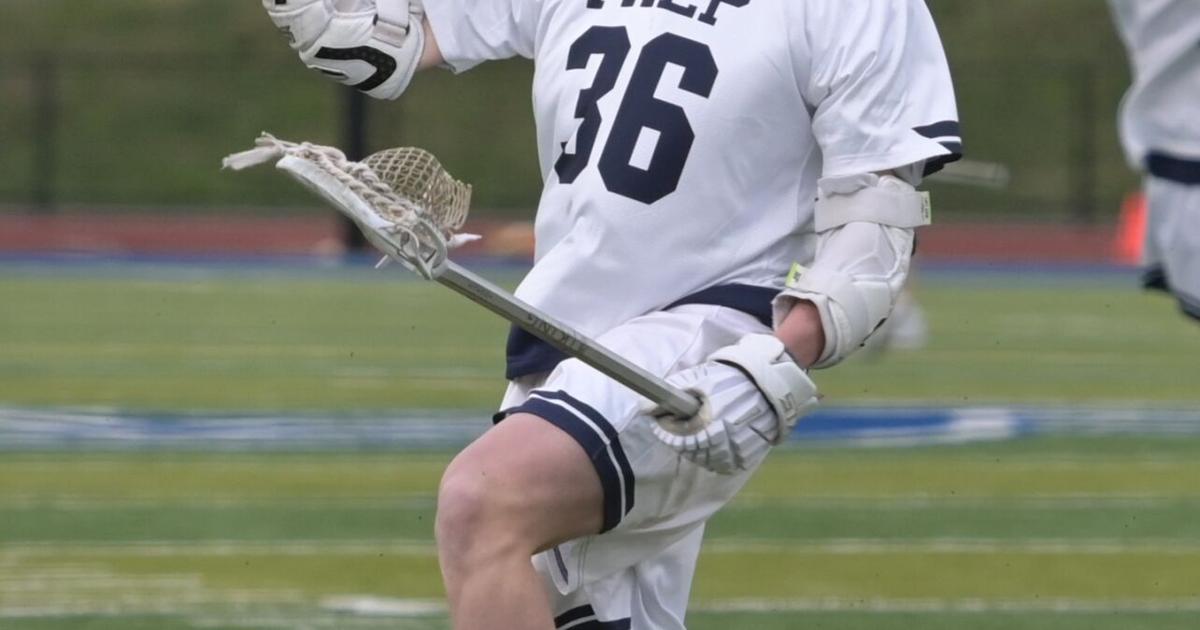 At St. John's Prep, they refer to it as "The Pit."
It's that helpless imagination that makes you feel like you're stuck in a bottomless abyss and can't fight your way out. For both athletes and entire teams, it's a humbling, frustrating situation that sometimes feels like there's no light at the end of the proverbial tunnel.
So you can imagine how the defending Division 1 lacrosse champions from St. John's Prep felt after their second loss in a row during a three-hour bus ride from Staples, Connecticut two weeks ago. A program built on excellence, precision and hard work suddenly found itself in The Pit.
"It's been a long, quiet journey back to campus," admitted the veteran midfielder Charlie Wilmot by Topsfield. "We were on our high horse, winning our first five games but still making mistakes. We had put together a bunch of half-finished games and it came back to bite us – hard."
"It was a real reality check," the classmate added Christian Rooney, a defenseman for the Eagles who hails from Georgetown. "A lot of guys came into this season just expecting us to be great, but those two losses (8-4 at Acton-Boxboro, in which the prep converted on just 4 shots out of 36 attempts, and a 14-9 setback at Staples) woke us up."
Coach John PychonThe team at was not at a crossroads per se, but it was undoubtedly time to reassess things across the board.
The team's senior leadership group ensured the process was underway before training even began the next day. They talked to their teammates about ways to improve, took training more seriously, and did it all with one goal in mind. The message was clear: starter or backup, veteran or newcomer, everyone needs to show their weight and live up to expectations.
"Many of these emphasized how the little things can make a big difference, something as simple as just walking or jogging every time you go on or off the practice field," Marblehead native and veteran defender Conor Kelly noticed. "It (upsets) us too when we don't reach our highest level because we know our potential and how talented we are. We know what we can do when we put so much work into it: 6:30 a.m. lift in front of school, 2 hours of training after school, watching a movie on Hudl … everything."
Incorporating all of these off-field and in-practice changes into the actual game plan has so far worked perfectly for St. John's Prep, who have won five straight competitions since traveling to the Nutmeg State.
Two days after the game against Staples, the Eagles defeated Lexington 15-6 in the Creator's Crosse tournament. Two days later they were behind a strong Franklin side in the Creator's Crosse title game, sometimes scoring as much as 4-5 goals, but they never strayed from their game plan or lost faith. It was rewarded as captain Tommy Sarni scored his sixth goal of the game a second from time and handed his team a dramatic 14-13 victory.
It was the only time St. John's Prep led the entire evening.
"I didn't play in those AB and Staples games," the senior defenseman said Tim HaarmanThe then-injured said: "But it's like we've given up mentally. It was definitely a weird feeling, but for the first time I felt like we were slowing down. Underperforming… that's just not how it's done here. But we were stuck in this pit, and it really got to our heads.
"When we went behind against Franklin in the first half, it was like, 'Are we back in the pit?' But that was the first time we really took off, kept our cool and got back into the game, scoring goal after goal (offensively) and playing intelligent defence, shoveling groundballs and good ones Played passes instead of trying to make the heroes play. That allowed us to get back in shape and win that game. It was a big one."
Let Wilmot explain how The Pit works:
"The coaches showed us that big part of complacency," he said, "and the early stages is a blissful ignorance where you think you've done well. But then you fall into The Pit, and maybe you realize I'm not as good as I thought I was. Then you get stuck in this endless hole that you think you can't climb out of. You have to work your way out of that, but it's not easy."
Senior goalkeeper Teddy Cullinane – "He put the lights out for us in every game," Kelly said – found himself in The Pit when it came to his clears earlier this season. He's worked hard to improve that aspect of his individual game and now has no trouble whipping long, crisp passes at teammates charging into the field.
Sarni, Providence College's all-time leading scorer (and this winter's The Salem News Boys' Hockey Player of the Year), found himself in The Pit after scoring in both the AB and Staples games and against Lexington had. By throwing extra shots after practice and focusing on what he could control, he eventually broke out in big fashion with his 6-goal, 2-assist Gem against Franklin.
"We talked about how you can't fight your way out of the pit, you can only 'find your way out'," Pynchon mused. "Tommy took some time to think about what he needed to improve and did some targeted extra work that Friday and Saturday morning. He's an incredibly talented player and some minor changes to the way he played made a big difference. He was the best player on the field (against Franklin).
"It also helps that that morning I asked the Magic 8-Ball in my kids' play room, 'Will Tommy be happy to play and have fun today?' and the answer was 'Good prospects.'"
The Spring Street lads have since rolled past Malden Catholic (18-1), St John's Shrewsbury (15-9) and a strong Xaverian club on the street (12-4). They average more than 12.6 goals per game, allow just 7.3 (only Staples and Franklin score in double digits against them) and will bring a 10-2 record in a Mother's Day home game against La Salle Academy (9-1). . at noon. This will be followed by a home game with Catholic Conference rivals BC High – whom St John's beat for the state crown last year and beat 11-8 in Dorchester last month) Wednesday at 3:30pm
"Everything has changed since those two losses," said Junior Attack Jimmy Ayer, who shares the lead with Sarni in goals (23), assists (15) and points (38). "It was something we needed; It gave us a lot of film, especially offensively, to break down and see what we did wrong.
"To go unbeaten this season would have been a dream," added Ayers, "but those losses kicked us in the (butt) and made us better."
"You don't just put on the jersey and become a great lacrosse player," Rooney added. "How we proceed from this point is up to us. The guys take charge and responsibility for being in The Pit but they can always look right or left knowing their teammates will help them climb out of it."
¢¢¢
After a stellar football season in which he earned All-Evergreen League honors — where he looks at the safety of Division 1 FCS schools — Marblehead's Jackson Downey is having an excellent season as a starting midfielder for Proctor Academy this spring.
The 6-foot-2, 194-pound junior, a powerful dodger who can shoot with both hands and uses his football strength and speed to his advantage on the lacrosse field, is one of the Hornets' top scorers, to which Downey helped win over Asheville (NC) Academy in Florida earlier in the season and has played well, scoring once and assisting on another, in tough losses to powerhouses like Pingree (goal, 2 assists) and Phillips Exeter.
Proctor trained by first years Zach Zavalick (who won an NCAA title as a player at Wesleyan in 2018 and was a faceoff specialist), faced Holderness on Wednesday and has another heavyweight bout against Brewster Academy on Saturday before the hard-fought Lakes Region tournament on May 18 begins.
¢¢¢
Speaking of Phillips Exeter, the Big Red are led by an outstanding defender on the ground Charlie McGurrin by Marble Head. The 6-foot-3, 190-pound squad has helped Exeter to an 8-2 mark so far; he will fly to Division 1 Georgetown in the fall.
McGurrin thrives on taking on and eliminating an opponent's best player. He put the clamps on Loomis Chaffee's top scorer (who had scored six times in his previous game against Deerfield) by pinning him without result. Earlier this season, McGurrin had one of his best all-around games in a 5-4 triumph over Holderness, a nine-player Division 1 club.
¢¢¢
With two of her three senior captains – Kevin Wood and Nick Wesley – Bishop Fenwick is back on tight defense and has the luxury of having two de facto captains on the field working and communicating with their teammates.
That is, the freshman lacrosse player Max Viera and newbie Lincoln Dugantwo promising long-stick middies, could grow and thrive defensively with Wesley and Wood.
"Max is a junior who is new to the sport but has settled in so quickly," said Fenwick's rookie head coach David McKenzie called. "And Lincoln will be a really good player for us – not that he isn't already. We have a lot of confidence to put him anywhere like on the wing (during the faceoff). These two guys really benefit from having Woody and Nick back there teaching them the finer points of defense.
"It makes my work a lot easier," he adds with a smile.
Wesley said working with the two younger players has only been positive.
"Max is the hardest working worker on the team. He keeps asking me and Woody questions; he just wants to keep getting better," Wesley remarked. "And Linc is just an athlete; he really knows what he's doing out there."
¢¢¢
Marblehead (8-2 agg) have five Northeastern Conference games left, but realistically the only thing standing between their fourth straight league season undefeated is Thursday's game at Masconomet (4:00 p.m.). The Chieftains (6-2 agg, 5-2 NEC) didn't have a great performance in their first meeting — a 17-9 Magicians triumph three weeks ago — but they've won four straight games since that setback and have an even one Score and a solid defense and a capable netkeeper in Colin Dillon.
However, Marblehead (7-0 NEC) have had a week to prepare for this match and should definitely play against players in different colored jerseys today.
Lax Lowdown, a column about North Shore Boys Lacrosse, appears every Thursday during the spring sports season. Contact Phil Stacey at [email protected] and on Twitter @PhilStacey_SN
Contact Phil Stacey
@PhilStacey_SN