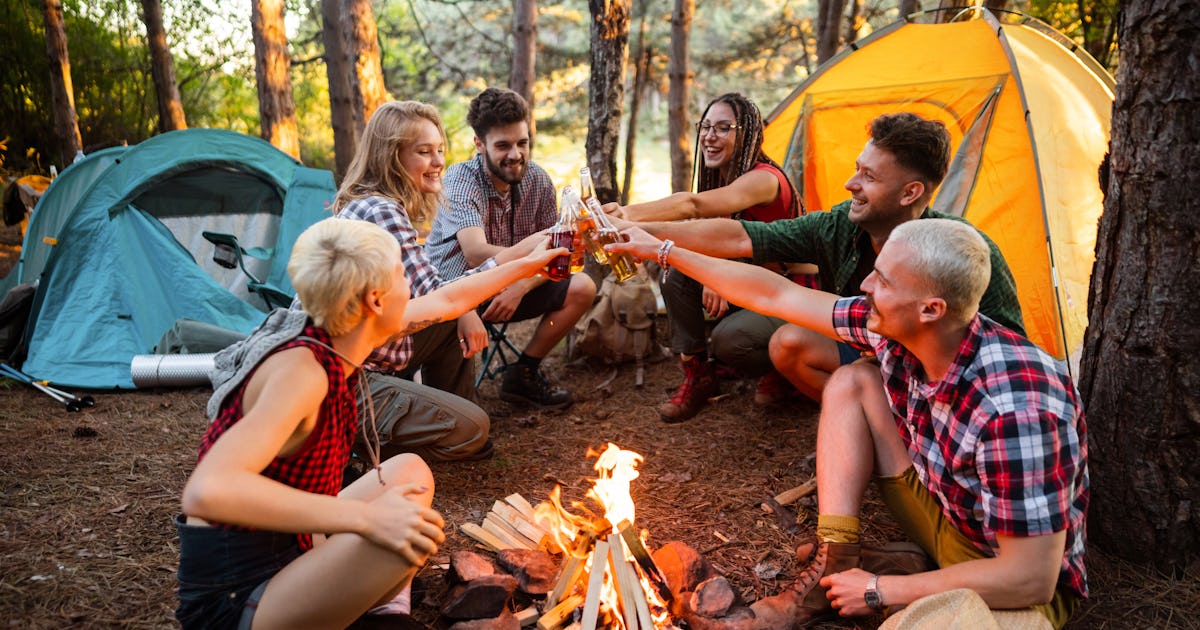 Nothing says "vacation" like a cool drink with a spectacular view. But for those of us who frequently vacation under tents, the reality of happy hour camping is a far cry from a chilled martini by the pool. It's more of a lukewarm beer optimistically tucked into our backpack, shaken well and ready to explode all over your (probably already soiled) gym clothes. It doesn't have to be like this.
things to know
Plan Shooting 2 / Imazis/ImaZinS/Getty Images
Are there laws about drinking while camping?
Not many! If you stay at a designated campsite, respect their rules. Keep in mind that different countries have different laws on alcohol consumption. Respect the legal drinking age and do not pack a Carlsberg six pack to drink under the covers in a dry country or state.
However, fly-tipping and littering are often illegal, not to mention awkward campers coming after you. Take all your trash with you and recycle if you can. Broken bottles are equally dangerous for humans and animals.
Are some drinks more convenient than others?
When you're not camping in a van or driving to your campsite, weight is one of your biggest considerations. Even when empty, glass bottles are heavy and take up a lot of space. When packaging wine, a screw cap is more convenient than a cork (unless you're sure the whole bottle will disappear at once); also boxed wine is best. Leave the cardboard sleeve at home and just pack the bag.
If the idea of ​​a warm beer makes you choke, the craft ale you saved won't taste good on a summer hike at room (or rather, tent) temperature. Small bottles of booze are good in all weathers, and can also double as an antiseptic for wounds or be used to start a fire (who said happy hour was all about hedonism?).
Pre-mix beverages and transfer into bottles or bags to reduce weight and waste. Cocktails don't taste bad lukewarm, which often makes them better than beer. Hug the hot toddy! A cooler is heavy, but camping stoves can be very light, and you probably packed one to enjoy your camping noodles anyway. An Irish coffee in the wild is a real treat.
Don't forget a utility knife with bottle opener and corkscrew. You don't want to lug a bathwater-warm white wine bottle up a mountain only to find you can't even open it.
Drink responsibly.
You knew this was coming, right? At the risk of stating the obvious, it's not a good idea to get hammered anywhere, but the dangers are tenfold in the wild; There are cliffs to fall over, bears to hug, or even just guy lines to navigate that act like deadly tripwires for happy campers. Stomping up a mountain with a sore head is no fun either.
For me, there's no joy quite like finding a mountain cabin that serves cold beer after a sweaty day of hiking (and I'll admit I overpay for that chilled, hoppy goodness). But what if you could take the bar with you? Ultralight fans, avert your eyes, I'm about to teach you how to enjoy happy hour from the comfort of your tent.
Input may receive a portion of sales when you purchase a product through a link in this article. We only include products that have been independently selected by the Input editorial team.
A bottle of wine weighs about 2.6 pounds, which is more than some tents. By transferring your wine into a pouch instead, you'll save weight and be much less prone to breakage. The Accmor Portable Wine Bag Flask holds a full bottle of wine per bag, is collapsible, leak proof and comes with a funnel for easy filling.
Sometimes when setting up camp I feel like I don't have enough hands, and that's certainly the case when juggling a can of beer while setting up a tent. The Nite Ize Travel Drink Holster attaches to a belt, waist band, or even backpack straps with a rotating clip. Stash everything in it – beer, spare pegs, happy hour peanuts…
Granted, the Huski Wine Cooler won't fit in your backpack for a hike, but for overnight camping trips or van trips, it's lighter and more efficient than lugging along an ice bucket and ice cream cone. The cooler is vacuum insulated and double-walled and keeps the wine cool for up to six hours.
The Highball Cocktail Shaker keeps liquids hot or cold for up to 24 hours, so it doubles as a coffee thermos. The three-piece set comes with an integrated strainer, double-walled and leak-proof seal, so there's no risk of a gooey mojito spilling all over your gear.
You probably didn't think you'd actually be blending frozen margaritas backcountry, but with the GSI Outdoors 2 Speed ​​Hand Crank Blender, you can. The blender has a capacity of 1.5 litres, is completely hand-operated and has two speeds, so you can even crush ice. The wide base and C-clamp attach it to your camping table.
Clumsy drinkers rejoice, the Siliprint Silicone Unbreakable Wine Glasses are, as the name suggests, pretty sturdy. They're insulating, dishwasher safe and come with a lid and straw to prevent spills, but best of all is the bright, pop design.
Dehydrated meals are a backpacker's best friend, and now there's even dehydrated fruit for cocktails. Fruits for Drinks offers a diverse selection of oranges, limes and even raspberries that can be added dry or rehydrated in liquid. They have a two-year shelf life unopened and come in a resealable pouch.
With an alcohol content of 22.5 percent, the Post Meridiem Into the Night Espresso Martinis are strong and are best served with ice to dilute them so they don't blow your (hiking) socks off. Post Meridiem has an impressive range of flavors, from mai tais and daiquiris to cosmopolitan ones to enjoy in the wild. It's like Bear Grylls and Carrie Bradshaw had a baby.
Victorinox makes some of the most well-known Swiss Army knives in the world, and the Evowood is no exception when it comes to quality. Along with a strong stainless steel knife blade, it has 12 functions, including scissors, a screwdriver, and even a nail file (your hands must look good in these happy hour Instagram stories). Most importantly, there is a corkscrew and a bottle opener.
What better way to delight friends and family with tales of intrepid treks than over a drink served in a glass commemorating the trail. The Appalachian Trail whiskey glasses are sleek and simple, with the design engraved on frosted glass. Choose from a plain or bubble base.