With school holidays just around the corner, Muhamad Nidhal Mohamad Syazwan, 10, is looking forward to two camping trips with his family.
"We are going to Pantai Cenang and Tanjung Rhu in Langkawi next week. I look forward to engaging in some of my favorite activities such as camping, bushcraft (wilderness survival skills) and stand up paddling. I can't wait to make a campfire with my dad, too," he enthused.
"When my family and I camp on the beach or by the lake, we usually set up camp after dark and enjoy the sunset or early sunrise. It's always so much fun to be surrounded by nature," said Muhamad Nidhal, who lives in Cyberjaya.
For him, like many students, the school holidays are a break from books and homework. Muhamad Nidhal, who is homeschooled, plans to make the most of the holidays by soaking up the sun and having fun outdoors.
Muhamad Nidhal enjoys contact with nature.
He says being close to nature "refreshes" him and helps him focus when it's time to pick up his textbooks again.
"I think it's an excellent opportunity to learn something outside of the school curriculum. I don't think much about my phone or games when I'm in the woods or at the beach. And I'm getting more creative in finding ways to keep myself busy.
"During these adventurous journeys I have encountered many species of sea creatures, I have seen snakes and even hornbills. Not to forget the little creatures like worms, bugs and butterflies as big as the palm of my hand. But what I like best is setting up my hammock… this is also where I will play and sleep. I also like to carve wood with my penknife," he said.
This year alone, Muhamad Nidhal and his younger sister Emily Zandra, two, have been on 20 outdoor trips with their mother, homemaker Nurul Farahanna Zaidi, 35, and father, engineer Mohamad Syazwan Ismail, 35.
Being outside is an excellent opportunity to learn something outside of the school curriculum, says Muhamad Nidhal (left).
Their trips are usually organized during long weekends and school holidays.
Highlights of their camping trips include stand-up paddling, surfing, hiking, caving, boating, and bushcrafting. They have traveled all over Malaysia including Taman Negara Johor Endau-Rompin Selai in Johor, Rainforest Park in Genting Sempah, Pahang and Sungai Dara Permaculture in Behrang, Perak. The family arrives in their trusty 4×4 pickup truck equipped with a rooftop tent.
Nurul feels blessed to live in Malaysia because the country offers a plethora of opportunities for campers like her who crave outdoor pursuits in lush rainforests, pristine beaches or caves.
"There are so many places in Malaysia that are on our bucket list. And we add to the list every time someone shares a new and cool campground," she said.
Nurul and her husband take their holidays very seriously and camping is always the focus of their short breaks.
Syazwan's trusty pickup truck, complete with roof tent, has traveled all over Malaysia on the family's camping trips.
"There is always something new to do and every adventure is different. With each trip, Muhamad Nidhal learns to do something new, like lighting his own campfire or setting up the tent (by helping his father). It's a huge accomplishment for him and has helped boost his self-esteem.
"In short, spending more time outdoors teaches kids resilience and survival skills, and sparks their creativity in problem-solving. They don't even realize they're learning life skills while we're camping," she said.
During these outdoor excursions, Nurul and Syazwan make a point of teaching their young children about nature.
"It's important to educate them about how and why we need to take care of the environment and protect Mother Earth. This teaches them empathy and a sense of responsibility.
"Hopefully those memories are imprinted. When they grow up, I hope they can find peace because of these happy memories spent surrounded by nature," Nurul said.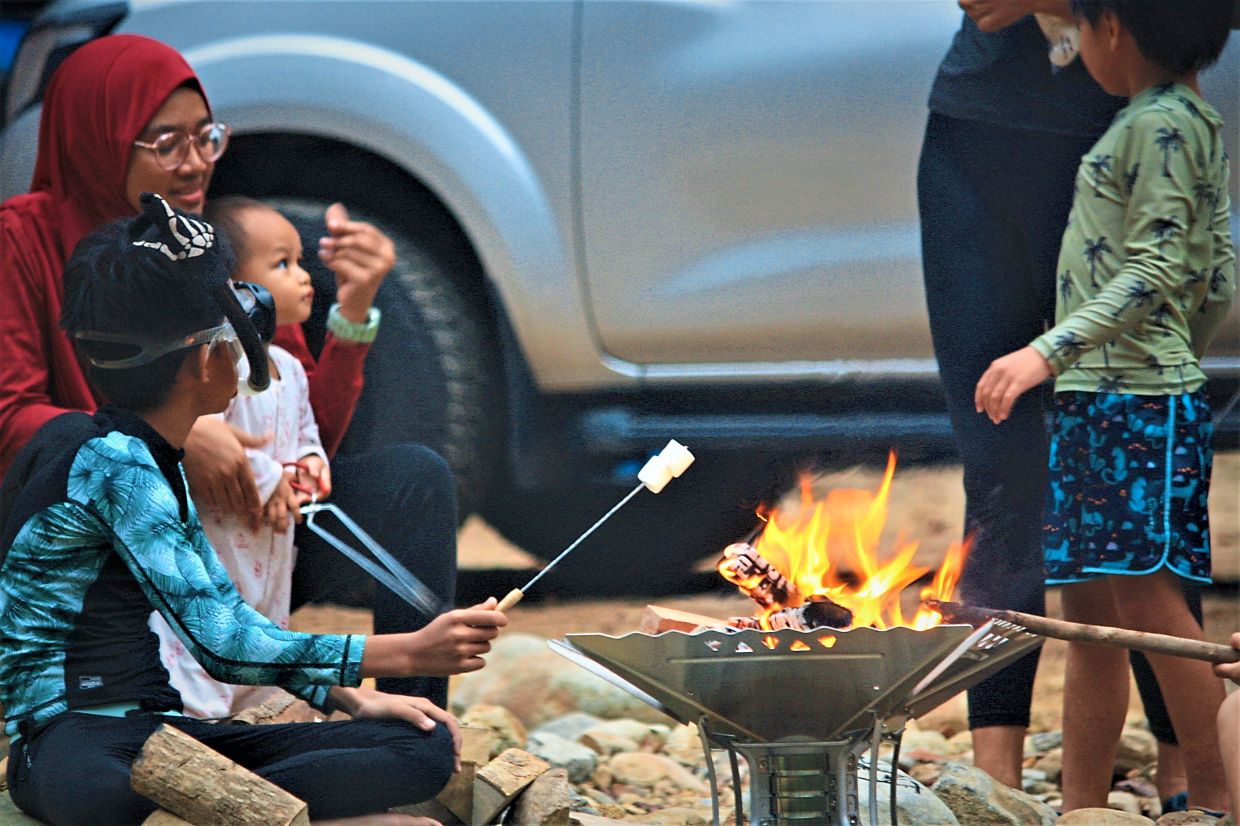 Roasting marshmallows on the fire is one of the fun activities for the kids on their outings.
soak up the sun
Growing up, Nurul and Syazwan spent most of their childhood outdoors. They loved being exposed to nature from a young age and therefore want their children to have similar experiences as well. They want them to connect with and fall in love with nature like they did.
"I grew up in Miri and spent most of my childhood in nature. I would go to the beach almost every day. My brother and I played in the creek catching tadpoles, fish and insects. At the weekend my parents would take us to the falls and parks. I have such fond memories of my childhood.
"Syazwan also enjoys sharing some of his childhood activities with Muhamad Nidhal, such as catching fish in the pond and making a campfire. They also enjoy learning about reptiles," Nurul shared.
Muhamad Nidhal made his first outdoor experiences at the age of three. This first trip was to a beach, followed by several trips to waterfalls and jungles. Emily had an earlier start – she was introduced to nature as a newborn.
Emily with her children's paddle.
"We started out with weekly visits to the park, not to play on the playground, but to explore the wooded area, where we would watch birds, climb trees, forage for edible plants, and have picnics.
"Muhamad Nidhal was about four years old when we had our first camping adventure in Cameron Highlands, Pahang. And from then on, our camping trips have increased year after year. We've had 20 camping adventures this year," she said.
Nurul believes that children should be exposed to nature when they are young. But of course, parents need to take precautions to protect them.
"Often there is parental anxiety because of the uncertainty of what is in nature. In order to reduce such fears, we parents need to arm ourselves with knowledge about the different aspects of being in nature. This includes water confidence, safety protocols and basic first aid skills. Be extra vigilant in any environment, whether it's camping, hiking, caving, or swimming," she advised.
Muhamad Nidhal helps his mother to set up the tent. It's a huge achievement for the boy and has boosted his self-esteem.
Nurul says that an added benefit of exposing her kids to outdoor activities is that they take them away from their devices or from being on social media all the time. By encouraging Muhamad Nidhal to put his gadgets away, she notes that he is more receptive and focused when completing his chores and routine chores.
"Muhamad Nidhal has good sensory skills. He has a keen eye and can spot the smallest creatures when we are hiking and hunting in nature," Nurul said.
"Both of my children also sleep better at night when we go camping. With enough sleep, enough exercise and enough sun exposure (vitamin D) you have a stronger immune system. Luckily they don't get sick very often."
The family loves nature so much that Muhamad Nidhal and Emily's birthday parties are held outdoors. Last month her daughter's second birthday was celebrated at a campsite in Bukit Tinggi.
"Each year we try our best to plan camping trips to coincide with their birthdays. We invite their closest friends over and they can play together from the moment the sun comes out until the moon rises.
"(For Emily's birthday) we got her a cake and put up a little garland banner (reused from last year) and that was it.
"The kids roasted marshmallows and made popcorn over the campfire. It was a fun outing for everyone."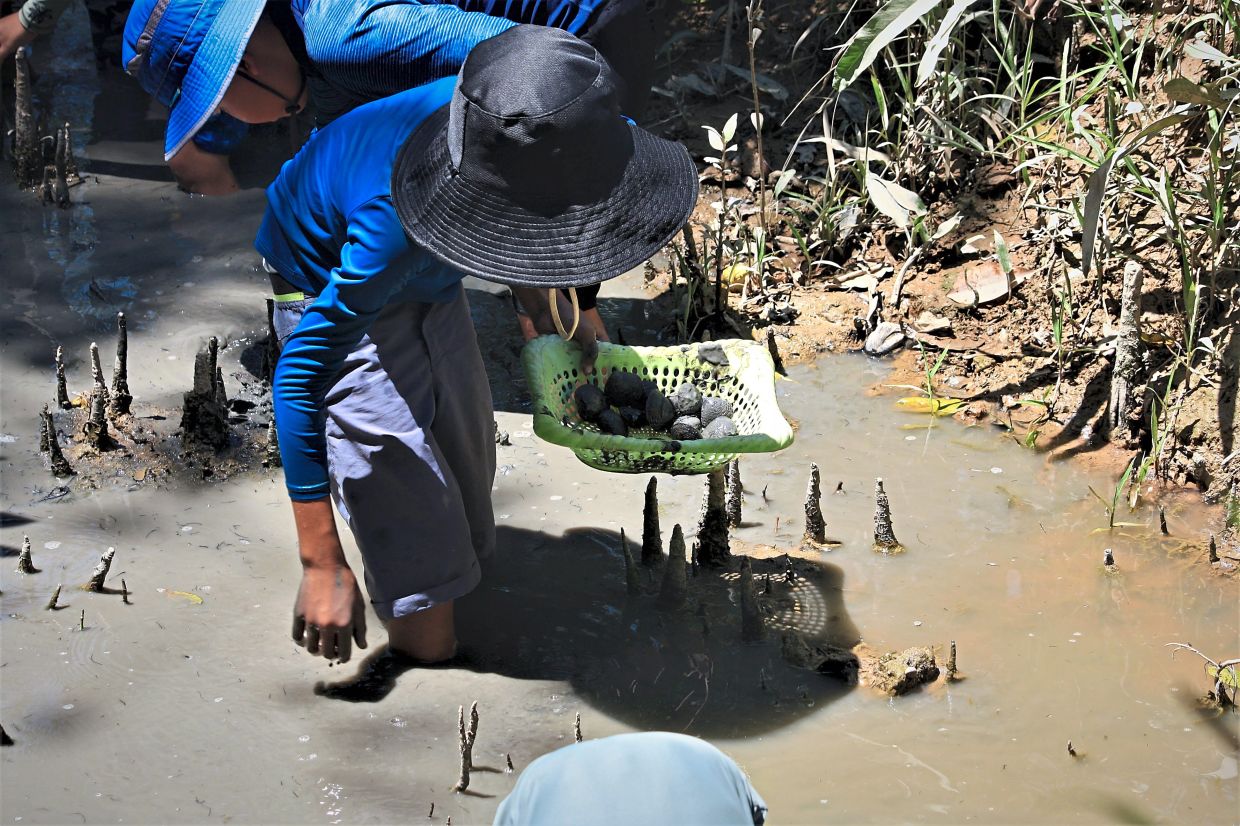 The couple wants their children to be resilient and love the outdoors as much as they do by exposing them to nature from a young age.
The tent life
In terms of planning the trip, Nurul does most of the research and bookings while Syazwan is the one on site. He carries out Nurul's carefully crafted plans.
"Google Maps, reading blogs, watching videos on social media, and joining camping groups on Facebook are all helping us a lot in our research and preparation," Nurul said.
On her Facebook page, Bagong Overland, she shares her adventures, camping reviews, unpacking camping gear, and outdoor hacks.
Preparing for a camping trip might seem intimidating, but Nurul assures newcomers it's not as overwhelming as it may seem.
Spending more time outdoors helps teach children resilience and survival skills and inspires creativity in problem-solving.
It all boils down to two things: thorough research and preparation.
"It takes a while to get all the preparations under control. But after a few rides it gets easier. This is our best (hack) – we keep all our camping gear in boxes organized by category (sleeping bags, kitchenware, tent gear, lights and fans, and power) in one place.
"After a trip, we clean them up and pack them back in their respective boxes, ready for the next escapade. Most campsites now offer toilet facilities.
"It's only when we go on wild camping trips – places with no amenities – that we bring our portable toilet."
She advises people to check the weather forecast before going on a camping trip.
"Our most challenging camping trip was when we were faced with a storm on Port Dickson Beach.
"The sand swirled right in front of us, on our faces and in our eyes. Some of the neighbors' tents didn't survive the storm and had to go.
"It's important to check tide tables and the moon phase calendar to avoid going to the beach when conditions are not favorable," she said.