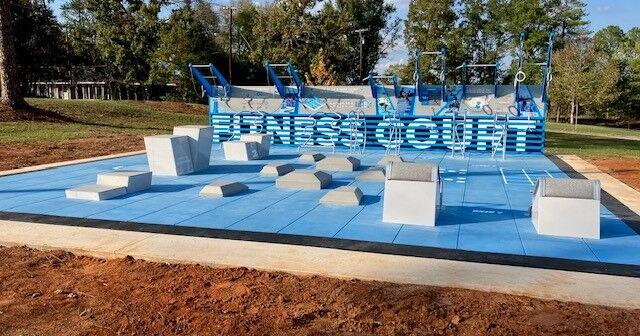 The City of Palestine will unveil its new outdoor fitness court in Reagan Park with a ribbon cutting and event launch on Saturday, November 19 at 10:00 am. Residents are invited to visit and try out the fitness court and learn about upcoming community wellness events and programs. Trainers will be on hand to demonstrate how to properly use the new training equipment.
"I'm proud to be part of a city dedicated to improving health and well-being in our community," said Patsy Smith, Parks and Recreation Director. "This fitness space will help our citizens enjoy a free workout anytime and allow them to spend quality time at the park with their children."
The 32-by-32-foot fitness court is located in the northwest corner of City Park at Reagan Street and Michaux Street. The innovative open-air court allows participants of all ages and fitness levels to use their own body weight for a complete workout.
This new training facility is just one of the ways the city is trying to improve and improve the quality of life for residents of Palestine.
"This is a step in the right direction," said city manager Teresa Herrera. "Thanks to many organizations that have worked with the city to make this possible, everyone will be able to train at the new fitness ground for free. I am proud to be part of a community that values ​​health and well-being. Great things are happening in our great city."
This capital project is an important part of a 2022 initiative launched by the National Fitness Campaign, a nationwide wellness consultancy that works with cities and schools to plan, build and fund healthy communities. This year, the city of Palestine was one of dozens of selected recipients from across the country to receive a $50,000 grant from the National Fitness Campaign to support the program. In addition to funding, the project was also made possible by local funding and donations.
The major donors were the Anderson County Commissioners Court and the City of Palestine, each making corresponding donations of $62,500; The Junior Service League donated $20,000 and the Palestine Economic Development Corporation contributed $10,000. Smaller amounts came from Elliott Auto Group, All Star Ford, All Star Autoplex, All Day Athletics and the Palestine Area Chamber of Commerce.
"I'm very proud that the City of Palestine was able to work with so many wonderful amazing organizations and local businesses to bring this fitness court to Reagan Park," said Mayor Justin Florence. "I would like to say 'thank you' to Parks and Recreation Director Patsy Smith for taking this idea to the Palestinian City Council, our council for standing behind and believing in this unique project, and City Manager Teresa Herrera for her leadership and support of this project."
The new Fitness Court at Reagan Park allows users to use their body weight to complete a full seven-station workout. Designed for ages 14+, the Fitness Court is adaptable for all fitness levels. Users can also download the free Fitness Court App, a coach-in-your-pocket style platform that transforms the outdoor gym into a digitally-enabled wellness experience. The app is available for iOS and Android.
The app offers courses, training programs, challenges and coaching for beginners, intermediate and advanced users. The classes are based on the seven movements of the Fitness Court – core, squat, push, lunge, pull, agility and bend – to challenge and strengthen the body.
"We're excited that the City of Palestine is joining us on our journey to health and wellness as we make a positive impact across America," said Mitch Menaged, Founder of the National Fitness Campaign. "The addition of the fitness court and continued commitment to a healthy lifestyle demonstrate a tremendous commitment to the community."
National Fitness Campaign developed the trademarked seven-station system in 2012 in hopes of inspiring communities to transform public spaces into community fitness centers. NFC's award-winning initiative plans its 500th Healthy Community across America.
For more information, visit the City of Palestine website or contact City Parks and Recreation at 903-731-6000.