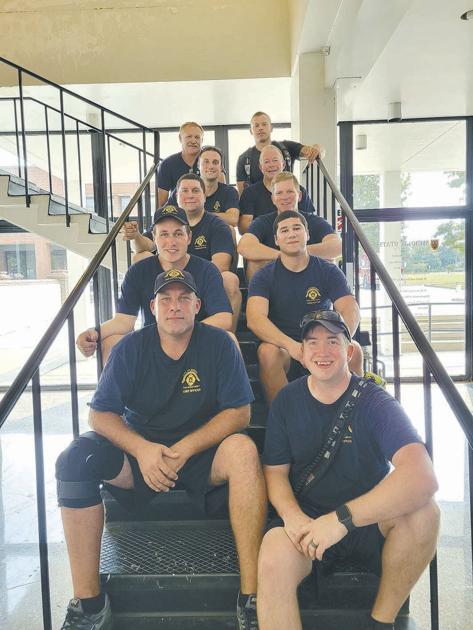 MURRAY – As Americans everywhere mourned the victims of the September 11, 2001 terrorist attacks on Saturday, Murray Fire Department staff remembered in their own way.
As has become an annual tradition for many firefighters across the country, a number of MFD employees remembered the celebratory anniversary by re-adjusting the number of flights New York firefighters had to board when boarding the World Trade Center after it had been hit by two hijacked passenger planes. Assistant Chief Eric Phelps said this will be his first September 11th since his promotion to his current position.
"It's the right thing," said Phelps. "We should be doing this every year, but this is the first year we've made something (like climbing stairs) official. I contacted Susan Miller at Murray State (in the Environmental Safety and Health Department) and they are always very nice to us when we use their facilities. I thought we could try to imitate some of the monuments that can be seen on the stairs across the country. We used the Old Fine Arts Building and did the 110 flights. I think it's about 2200 steps. … It took us a couple of trips, and it's a nine-story building. "
As you can imagine, Phelps said it was a very tiring experience, but it was also a very rewarding way of remembering fallen firefighters.
"It gave you a real perspective on what these guys went through," Phelps said. "We talked about it the whole time we were walking up and down the stairs. And these guys (the NYC firefighters) did this in full gear, carrying skyscraper packages and all the tools of the craft of skyscraper fires – and knew they were marching up 110 flights just to start work. Impressive. It was a little overwhelming to think about.
"I think we'll probably start doing this more routinely (in the future)."
Phelps said the MFD has several new recruits who recently started the division and they are a reminder of the importance of commemorating 9/11 and never the losses and sacrifices made that day to forget.
"We did a meet-and-greet on Friday after they did their (full-day orientation) with the town's recruiters, and I just thought we'd spend the rest of the afternoon with our people," Phelps said. "They asked her their age and (you know) wow, these guys are 21, 23, 25. These guys were probably babies or very young children when this happened. I thought it would be really cool for them to see that we are still attending the remembrance (NYC firefighters) because the fire department is a brotherhood and they need to know the whole story, honor and tradition that they are inherit, people like those in the past come from them. We didn't – we just benefit from the sacrifices such guys have made. And not only (September 11th); there are others.
"We're stewards of this and we have to honor it, so we're just trying to get this across to these young firefighters. Hopefully we will be known for it and someone after me will continue it. "