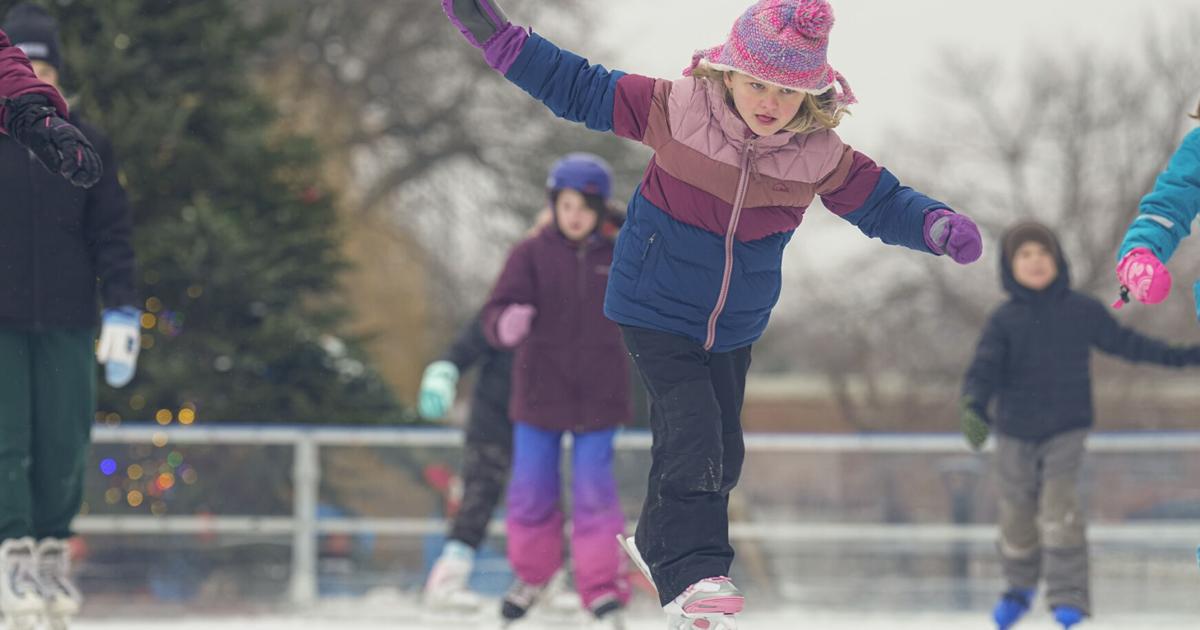 PAMELA COTANT For the State Journal

It can be difficult to offer skating lessons when Mother Nature has something else in mind.
But the refrigerated Monona Bank RiverRink keeps ice conditions stable, allowing for predictable instruction and opportunities for school trips.
When Monona Parks and Recreation was able to switch the program from the lagoon in Winnequah Park to the ice rink in late 2019, the ice skating program really took off.
"We really tapped into a market that we knew was there and we knew it was going to be popular," said Missy Miller, associate director of Monona Parks and Recreation.
Ken Walz, from Monona, whose 4-year-old daughter Kate took classes on Saturday, said the equipment that holds the ice is usually ready when they arrive.
"The ice is always nice and smooth," he said. "It makes learning a lot easier."
People also read…
The new rink features a cooling system consisting of a chiller, pump and cooling mats that pump glycol through the rink floor, ensuring a longer skating season. Prior to its opening, the Department of Parks and Recreation attempted to schedule classes at the Lagoon but were never able to get them off the ground due to weather issues. Miller estimates the city has only had ice for three good weeks in three years. While ice skating is still permitted in the lagoon unless marked as unsafe, it's still not often available.
Then, in 2019, the Monona Bank RiverRink was opened by the city in Grand Crossing Park, which lies on West Broadway behind The Current Apartments with shops below. While the season now runs from November to March, there have been delays in opening due to supply backlogs.
Over the next year, as the COVID-19 pandemic ended many activities, the rink grew in popularity because the outdoor venue allowed for social distancing and was one of the few things youngsters did and had a chance to interact with each other. Rink operations were also adjusted, so skaters signed up for pre-determined times, and concessions and skate rentals were only available outside.
Because they had the time, some came to class or skate up to three times a week, Miller said.
The result was a 90 percent booking rate for the 2020-21 season, she said.
Maggie Jakubczak, from Monona, said her fourth-grade daughter Evelyn came at the start of the pandemic because it was different than being at home and having a chance to be with other youngsters. She also wanted to learn to skate without taking up hockey.
These days the ice rink has opened its concession area "Below Deck". Parents can watch classes through the windows, and it's also a place to warm up, grab a snack, and play one of the board games. Sometimes activities such as crafts are set up. Fire pits and seating are also set up outside.
There is an admission fee for ice skating and lessons, ice skate rental is extra.
Lessons this winter will include "Learn to Skate" with a parent-child division for children aged 3 and 4, another for children aged 5-7 and a third for children aged 8-10 . Intermediate Skate is for kids ages 5-8 and Intro to Hockey has divisions for ages 6-9 and 10-13. Age designations are somewhat flexible depending on the skill level of the skater.
Jessica Walsh, a recreation manager at Monona Parks and Recreation, said the introduction to hockey teaches skaters how to walk forward and backward and how to use a junior stick and foam balls. The skaters also practice dribbling. Finally, goals are put on ice and small competitions are held.
"The kids love to compete, so I think they really enjoy those easy, no-pressure 45 minutes a week," Walsh said. "It's not about pucks and body slams."
In the popular Advanced Skills class, skaters work on more advanced skills that involve picking up speed and then stopping.
"They're working on perfecting their backward running, which everyone wants to learn," Miller said.
Miller said the rink is considering a synchronized skating course for the future.
The rink is planning special events like a "Princess and Super Hero Skate" scheduled for last Saturday afternoon. It was an opportunity to ice skate with costumed people and do crafts in the concession room.
Kate Walz, a preschooler, said she enjoyed everything about the class and learned how to fall, and especially not to "fall sideways."
Theodore Roach of Fitchburg, who was at the rink with his parents and grandparents and 3-year-old brother Finnegan, who was taking a lesson, is learning to skate with the potential to play hockey in the future.
McFarland's Matt Pugh said he's seen his daughter Evie's ice skating skills improve in third grade since she started taking lessons.
"I just think skating is really fun and I really like it," Evie said. "I didn't know (before) how to handle corners."
Every Monday, the Wisconsin State Journal features a story about learning in Wisconsin. Here are School Spotlight stories from the past year.
Would you like to see more of this?
Get our local education coverage straight to your inbox.