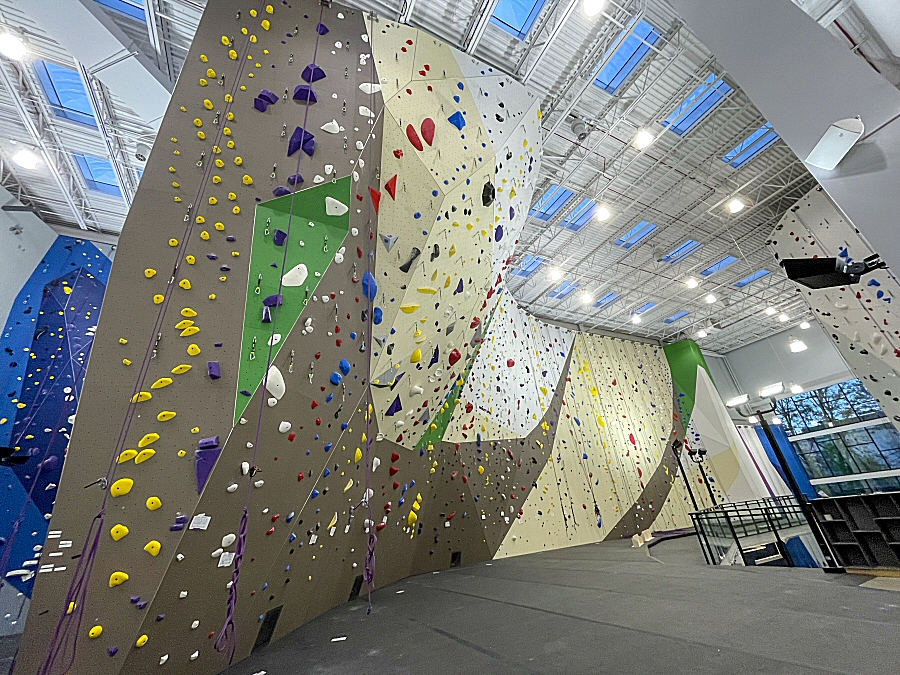 Movement, part of the nation's largest community of indoor climbing gyms, today announced the opening of its newest facility, Movement Lincoln Park in Chicago, on Saturday, November 6th, 2021 at 10:00 a.m. The brand new build, the second this year by Movement in Chicago, features indoor climbing, an equipment store, studio-quality yoga and fitness classes, and an entire floor of cardio and weight machines, with everything from warming up to an Olympic lift routine.
For those looking to start climbing and improve their skills, Movement Lincoln Park has a full list of introductory and advanced climbing courses led by a knowledgeable and passionate team of instructors. The experience is rounded off by an equipment shop with climbing equipment and competent advice. To support a thriving community, the gym also offers several lounge areas where members can socialize, share their stories, and organize their next adventures.
Events in November include:
November 5th – Member Sneak Peek and Climb (memberships can be purchased on site)
November 6th & 7th – Free access, rental, courses for beginners
November 14 – Free entry and rental for anyone bringing non-perishable groceries for the Lakeview Pantry
November 21 – Grand Opening Party with professional climbers Alex Puccio & Robin O'Leary
"The team here at Movement Lincoln Park can't wait to meet members of the Chicago community, share our love of yoga and fitness, and help them get started on their climbing journey," said Jen Torrent, District Director at Movement. "With two Movement Gyms now open in town, Chicagoans are never far from their next climbing adventure."
All members and guests will enjoy a variety of climbing tours created by a team of route setters from various gyms across the country – to ensure there is a fun challenge for everyone, regardless of skill level.
AVAILABLE MEDIA TOURS: Members of the Chicago area press are invited for a taste of Movement Lincoln Park. Please contact [email protected] to make an appointment.
To learn more about the gym and to sign up for pre-opening membership offers, visit:
https://el-cap.com/movement-Lincoln-Park/ or follow @movementgymschicago
Movement Lincoln Park is located on 1460 N Dayton St. in the Lincoln Park neighborhood of Chicago with an attached small private parking garage and unauthorized street parking. It's conveniently located two blocks from the Red Line. The new facility was developed by Chicago-based real estate company Structured Development.
"We are proud to welcome Movement Lincoln Park as our first commercial tenant to The Shops at Big Deahl, adding to the range of active retail and recreational opportunities in the Halsted Triangle," said Mike Drew, co-founder of Structured, which has Developed over 1 million square feet in the immediate area including the adjacent NEWCITY development. "The increasingly diverse mix of uses in this corner of Lincoln Park has made it a destination for those looking for an active urban lifestyle. They also align with the city's vision of activating the North Branch of the Chicago River through projects such as the Wild Mile, which is immediately west of the Big Deahl site. Such leisure activities contribute to the attractiveness of the quarter and its future as a 24-hour work, living and play community. "
About El Cap – movement
Movement is part of the El Cap Family, the nation's largest community of indoor climbing gyms. Each Movement, Earth Treks and Planet Granite facility strives to grow the climbing community through a shared vision to enable personal transformation and inspire social and environmental impact.
Exercise studios offer bouldering, top roping and lead climbing as well as amenities such as yoga studios, functional fitness, cardio zones and climbing equipment stores. Each facility is aimed at participants of all levels – from competitive athletes to weekend adventurers to families. Learn more at El-Cap.com.