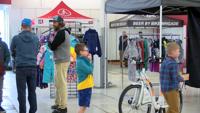 LA CROSSE, Wisconsin (WXOW) — Local residents and organizations sold new and gently used outdoor gear over the weekend at the first outdoor gear exchange.
Set in the old K-Mart building, one could find tents, canoes, bikes, clothing and more.
A percentage of the proceeds went to the Ski Patrol, La Crosse Bike Team, Beer by Bike Brigade and the Outdoor Recreation Alliance who also participated in the gear swap.
Ski Patroller Keachen Abing said he believes the event was a success as they sold most of their merchandise on Saturday.
"We saw community members coming together today simply to share their free time experiences and encourage each other to do new things and new adventures in the community," Abing said. "That's what's really exciting for us, and we think these talks have been one of those side effects alongside selling used gear and buying new gear to get you out there. Just to bring the community together, have conversations and be exciting out there."
Abing said the money the Mt. La Crosse Ski Patrol receives will go toward improving equipment and visitor experiences.
The gear change concludes Sunday at the old K-Mart building at 2415 State Road in La Crosse from 9 a.m. to 11 a.m.
Do you have an idea for a story? let us know here