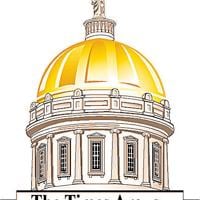 Editor's Note: The following is a collaboration between Mad River Valley, Revitalizing Waterbury, Stowe Vibrancy, Montpelier Alive and Barre Partnership. It is brought to us courtesy of Montpelier Alive.
Montpelier, in the heart of Central Vermont, is surrounded by adventure. Right from downtown you have access to hiking, mountain biking, gravel biking, cross country skiing, swimming, paddling and amazing parks for hiking. In addition, Montpelier is a short drive from dozens of outdoor recreation destinations, whatever the season. From world-class mountain biking to the Northeast's best skiing, Central Vermont is the perfect place to plan your next adventure.
Here are some of the best local favorites from our region:
Montpelier: Hubbard Park TowerHubbard Park, the city's main wooded park, offers great views and is a short walk from the State House. Behind the Golden Dome is a network of extensive trails that lead up to a meadow at the top of Hubbard Park Hill. At the top rises a huge tower with stairs to climb, affording fantastic views of the region's mountains and valleys and of course our picturesque town below.
Montpelier: North Branch River ParkNorth Branch River Park offers nearly 200 acres of gentle trails and access to miles of challenging cross-country skiing, mountain biking, or hiking. The park is a hidden gem in our area and can be accessed from the city or from the nearby North Branch Nature Center on Route 12N. Embarking on the recreation trail, a journey can lead to beautiful scenic views along the North Branch River, or to the recreation fields and pool where community members like to gather, or to the hills of the nature center where outdoor enthusiasts enjoy bird watching and enjoy a quiet walk in the woods. Mountain bikers will enjoy the new network of MAMBA (Montpelier Area Mountain Bike Association) trails that meander across the North Branch and offer some technical challenges for the more adventurous type. When the river is high, paddlers can quietly move through the wetland and spot wildlife such as deer, beaver, muskrats, wood ducks, and the occasional bear sipping water or cooling off on hot days. There are many bathing spots along the way.
Mad River Valley: Mountain BikingThe Mad River Valley is home to one of Vermont's finest mountain bike trail networks. The Mad River Riders' 60+ miles of trails connect and meander through the Mad River Valley, connecting our special places with fun, sustainable cycling, options for all abilities, including the beginner-friendly Blueberry Lake Trails in the Green Mountain National Forest, classic technical Trails at Eurich Pond, Chase Brook Town Forest, Camel's Hump and Phen Basin.
Mad River Valley: HikingFrom scenic walks with spectacular mountain views to the challenges of the Long Trail and Camel's Hump, the Mad River Valley is one of Vermont's top hiking destinations. The Long Trail offers hikers and backpackers the opportunity to scale three of Vermont's 4,000-foot peaks, and the Mad River Recreation Path trail system offers hikers and runners the combination of great exercise and beautiful views. Our gravel roads offer even more opportunities for a quiet stroll in the countryside. Guided nature hikes and walks are conducted throughout the year and provide insight into the area's flora and fauna.
Waterbury: Waterbury ReservoirPaddling on Waterbury Reservoir is a town favorite, and with good reason! The spectacular scenery makes it the perfect place to enjoy the fall colors from a different perspective. Bring your own boat or rent and launch kayaks, canoes and stand up paddle boards directly from Waterbury Center State Park. For off the beaten track adventure, there are secluded campsites dotted along the coast for a night under the stars.
Waterbury: Cycling at Perry HillAs one of Vermont's premier bike trail networks, Perry Hill has plenty to keep riders of all levels happy. With 16 trails, there are endless options for routes and loops, ranging from three to nine miles, ranging from beginner-friendly descents to fast and flowy rides to technical lines. Perry Hill is also home to a multi-loop pump track, perfect for honing skills and popular with younger riders.
Barre: Millstone PathsThe Millstone Trails Association is a non-profit organization that maintains the Millstone Trails, a network of non-motorized recreational trails in Barre, Vermont. Millstone Trails traverse 1,500 acres of varied and dramatic terrain, between historic quarries, New England villages and regenerating forests. Millstone Trails are awesome whether it's for hiking, biking, skiing, snowshoeing, photography, history or just enjoying the scenery! In addition, Millstone Trails is home to the Quarries Disc Golf Course. This 18-hole free public golf course is located in Barre Town Forest.
Barre: Rock of Ages Guided ToursYour Rock of Ages tour experience typically begins at the modern visitor center. Here you can reserve your ticket for a guided caravan tour, watch a video of the quarrying and manufacturing processes in our unique circular theater, browse historical photos and exhibits, shop for natural stone gifts, and enjoy the warm hospitality of Vermont. The guided quarry tour takes you to a lookout at Smith Quarry. At nearly 600 feet deep, it is the largest operating deep hole granite quarry in the world. A unique touring experience not to be missed when visiting Vermont. The tour lasts approximately 40 minutes and usually takes place rain or shine.
Stowe: Stowe recreation trailThe Stowe Recreation Path is a 5.3 mile flat paved trail that serves as a stepping stone to many outdoor activities year-round. Walking, running, biking and rollerblading in the summer and hiking, snowshoeing, cross country skiing and fat biking in the winter. The "Rec Path" (as it's known locally) provides easy access to shops, restaurants, accommodation and activities for all ages and abilities, such as Percy Farm Corn Maze and mountain bike trails like Cady Hill and Adams Camp. The trail stretches from the heart of the historic village of Stowe to a classic covered bridge as it meanders along the west arm of the Little River. Enjoy scenic views for photo memories along the way, including majestic Mt. Mansfield, Vermont's highest peak.
Stowe: HikingWith all the mountains, hills, and breathtaking views of the Vermont countryside, it's no surprise that hiking is one of the most popular year-round activities in the area. Stowe's world-class trails offer a variety of easy, intermediate, and challenging trail options for all ages and abilities. The trail system is well maintained with clear paths and trails. Just off the Green Mountain Byway is Vermont's highest waterfall: Moss Glen Falls, an ideal spot for a short and scenic hike. Enjoy gentle woodland walks such as Kirchner Woods and Wiessner Woods – both on land protected for recreational use by the Stowe Land Trust. Peek into the scenic Smugglers' Notch via the ADA-accessible boardwalk at Barnes Camp, operated by the Green Mountain Club, along Vermont's historic Long Trail, the oldest hiking trail in the country. The "LT" runs 273 miles between the Massachusetts and Canadian borders, crossing Mt. Mansfield and into Smugglers' Notch and beyond. You can also drive through Smugglers' Notch to hike to the more temperate Sterling Pond, or hike or cross-country ski up the Notch via Route 108 in the winter. Mt. Mansfield is a strenuous day hike, but you can also drive the Auto Toll Road or ride the gondola at Stowe Mountain Resort for scenic views, and take a shorter hike to the Nose. Additionally, the Trapp Family Lodge, originally built in 1950 and currently run by the family that inspired The Sound of Music, offers stunning mountain views from its grounds, from which you can purchase a hiking pass for hiking, Biking, touring, and more.
Central Vermont has so much to offer year-round. As the leaves turn and the weather turns cooler, consider a visit to some of the region's most beautiful scenery.
Katie Trautz is Interim Managing Director of Montpelier Alive.