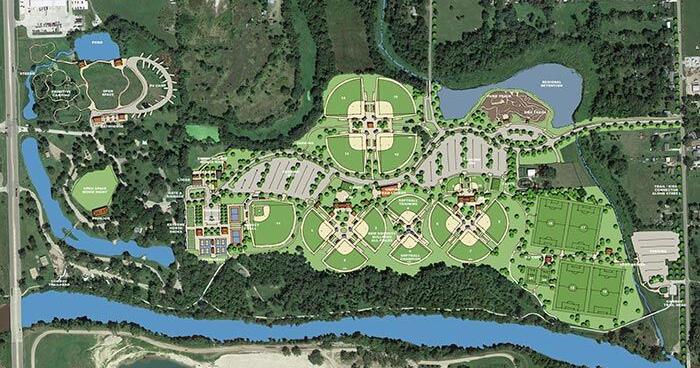 Mayor Josh Moenning and Norfolk City Council have heard from residents about a desire to improve the city's recreational facilities.
You've heard requests for an indoor water feature — specifically a pool that could help take the pressure off the Norfolk Family YMCA pool.
Others have expressed interest in improved and more ball fields at Ta-Ha-Zouka Park, more campgrounds, pickleball courts, more parking lots, restrooms, and a central locker room for umpires and tournaments so that umps and others don't have to change parking lots or cars. There was also interest in an indoor ice rink like Fremont and Yankton.
The council has also heard of the need to expedite road improvements and knows firsthand of the need to expand a 35-year-old police station to serve additional officers and new law enforcement roles.
These are just some of the comments the City Council needs to address. Council members also have a city survey conducted in 2018.
To this end, Norfolk City Council discussed recreational needs and desires and met with residents around Winter Park to make preliminary plans. Winter Park is located at 601 N. Third St.
The city is also planning citizen talks over the next 30 to 45 days to seek citizen input.
On Monday, Norfolk City Council heard about recreational improvements that could be made to Ta Ha Zouka Park during a working session from city officials and Davis Designs from Lincoln. A conceptual drawing for Winter Park was also made, but city officials stressed the need for more input as they try to figure out a way for more swimming and watering opportunities when it's not summer.
So where will the funds come from?
Norfolk City Manager Andy Colvin said one proposal was to time a bond issue on the November election. Voters are being asked to approve funds for some of these improvements, which could be repaid through an increased sales tax.
Councilors and city officials said the city did this to fund improvements and expansion of the Norfolk Public Library.
In November 2014, voters approved a 36-month 36-month sales tax hike. The increase included a $7.4 million expansion and renovation, including adding approximately 16,000 square feet to the library built in 1977.
Colvin said the 2018 citizen survey asked what kind of amenities citizens wanted.
Colvin said key needs and wants included an indoor aquatic center, year-round recreation, and outdoor recreational opportunities like softball and soccer.
The city doesn't generally have a lot of recreational programming, but other partners in the community do and they're doing a great job, Colvin said.
"The city can help provide places, facilities, buildings and structures," Colvin said.
The city hired Davis Design of Lincoln to compile the concepts based on the survey. Davis Design is collaborating with Olsson Associates for preliminary design work at Ta-Ha-Zouka Park and Winter Park.
The consultants are important because they can help design what the community wants and what the community can support.
Stakeholders were also involved, including the various school districts, Northeast Community College, the Norfolk Family YMCA, and representatives from the various baseball, soccer, softball and swim teams.
"It was a really good cross-section of all users," Colvin said.
There will be town halls and other opportunities for the public and media to intervene and comment on updated plans.
"We want this to be something that the community wants," Colvin said, "and something that can meet community expectations as we move forward."
Doug Burkink of Davis Designs of Lincoln presented the proposed improvements for Ta-Ha-Zouka Park to the council. Burkink said the company plans to open an office in downtown Norfolk.
Everything together is "schematic," Burkink said.
"It's not a final design," he said. "We took input from everyone we spoke to and penned a design. We will continue to present ourselves to the public and get feedback and then pass it on to the city until hopefully everyone falls in love with it."
Burkink said Ta-Ha-Zouka Park is an excellent venue, but when you look at other cities where tournaments are thriving, it's time for Norfolk to raise the bar.
His group has asked for input with ball players, umpires and coaches. This led to a master plan for the park from Highway 81 to First Street that addressed needs such as camping, more softball and soccer fields.
There are not yet any budgets that can be designed to allow the work to be completed in phases. One of the first tasks to complete is laying the road from the center of the park.
The plan involves rerouting the street so it's not a "drag strip," Burkink said, and trying to design it so that not many players have to cross it.
"The first thing I have to do when I look at this is set up the roadwork and parking," Colvin said. "And then everything else has to be built around it."
Burkink said when it comes to water sports there are many Norfolkers who are passionate. In winter, more than one body of water is needed.
What has been put together is an expansion of competition and recreation in Winter Park. Looking at the needs and what other places have, it was found that some places have good locations but not enough seating. Others have good seating but not a good pool.
Winter Park is an ideal location for an indoor pool as it is city owned and centrally located. It is close to Norfolk High School so there may be penalties for parking if there is a swim or competition and vice versa.
"Norfolk Public Schools have already stepped up and are ready to coordinate schedules and share (facilities)," Burkink said. "The river and mature trees lend themselves to another special opportunity, as does Ta Ha Zouka Park."
Public forums and open houses are being announced and are expected to take place this summer.