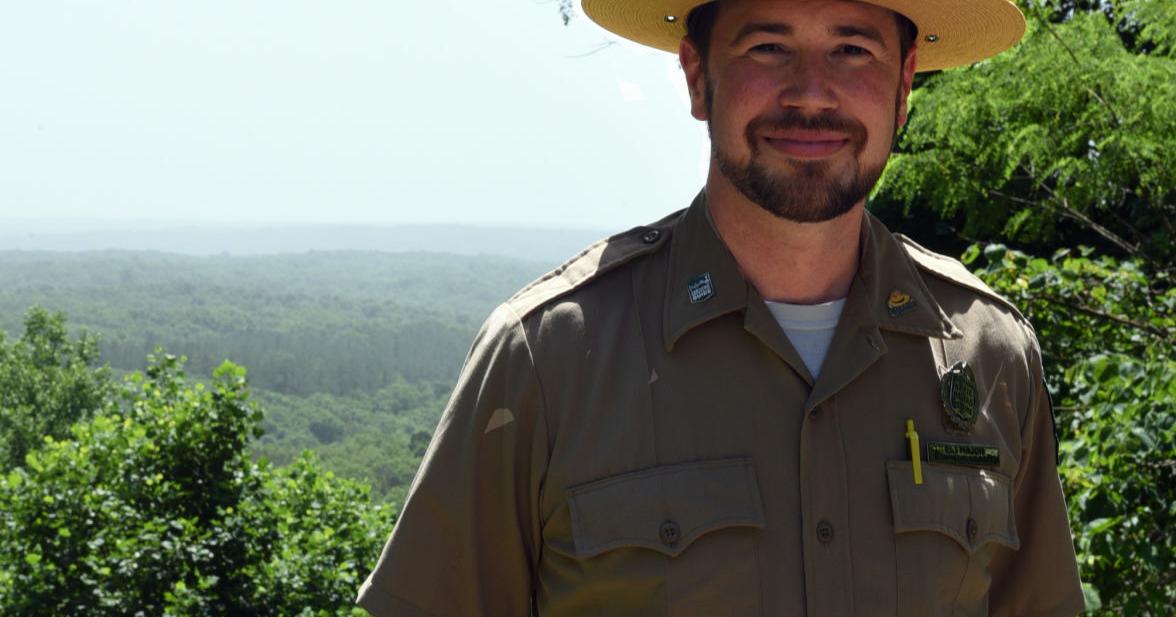 NASHVILLE — Eli Major has been told more than once that the view from his office is the best in Indiana.
His desk is next to an east window. Just outside, native birds visit feeding grounds and wildflowers spread across the lawn. Beyond the flowers and feeders, a trail leads to a great view of the rolling hills of Brown County.
Major walked down the path from his office on June 15 and enjoyed the view, the hills were shrouded in summer haze. The view is just one of the many vistas at Brown County State Park.
Since December, Major has been enjoying this view and his new role as the state park's new interpretive naturalist.
Former interpretive naturalist Patrick Haulter was promoted to assistant property manager for the state park last summer.
It has now been six months since Major was tasked with educating all guests about the state park. He continues to learn about the vast 16,000 acres of public land.
Major is from southern Indiana. He was born in Clark County, attended high school in Dubois County and attended Indiana University.
After graduating, he spent the first phase of his career as a public high school teacher — licensed to teach social studies, US government, economics, and history — before eventually deciding it wasn't a good fit.
"It's a challenging career," he said. "I respect the teachers very much."
He decided to try something different and enrolled at the University of Wyoming for a graduate degree. There he earned a master's degree in public administration in natural resource management.
He then applied for a summer job at Spring Mill State Park, where he worked for four years.
Now he's learning the ins and outs of Brown County's beautiful, rolling hills.
He attributes his love of nature to his upbringing. His father has a degree in Agricultural Forestry from Purdue University.
Major also grew up on a tree farm bordering the Clark State Forest.
"I've been outside quite a bit in my life. When I realized I could make a career out of this, I decided to focus on that," he said.
Excited to serve
As an interpretive naturalist he covers a number of different tasks. He is primarily responsible for visitor services, natural resource management and wildlife.
With education playing a role in visitor services, the state parks naturalists' job is to educate guests about the park, with a "robust" program schedule on various park topics, Major said.
While attending IU, Major had visited Brown County State Park a few times while he was in college. Realizing that the naturalist position would become vacant, he decided to arrange a visit.
He was drawn directly to the park's vastness and wild feel, he said.
Majors spent his summer vacations as a teacher traveling to various national parks. Picking a favorite national park is a difficult task, Major said, but he would have to say Mount Rainier National Park, with honorable mentions of North Cascades, Crater Lake and Lassen Volcanic.
He said he has more than 500 submissions to the National Park Service, beginning before his grad school years and continuing after graduation.
"These jobs are highly competitive," he said. A friend of his at NPS said some jobs get up to 10,000 submissions.
"It's hard to get into the National Park Service, but Brown County, to me, is like working in a national park," he said, citing the park's size and variety of activities.
"I absolutely love this place. You cannot hear artificial noises. Nothing you can do in many state parks."
He was busy learning the ins and outs of the state park. There was also a lot to learn about his new role as it is an administrative, educational and visitor-oriented job.
"It was quite a learning curve. But I'm up for the task and I'm very passionate about this job," he said.
"I didn't sign up for this job because it would make me rich or prestigious. I firmly believe in public lands, outdoor recreation and mindfulness in wild areas."
Something Major didn't fully realize before taking the job was the lasting impact he can have on the park by leaving a personal legacy as an interpretive naturalist.
"When you work at a state park for years, you will initiate, execute and finish projects that people will enjoy for decades. (That's) something I've never thought of in my life," he said.
He's not going anywhere either. He continues to plan for the future and add events or programs to his calendar. The next few years will be busy for the state park — there's a solar eclipse in 2024, the state park's centennial in 2029, and the anniversary of Kin Hubbard's death in 2030.
The park opened in 1929 and was dedicated in 1932 to Hubbard, the cartoonist of Abe Martin, the fictional Brown County cartoon character created in the early 1900s.
For now, Major said he plans to stay afloat and "not rock the boat" to continue Haulter's programming.
Brown County State Park has several legacy programs that Major said he's excited to continue, such as the Winter Hike Series, Rock Fest, Snake Fest and the Spring Wildflower Foray. He is also an advocate of the Live Raptor Shows hosted by the Indiana Raptor Center.
In terms of more daytime programs, he enjoys night hikes and stargazing.
"Ambition comes in my second year. It's a big park for learning," he said.
"I am motivated, far beyond many of the typical career goals. I've joked with several people that I'm married to working at Brown County State Park. It's a real dream job. Still getting over the feeling of being here – pinch me."
Major fell in love with the park when spring made its debut this year, filling the empty spots in the forest with green again.
He drives past Hesitation Point on his daily commute to and from work.
"If I left, it would be different," he said. "It changed hourly. It's just a really amazing feeling to see the prospect and know it intimately, even the subtle changes from day to day."
"It's a real privilege and honor to be here, and the city of Nashville and the surrounding community and county just seems really, really beautiful. I have such a wonderful network of volunteers and locals who really care about this park. It's really easy to feed off that enthusiasm and get back into it. I encourage every reader to check out the best and largest state park in Indiana."