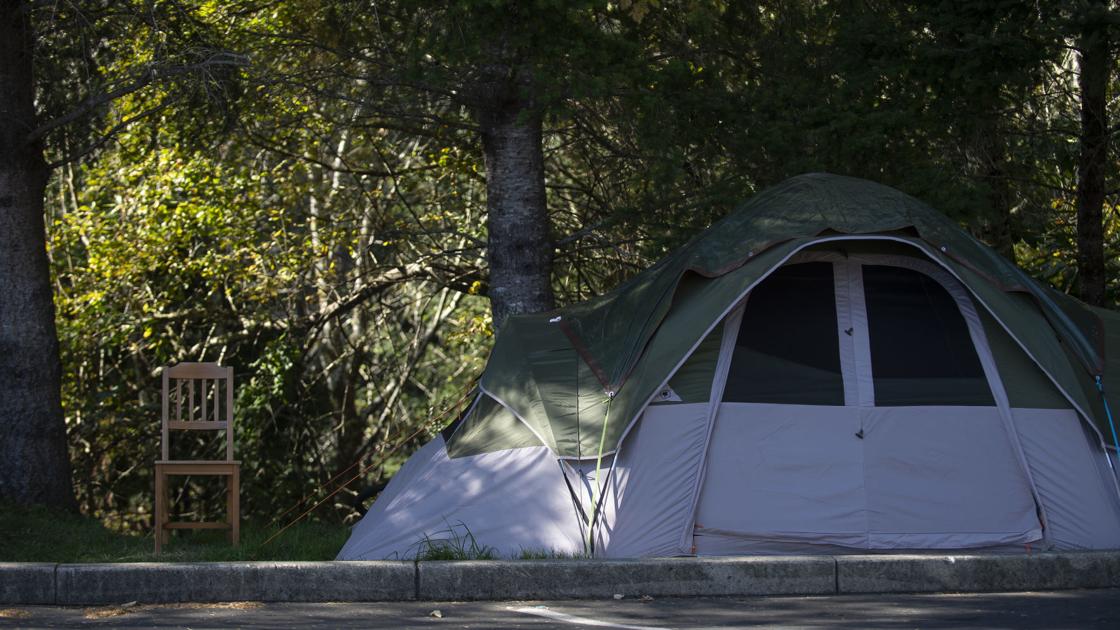 NORTH BEND – North Bend City Council discussed implementing an ordinance that would allow homeless people to camp limited parts of the city.
On Monday, the council met for a working session and heard details of the proposed regulation for the first time. If the ordinance were enacted, it would be similar to one recently enacted in Coos Bay. Both regulations prohibit the homeless from camping on public land in residential areas, but allow it in many commercial areas.
At the beginning of the discussion, Mayor Jessica Engelke had a simple question.
"As it stands, camping is legal anywhere on public land if we don't do anything," she asked.
"Not just public land, but public roads too," replied Public Works Director Ralph Dunham. "The main focus of this ordinance is to delimit the area so we can maintain and monitor it. For now, they can do this in residential areas, business areas and any zoned district of the city."
Dunham explained that since camping is also allowed in rights of way, homeless people can pitch tents and camp in front yards when the city doesn't act, as the city has two to three meters of right of way in most yards.
He told the council that an ordinance was needed after a federal court ruled that cities cannot ban the homeless from camping unless there is enough space to accommodate them. In response, the state of Oregon passed law that allows camping on public land, but gives cities the power to control the time, manner, and location of camping.
North Bend's ordinance restricted camping on Highway 101, in some areas of downtown, on the boardwalk east of 101, in all city parks, and in residential areas. It allowed camping on public roads in most residential areas.
"If we don't do something, every public place in town is open for camping," said Dunham. "Right now, under state law, you can park an RV in front of your house and even pitch a tent in your front yard."
Dunham told the council that deciding where to go camping was a difficult decision, but one that had to be made by the council. The state law only states that the city must provide a "reasonable" amount of space for camping. The proposed regulation would provide around 40 hectares to camp between 10 p.m. and 6 a.m.
"Nobody wants them in their back yard or in front of their shop," said Dunham. "The problem is that once we have camping regulations in place, we need to be able to monitor them, so it is appropriate for us to gather."
Dunham said if the city implemented the housing code, which requires 200 square feet for each person, it could limit the size of land allowed for camping to between five and eight acres. But if it's too restrictive, courts might decide that the city doesn't allow "adequate" space.
While the council listened, many expressed frustration with the requirements.
"It feels like our commune is being taken away," said Engelke.
The eligible area includes commercial areas along Newmark Street and Broadway Avenue, two of the busiest streets in the city. Dunham said parking is not an option in these areas, but people could camp on the drive off the road.
"Conceivably, this could be voted down," said Dunham. "In my opinion, we have to concentrate them. If we do it with the police, we cannot drive through every street."
But even if the area is concentrated, Police Chief Robert Kappelman said the police would likely not take place.
"In terms of enforcement, this will not be a high priority," said Kappelman. "We are currently reacting to life-saving events. If we can, we'll get to other things, some who obey the rules, there will be many more who don't obey the rules. "
Dunham said that ultimately it is up to the city council to decide where camping is allowed. He warned that if the council starts removing too many places that the regulation allows, it will likely have to add other places back.
"The bottom line is that we can set some standards," said Dunham. "What I, in fairness, I don't want to do to everyone is that we're going to place it at the airport or in the Pony Village. We're going to need at least three locations. Nobody's going to want to do it in their backyard."
Much of the public space at the airport is currently included in camping-approved areas, but some of this is likely to change. One area is land that will be converted into an airport apron in the near future and cordoned off from the public. City Attorney Jane Stebbins said the city may need to negotiate with the airport to find locations that are suitable for both.
Stebbins asked the council to use the public sessions during council meetings to recommend changes. She also urged the council to find legitimate reasons for recommending changes if so.
"People will challenge it and we want to be able to defend it," she said.
Councilor Susanna Noordhoff suggested that the council change the time for camping from 10 p.m. to 6 a.m. to 8 p.m. to 6 a.m. This measure would mirror Coos Bay regulation and benefit homeless families, she said.
City Councilor Timm Slater asked the council to examine the proposal and come back with proposals for amendments.
"I think the next step is to go home and do our homework," said Slater. "We get input whether we want it or not. I think we shouldn't be finished yet."
Engelke also pointed out that the proposed regulation and the associated card is just that, a proposal.
"This is just a discussion," said the mayor. "These cards are not final, they are just drafts."