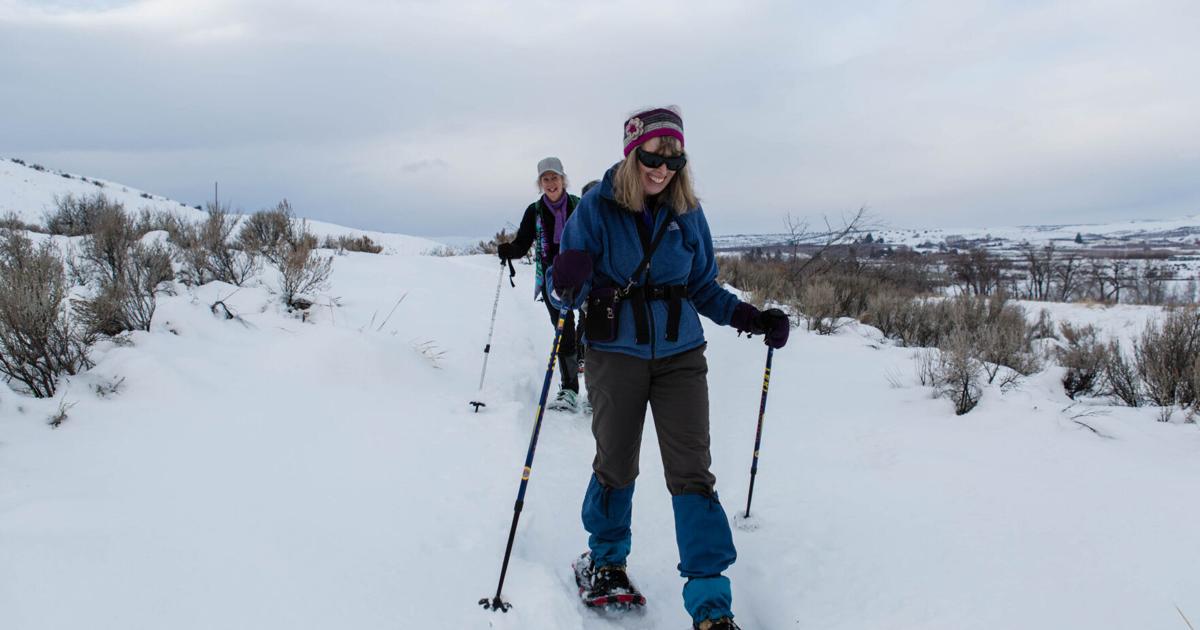 Lilquist tells the story of snowshoeing
Central Washington faculty member and physical geographer Karl Lilquist will lead the program "The History of Snowshoeing" at the Cascadians Annual Meeting Wednesday at the Meyer Auditorium in The Terraces at Summitview.
Lilquist plans to pay special attention to contributions from former Cascadians and Ellensburg residents, Bill and Gene Prater. The program runs from 7:00 p.m. to 9:00 p.m., followed by a new member orientation from 6:00 p.m. to 7:00 p.m. in the Village Café West room of the Living Care Retirement Community.
Input required for RCO recovery plan
The Washington Recreation and Conservation Office is seeking public input for its draft statewide recreation and conservation plan.
The plan prioritizes meaningful access to outdoor recreation for all, protecting natural and cultural resources, demonstrating the essential nature of parks, natural areas and recreation infrastructure, and supporting healthy, adaptable and connected communities.
More than 30 actions are offered to implement these priorities over the next six years. Comments are due by 11:59 p.m. December 18, and the Recreation and Conservation Funding Board will consider acceptance of the final plan at its January 24-25 meeting.
Visit www.rco.wa.gov for more information. Comments must be emailed to [email protected] or submitted via an online poll at https://bit.ly/3gLPcHb.
bird alert
A Zillah resident was thrilled that a mockingbird appeared from the north and hung around their hummingbird feeding site. She was also surprised when a hummingbird appeared from Anna and chased him away. The northern mockingbird is a rare visitor to the Yakima area and is not observed every year and the Anna's hummingbird has only recently extended its territory to our area, so this was an exceptional sighting and an interesting interaction to observe between these two species became.
A local birder this week spent two and a half hours combing the Sunnyside Wildlife Recreation Area near Mabton and compiled a list of 39 species for his efforts. The list included both cuckold and Canada goose, mallard, pintail, green-winged teal, goosander, ring-necked pheasant, black-billed grebe, collared dove, Virginia rail, Wilson's snipe, northern harrier and sharp-legged hawk, an adult bald eagle with nesting material, red-tailed hawk, northern flicker, American kestrel, Black-billed Magpie, Common Raven, Black-capped Chickadee, Horned Lark, Ruby Crown King, Gold Crown King, Marsh Wren, Bewick's Wren, American Robin, Cedar Waxwing, House Sparrow, House Finch, American Goldfinch, Dark-Eyed Junco, White-crowned Sparrow, Song Sparrow, Lincoln's Sparrow, Spotted Towhee, Yellow-headed Blackbird, Red-winged Blackbird, Brown Blackbird, and Yellow- rumped warbler.
A birder hiked the Tieton River Nature Trail and was able to count 10 species, including gray heron, bald eagle, northern flicker, Steller's jay, common raven, black-capped tit, ruby-crowned king, Pacific wren, American dipper, and black-eyed junco.
Email bird watching to [email protected] and don't forget to like the Yakima Valley Audubon Society on their Facebook page or visit yakimaaudubon.org.
– Kerry Turley
calendar
WEDNESDAY: The Hardcore Runners Club meets at 6:00 p.m. in Franklin Park for their weekly fun run, where they run either on the track or on the street. Runners should wear low-light/reflective clothing. A new group called Too Smart for the Dark meets at 3:30 p.m. at the Franklin Park Pool for a neighborhood run.
FRIDAY: The Nelda Swiggett Jazz Quintet from Seattle will perform "The Alaska Suite: a story of beauty, loss and hope" in memory of Wendy Baker at 7:30 p.m. at Seasons Performance Hall. Ticket proceeds support the creation of the West Powerhouse Road Pathway. Visit theseasonsyakima.com for more information and tickets for $15 or $10 for students and $25 per person for a VIP table.
SATURDAY: The Hardcore Runners Club hosts their three to six mile weekend fun run where all speeds and abilities are welcome. Meet at 9:00am on the west side of the Chesterley Park car park.
SUNDAY: The Hard Core Runners Club is hosting the first race of the Winter Race Series over a three mile course along the Greenway, starting at 1:00 p.m. in Sarg Hubbard Park. Registration is $10 for the four race series or $5 for a single race and $25/$10 for non-members. To register or for more information, go to hcrunners.org.
Get out into the open
THURSDAY: The Cascadian Pathfinders hike seven miles with 1,000 feet of elevation gain on a steady, sometimes steep ascent loop to the summit of Cowiche Mountain at Snow Mountain Ranch. Call Betsy at 509-949-3985 or Lynne at 509-952-5059 for the time and location of the meeting.